Hilton Tokyo
Chinese afternoon tea "Chinois Phrase"
Appetizers using crab and abalone are prepared as afternoon tea.
As much dim sum and fresh strawberries as you like!
[Image 1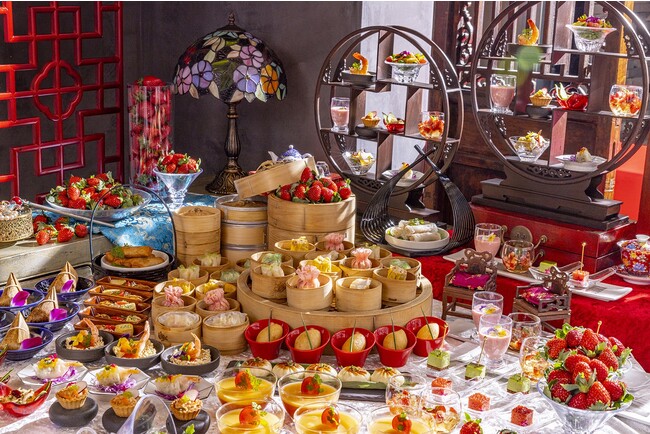 [November 22, 2022] Hilton Tokyo (Shinjuku Ward General Manager Roger Brantsma) 2nd floor Chinese restaurant "Dynasty" will offer crab, abalone, 8 types of chef's specials such as appetizers, soups, meat and fish dishes that use plenty of ingredients such as shrimp, 10 types of all-you-can-eat dim sum prepared by wagon service, and 4 types of strawberry sweets specially made by "Dynasty" on the plate. In addition, we will hold a lunch plan where you can enjoy fresh strawberries as much as you like, Chinese afternoon tea "Chinois Phrase" for ¥ 5,800 per person (Saturdays, Sundays, and holidays ¥ 6,300).
[Image 2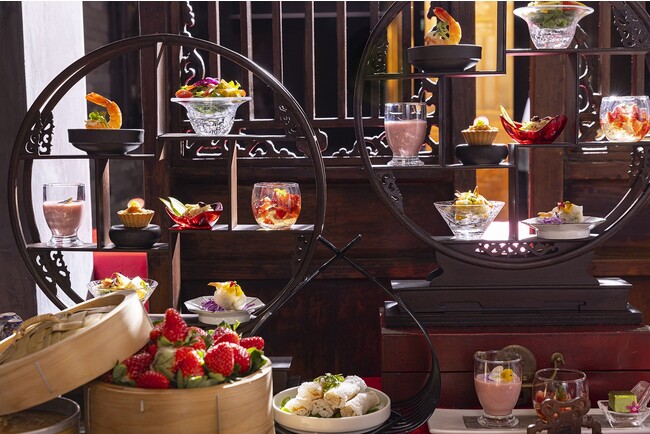 Chef's special served in a teapot
The chef's specials by Masaki Yanagiya, the head chef of Dynasty, are beautifully arranged on classical tea utensils like sweets.
Appetizers, soups, and meats are carefully prepared one by one using high-quality ingredients.・8 types of fish dishes are available.
[Image 3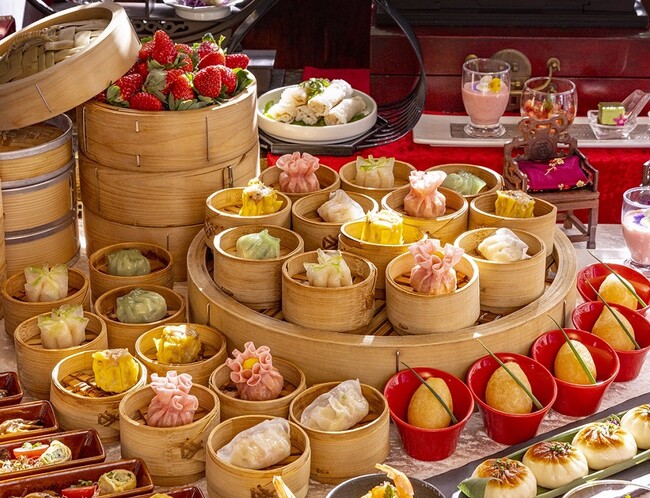 Appetizers such as "Colorful Salad Strawberry Dressing" accented with refreshing strawberry dressing, "Nikogori Crab and Vermicelli with Five Ingredients Aemono", "Yubamaki Steamed Over High Heat with Dynasty's Special Black Bean Sauce", and "Abalone" You can enjoy the chef's special dishes, such as shrimp chili sauce with five-grain rice and fragrant Sichuan pepper, smoked trout salmon and tuna tart, with one order per person.
[Image 4
Abalone and Shrimp with Chili Sauce Served with Burnt Five Grain Rice You can enjoy as much dim sum as you like with the wagon service. 10 kinds of dim sum, such as flower-shaped shumai with chicken and pork, beautiful green jade shrimp steamed dumplings, crispy fried seafood rice paper spring rolls, and gomoku fried dumplings. will be brought to your seat in a hot state.
[Image 5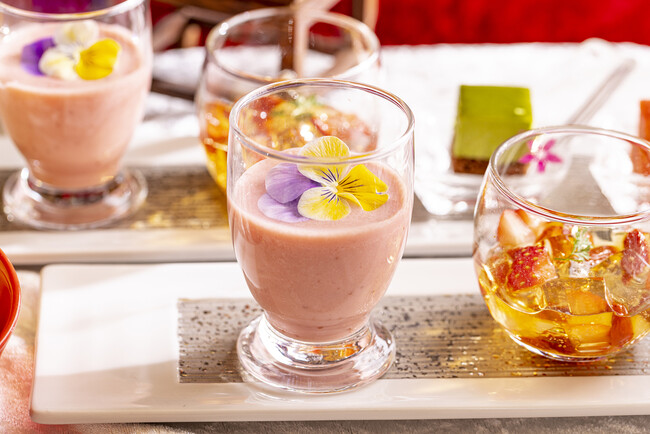 Dynasty Strawberry Sweets As Much Fresh Strawberries as You Like After the meal, strawberry sweets prepared with one order per person will appear. In addition to four types of strawberry sweets plates, such as "strawberry tea jelly" and "strawberry brownie" accented with cinnamon scent, you can enjoy fresh strawberries as much as you like. How about an elegant lunch or afternoon tea time with a plan where you can enjoy hot dim sum and sweet and sour strawberries as much as you like while enjoying Chinese tea in a classical interior.
[Image 6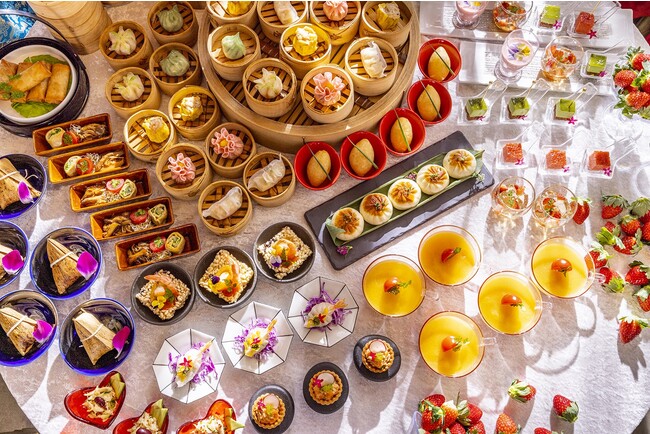 Chinese Afternoon Tea "Chinois Phrase" Lunch Plan Overview
Venue: Chinese restaurant "Dynasty" (Hilton Tokyo 2F)
Period: Dec. 27 (Tue.) to mid-May 2023 (excluding Jan. 1 (Sun.) to Jan. 3 (Tue.), 2023)
Hours: 11:00am – 1:00pm / 1:30pm – 3:30pm
Price: ¥5,800 per person (¥6,300 on Saturdays, Sundays, and holidays) *tax and service charge included
menu:
[Chef's Special] Limited to one order per person
"Colorful Salad with Strawberry Dressing", "Simmered Crab with Vermicelli with Five Ingredients", "Abalone and Shrimp Chili Sauce with Five Grain Rice", "Smoked Trout Salmon and Tuna with Tart", "Steamed" Chicken and Red Kidney Beans with Onion Ginger Sauce", "Yubamaki Steamed Over High Heat with Dynasty's Special Black Bean Sauce", "Chimaki with Pork, Dried Shrimp and Shiitake Mushrooms", "Fluffy Egg and Tomato Soup"
[Dim sum] As much as you like
"Jade Shrimp Steamed Dumplings", "Shrimp Steamed Dumplings", "Seafood Flower Shaomai with XO Sauce", "Flower Shaomai with Chicken and Pork", "Pork Siomai with Shrimp", "Spring Rolls", "Seafood Rice Paper Spring Rolls" ", "Fried gyoza with shrimp", "Gomoku fried dumpling", "Grilled manju with chicken"
[Sweets] Limited to 1 order per person
"Strawberry yogurt", "Strawberry brownie", "Strawberry tea jelly", "Uji matcha cake" plate
[Fresh strawberries] As much as you like
Reservations: https://tokyo.hiltonjapan.co.jp/plans/restaurants/lunch/dynasty-strawberry [Image 7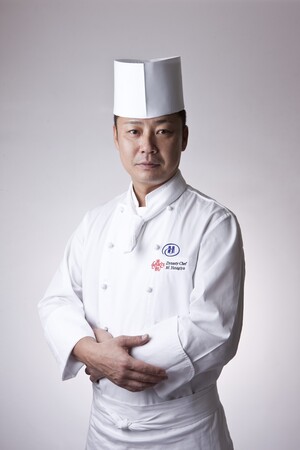 Masaki Yanagiya, Head Chef of Chinese Restaurant Dynasty
Masaki Yanagiya, head chef of Chinese restaurant Dynasty
After graduating from Musashino Culinary College in 1983, he started his career as a Chinese chef in 1984 at the long-established Chinese restaurant Nankoku Shuka. In 1986, joined Hilton Tokyo. At the Chinese restaurant Dynasty, which has been in operation since the opening of Hilton Tokyo, he mastered cuisine from all over China, including Beijing, Shanghai, Sichuan, and Cantonese, and became the head chef in 2009. In 2013, he was awarded the Tokyo Governor's Award for Excellent Chef. Currently, he oversees the 26 chefs working at the restaurant, and offers orthodox Chinese cuisine that incorporates modern tastes while preserving traditional tastes, not only in regular operations but also in seasonal promotions. continue.
About Hilton Tokyo
Hilton Tokyo opened in Nagatacho on June 20, 1963 as one of the hotels of Hilton Hotels & Resorts, a hotel chain that continues to expand worldwide. The year before the Tokyo Olympics, it was born as the first foreign-affiliated hotel in Japan. Relocated to current Shinjuku subcenter on September 1, 1984. Located in a corner of Shinjuku subcenter, close to the Tokyo Metropolitan Government Building and next to Shinjuku Chuo Park. This is a first class hotel that prides itself on its service. Guest rooms are located from the 8th floor to the 38th floor, and all 830 guest rooms, including suites, are equipped with both international and Japanese atmospheres, and all rooms are equipped with wired/wireless internet access. The hotel also includes the Japanese restaurant Juniso, the Chinese restaurant Dynasty, the Metropolitan Grill, the dining floor TSUNOHAZU with bar and lounge ZATTA, the Marble Lounge, and the English-style St. George Bar. It has 6 restaurants and bars. In addition, there is a large banquet hall that can accommodate up to 600 people for dinner and 900 people for a standing reception, a total of 21 small and medium banquet and conference rooms, a wedding chapel, a fitness center equipped with an indoor pool, a gym, a sauna, an outdoor tennis court, and an underground parking lot. It has sufficient functions as a multi-purpose hotel, such as a car park. For more information about Hilton Tokyo, please visit hiltontokyo.jp.
About Hilton
Hilton is a global leader in the hospitality industry with more than 7,000 hotels (over 1.1 million rooms) in 123 countries and territories around the world. With a mission to be the world's most hospitable company, Hilton has welcomed more than 3 billion guests in its more than 100-year history. Selected as one of the top companies in Fortune's Best Places to Work list, and has been selected as a world leader in the Dow Jones Sustainability Index, one of the world's leading ESG investment indices, for five consecutive years. To enhance the guest experience, we have implemented industry-leading
technologies such as digital key sharing, complimentary room upgrade pre-selection and the "Confirmed Connecting Room" feature. 18 global brand portfolio, 20 hotels under 5 brands in Japan: Conrad Hotels & Resorts, Hilton Hotels & Resorts, DoubleTree by Hilton, Curio Collection by Hilton, LXR Hotels & Resorts is expanding. Hilton Honors, our award-winning guest loyalty program, has approximately 146 million members, and Hilton Honors members who book directly through Hilton's official booking channels enjoy the benefits of stays and experiences. You can earn points that can be exchanged for You can also use the free Hilton Honors app
(https://apps.apple.com/jp/app/hilton-honors/id635150066) for room selection, digital check-in, digital key (in Japan, some The hotel does not have a digital key) available. Click here for the latest information. http://newsroom.hilton.com
https://www.facebook.com/hiltonnewsroom
https://twitter.com/hiltonnewsroom
https://www.linkedin.com/company/hilton https://www.instagram. com/hiltonnewsroom https://www.youtube.com/hiltonnewsroom
Details about this release:
https://prtimes.jp/main/html/rd/p/000000118.000034287.html