Hoken Co., Ltd.
A leading expert in autonomic nerve research teaches you how to improve your golf score! The book "How to improve your golf autonomic nerves 72" will be on sale from December 16 (Friday)
Juntendo University School of Medicine Professor Hiroyuki Kobayashi, who is very active in various media, will explain how to prepare the autonomic nerves that lead to golf scores!

Hoken Co., Ltd. (Headquarters: Chuo-ku, Tokyo, President: Shunichi Higashijima) is a leading researcher in autonomic nervous system research, and Professor Hiroyuki Kobayashi, who also guides athlete performance improvement, has accumulated so far. From December 16, 2022, "Golf Improves Autonomic Nervous System 72", a summary of how to improve the autonomic nervous system that leads to a higher golf score, will be released from December 16, 2022. I will.
[Image 1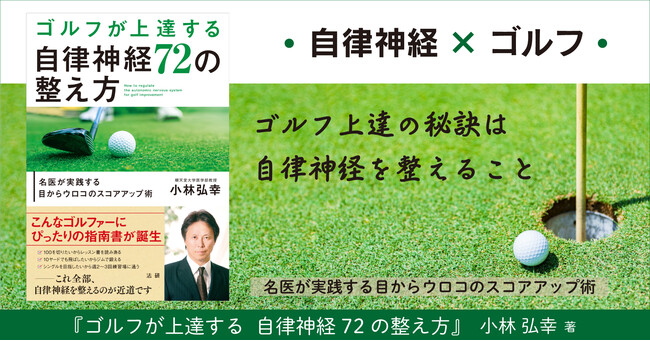 The important thing in golf is to play with the autonomic nervous system stable Against the backdrop of the spread of the new coronavirus, the number of golfers in Japan is said to have increased by about 600,000. Female golfers and young people in their 20s and 30s, who had been rare in the past, are now noticeable at golf courses. A new era of prosperity has arrived in the world of golf.
Everyone has different generations, levels, and backgrounds, but I think every golfer has their own desires, such as "I want to break 100!", "I want to hit even 10 yards!", "I want to aim for a single!" increase. In order to achieve this goal, there are many people who try to modify their swing, go to the driving range, or read up on lesson books.
It is to play with the autonomic nervous system stable.
■By stabilizing the autonomic nervous system, you will make fewer mistakes and improve your score.
It is known that when the autonomic nervous system is disturbed due to lack of exercise, stress, changes in the rhythm of life, etc., it adversely affects health, but the autonomic nervous system is closely related to sports performance. The impact is clearly visible during the round.
When the autonomic nerves are in order, there is no hesitation or anxiety, and you can play in a good flow.
It is not uncommon for the balance of the autonomic nervous system to be disrupted by the slightest trigger, and it is not uncommon for it to be affected by "weather conditions" such as rain, wind, cold and heat, and "lifestyles other than golf" such as how to spend the night before, how to drive a car, and how to eat. There are many things that are difficult to notice by yourself, such as "preparation in advance", but most of the reasons why the autonomic nerves are disturbed during the round are "I don't have time to play", "I'm lost in judgment", "I was greedy", and "I'm in public". It's one of "I'm going to show off" or "I'm in a bad ball situation".
If you play while your autonomic nerves are disturbed, you will make mistakes. Making mistakes is not a bad swing or a lack of technique. Most mistakes have a reason before they hit. Conversely, the autonomic nerves are stable during the round, and if they can recover even if they are disturbed, the shots and putts will be calm, and the score will definitely improve.
■ Teaching the score-up technique practiced by the leading person in autonomic nerve research
Professor Hiroyuki Kobayashi of Juntendo University School of Medicine, a leading researcher in autonomic nerve research and a big golf enthusiast, has been studying autonomic nerves for more than 30 years, and is working on golf himself. Based on what I was able to do, I have summarized 72 points on how to prepare the autonomic nerves that lead to a higher golf score.
Since the autonomic nerves will inevitably be disturbed, it is difficult to eliminate mistakes, but if you learn the tricks to control the autonomic nerves, it will be much simpler and faster than trying to acquire advanced skills. performance will improve. Four features of this book
[1] Readability completed with one theme spread
[Image 2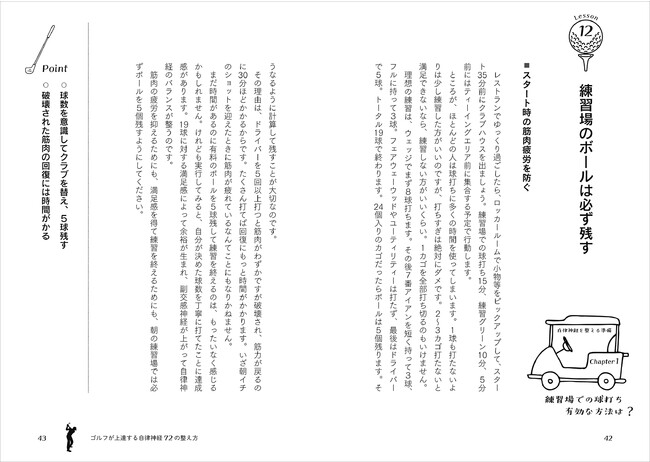 [2] Divide the autonomic nervous system into four types and explain the points [Image 3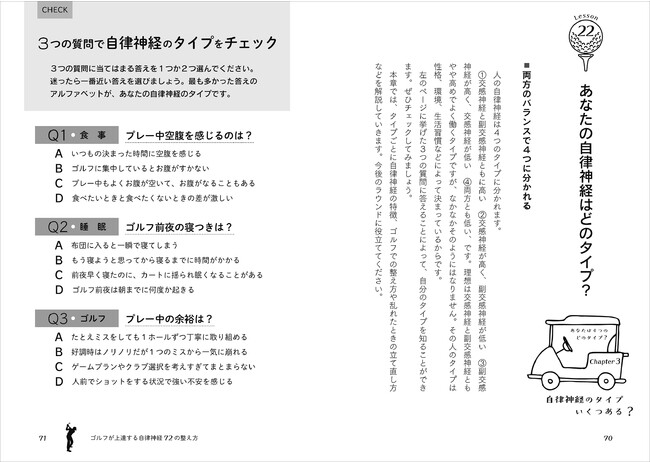 [3] At the beginning of the book, carefully selected "photos that help you regulate your autonomic nerves by looking at them" taken by the author himself are posted.
[Image 4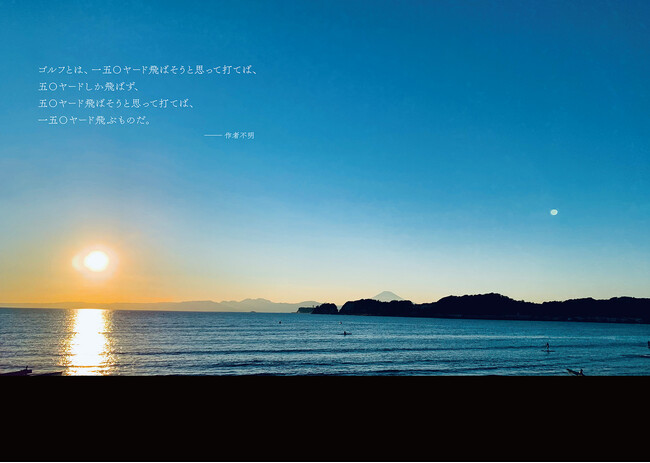 [4] Summarize points in the form of graphic recordings at the end of each chapter in an easy-to-understand manner
[Image 5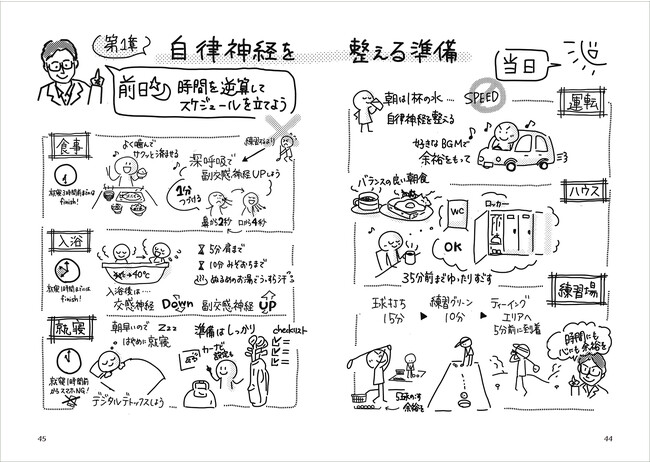 Index
[Front picture] Let's relax the day before golf ~ Time to prepare [Chapter 1] Preparation for regulating the autonomic nervous system ~ 80% of the success or failure of golf is preparation
Take a deep breath instead of hitting the ball the day before / No hot bath just before going to bed! / Manage meal times the day before / Good preparations are done the night before / Good sleep is prepared before going to bed / Dehydration is the enemy of the autonomic nervous system / Speed ​​driving is the source of big hits / Classic BGM? Lock? / Arrive at the golf course 15 minutes early / Have breakfast to adjust your internal clock / How to spend time at the clubhouse / Always leave the ball at the driving range
[COLUMN] What kind of nerve is autonomic nerve?
[Chapter 2] The flow of golf is determined by number 1 ~ Take a bogey at the start!
Restart from the blank in 3 stages / Hitting the shot / High hopes disturb the autonomic nerves / Tips to eliminate backlight stress / Techniques to prevent green / First putt is the key / Preventing big hits from bunkers / Bogey putts are careless Great Enemy / Just one shot of "Here it is!" is simple
[COLUMN] Switching between morning and evening is the point
[Chapter 3] Which of the four types are you? ~Golf performance improvement method
What type of autonomic nervous system do you have? / Ideally, both are high A-types, but … / Good condition quickly declines / Autonomic nerve comprehensive strength declines from 30 s / Observing the green from a distance / Big collapse from good condition is a problem / Taciturn, fast walking, Be careful of what you say to yourself / Points to note on the course for the first time / When hitting a shot in front of people / Head-up measures / If you think you're about to make a mistake… / How to make the most of your ability to ride a wave / Numbers 1 to 3 Take a bogey / Calculate the remaining distance backwards / Bogey is the standard for breaking 100 / 2 on 2 putts for long par 3 / Game plan for par 5 / Choose recovery based on certainty / Importance of a ruler to measure your condition / Bogey Tips for Completing Golf / Jealousy Raises Blood Pressure / Encourages Switching of the Autonomic Nervous System / Timing to Step on the Accelerator / Increases Motivation and Concentration / Unnecessary "Pause" Causes Mistakes / Prevents Crashes in the Afternoon Half / Early Morning Use play / When you lose sight of your golf / Activate autonomic nerves
[COLUMN] Deep relationship with blood circulation
[Chapter 4] The secret to not being disturbed by weather or
circumstances ~Have your own world!
How to fight against the wind / Cold body is the enemy of the autonomic nervous system / Putting on and taking off rainwear / Use the visor of a cap / Prevent "waiting too long" / Body temperature rises by 2 degrees / Causes of back pain / A full stomach disturbs the score in the afternoon / I don't have a club I want to use / There are only disadvantages to a bad lie / I get lost so much that I look at the situation too much / Accept luck and bad luck calmly / Score with a two-step strategy management
[COLUMN] Benefits of adjusting the autonomic nervous system
[Chapter 5] Controlling the Autonomic Nerves ~ Eliminate stress, hesitation, and anxiety!
Your scorecard is your record / When the team behind you catches up with you / Only praise your shots that you are satisfied with / Relax with conversation while playing / Smile is important especially when you are not feeling well / Stop the teacher / Autonomic nerves are companions Also contagious / Protect the autonomic nerves from impatient people / Relax with a view of the scenery
Author biography
[Image 6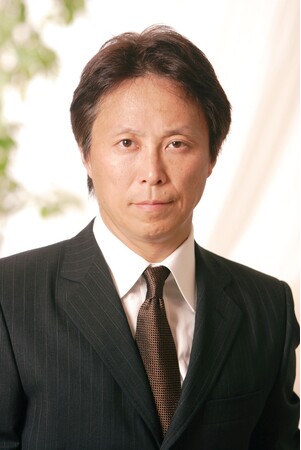 Hiroyuki Kobayashi
Juntendo University School of Medicine Professor
Born in 1960 in Saitama Prefecture. After completing a doctoral course at the Juntendo University Graduate School of Medicine in 1992, he worked at the Royal Children's Hospital, University of London, Pediatric Research Center, Trinity University, and the National Children's Hospital, Ireland.
He is also a sports doctor certified by the Japan Sports Association, and proposes that by consciously controlling the balance of the autonomic nervous system, you can maximize the power of your mind and body. Involved in conditioning and performance improvement guidance for many top athletes. He is a leading researcher of the autonomic nervous system and has published many books.
Book information
[Image 7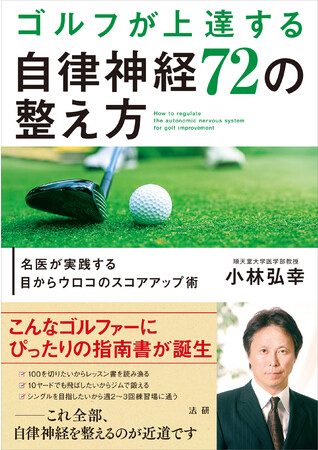 Title of the book: Improving golf How to adjust the autonomic nervous system 72 Author: Hiroyuki Kobayashi
List price: 1,650 yen (main unit 1,500 yen + tax 10%)
Format: A5 size
Number of pages: 8 pages of frontispiece + 176 pages of text Release date: December 16, 2022 (varies by region, etc.)
Publisher: Hoken Co., Ltd.
ISBN 978-4-86756-009-9
Details about this release:
https://prtimes.jp/main/html/rd/p/000000010.000103228.html