Moririn Co., Ltd.
[Introduction to preview] Recycling fiber recycling board "PANECO (R)" will hold "MEET UP PANECO -100% UPCYCLE SHOW CASE-"
Creative 100% resource recycling Aiming for a sustainable society
Moririn Co., Ltd. (Headquarters: Ichinomiya City, Aichi Prefecture / President: Shunsuke Mori), a textile trading company, is responsible for manufacturing textile products such as many clothing items. Ward / Representative Director: Kazuhiro Hara), as a sole sales agent in Japan for the sustainable board [PANECO (R)] made from discarded clothing, we aim to promote the sustainable use of discarded clothing and textile products. MEET UP PANECO -100% UPCYCLE SHOW CASE-" will be held.
[Image 1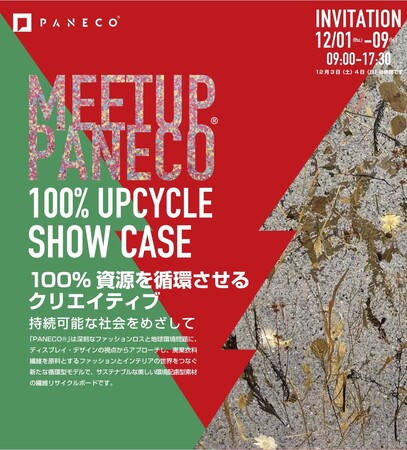 What is sustainable board PANECO(R) made from waste clothing? 1) Fiber to ANOTHER (fiber upcycle)
・It is possible to use waste clothing that cannot be upcycled from fiber to fiber.
・Since it is possible to contain a large amount of waste fiber, it digests a large amount of excess fiber.
・Inventory clothing, surplus fabrics, cutting scraps, etc. are not required to be mixed, and there is no need to sort materials (except for some materials).
2) Solving industrial waste disposal problems
・Even after use, it is reused as a raw material for PANECO (R), realizing a complete recycling flow.
・By using a fiber recycling board, 100 T-shirts that were supposed to be incinerated can be recycled (in the case of 5 PANECO (R) pieces of 90cm x 90cm x 5.5t).
3) Achieving a reduction in the amount of wood used
・It can be used as a substitute for wood because it has strength and workability similar to wood.
・By using it as a substitute for wood, it reduces the amount of wood used and contributes to the CO2 problem.
[Image 2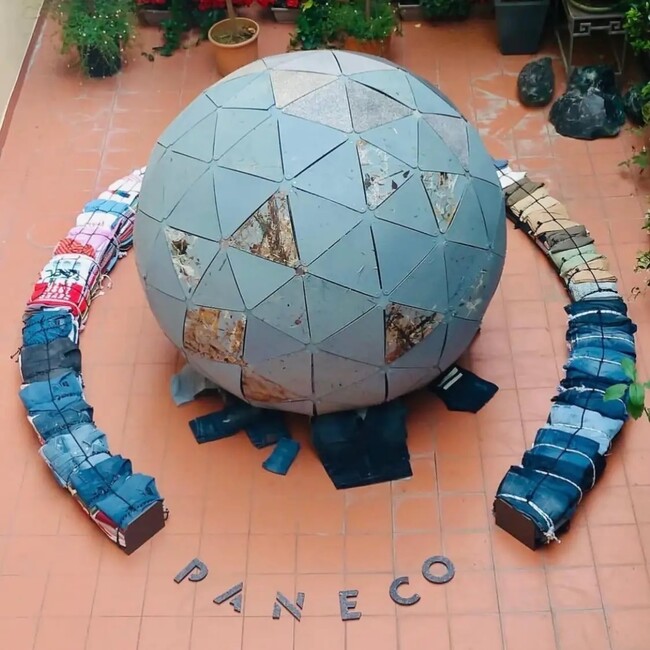 Exhibited at Milan Design Week 2022 from June 7th to 12th
[Image 3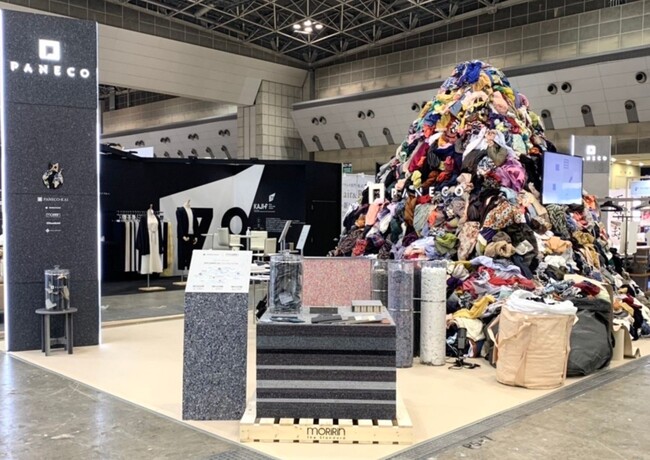 Exhibited at Sustainable Fashion EXPO held at Tokyo Big Sight from October 18th to 20th
MEET UP PANECO -100% UPCYCLE SHOW CASE- Overview
Date and time: December 1 (Thursday) to 9 (Friday), 2022 9:00 to 17:30 (excluding weekends and holidays)
Place: Moririn Co., Ltd. 1F (Forest Hall)
2-1-3 Higashi Nihonbashi, Chuo-ku, Tokyo 103-0004
*Advance appointment system. Please contact the following sales representatives or general planning office.
Exhibition contents:
A new circulation model that connects the worlds of fashion and interior design. We design the upcycle of waste clothing fibers and the circular economy, and create a creative worldview that will be reborn as interior decorations, display fixtures, and furniture for various spaces such as events and offices.
[Image 4

◆ Paneco (R) official site – https://paneco.tokyo/
◆ PANECO (R) Instagram – https://www.instagram.com/paneco_official/ [Sales contact for this matter]
Industrial Materials Group Person in charge: Maruyama, Ueda mail: info.moririn-paneco@moririn.co.jp
[Inquiries from the press regarding this matter]
General Planning Office mail:info.tokyo@moririn.co.jp
Details about this release:
https://prtimes.jp/main/html/rd/p/000000101.000063342.html