Itoki Co., Ltd.
The empirical research project with Itoki and Shizuoka Seiko Gakuin was selected for the Ministry of Education, Culture, Sports, Science and Technology's "Project to promote the utilization of advanced technology and educational data for next-generation schools and educational sites".
Designing the educational environment and educational curriculum for the next generation "learning place" under the theme of "inquiry using the Metaverse / practice of collaborative learning and remote international exchange", and starting empirical research on
communication / group work in the Metaverse environment

Itoki Co., Ltd. (Headquarters: Chuo-ku, Tokyo, President: Koji Minato, hereinafter Itoki) uses the metaverse with the Shizuoka Seiko Gakuin School (location: Oshika, Suruga-ku, Shizuoka City, Shizuoka Prefecture, Chairman: Seiichi Kudo, hereinafter Shizuoka Seiko Gakuin). The design of the virtual space and real space learning environment and the construction of the educational curriculum project have been included in the Ministry of Education, Culture, Sports, Science and Technology's 2020 project to promote the use of advanced technology and educational data for the next generation of schools and educational sites. Adopted.
[Image 1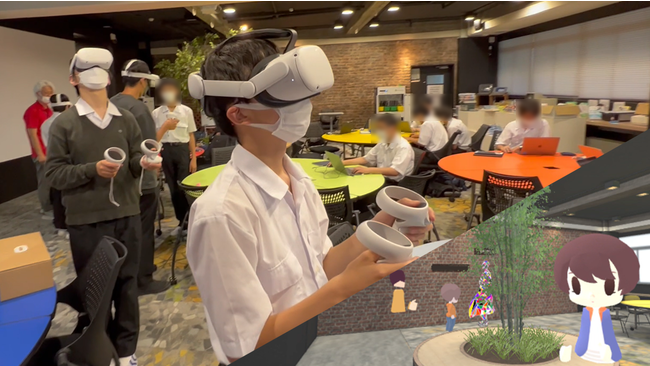 "FY2022 Project to promote the utilization of advanced technology and educational data with an eye on next-generation schools and
educational sites" is the next step to aim for as the use of "one terminal per person" progresses according to the "GIGA School Concept". In order to improve the quality of education in
consideration of the schools and educational settings of the next generation, and to effectively utilize cutting-edge technologies and educational data that can be used in educational settings in order to respond to new policy issues. This is a project to demonstrate the Itoki has been conducting empirical research with Shizuoka Seiko Gakuin with the aim of cultivating the ability to explore, express, and communicate using digital technology.
The digital technology used is VR (metaverse) technology, which is not bound by physical restrictions, distance, or cost, and is used for research presentations where freely expressed results are presented, and face-to-face or more with avatar gestures. Demonstration will be conducted on two themes of "International Exchange Meeting" where English conversation will be conducted in a relaxed manner.
In the "research presentation", the students themselves designed the Metaverse space, and created an environment where students can express themselves freely, including methods that are difficult to express in reality, such as bringing in dynamic expressions and things that cannot be brought into a regular classroom. To do.
At the "International Exchange Event," students from Japan and other countries enter the same metaverse space and use head-mounted displays to create a dialogue environment where they can feel a sense of distance between themselves and others.
[Image 2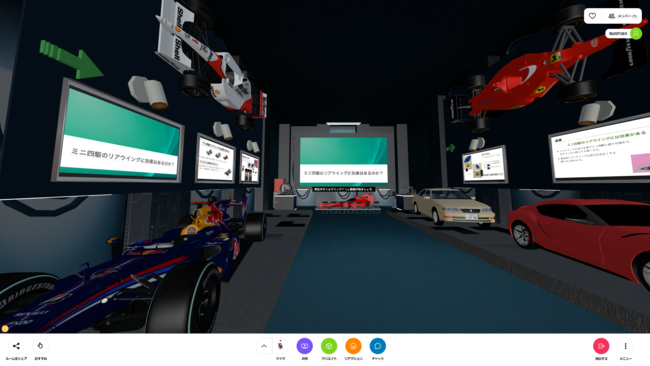 A space created by students at a research presentation
By using the Metaverse space, it is expected to realize new
inquiry-based learning using students' free expression, and
realization of interactive learning in a form close to reality that includes gestures with remote people. Expected.
As a technology provider for this project, Itoki will design requirements for the Metaverse space, build virtual classrooms, and use head-mounted displays in classrooms from an educational
perspective.
Ministry of Education, Culture, Sports, Science and Technology FY2020 Business to promote the utilization of advanced technology and educational data with an eye on next-generation schools and
educational sites
https://www.mext.go.jp/a_menu/shotou/zyouhou/detail/1416148.htm Ministry of Education, Culture, Sports, Science and Technology List of Organizations Adopted in FY2022
https://www.mext.go.jp/content/20220922-mxt_syoto01-100013299_01.pdf Ministry of Education, Culture, Sports, Science and Technology Demonstration Research Summary Material
https://www.mext.go.jp/content/20220927-mxt_syoto01-100013299_01.pdf [About Itoki's workplace business]
Since its founding in 1890, Itoki Co., Ltd. has set a mission statement of "Designing tomorrow's work." ], we have supported the creation of various "spaces", "environments" and "places" with a wide range of lineups such as office furniture, logistics equipment, ICT / audiovisual equipment, and interior equipment for building materials. Since the corona crisis, we have considered the entire working space as a "work environment", and in addition to products and services for creating an environment where workers "work together", we have also created "distributed" products such as home furniture for home work and home study. We support the creation of a "working environment" in any space by providing products that support the "working
environment", as well as surveys and consulting services for corporate work style strategies and work environment improvement.
[Contact information for this release]
Itoki Co., Ltd.
DX Promotion Headquarters Digital Solution Planning Division Ohashi Akiyama Ozawa
TEL: 03-6910-3910
Details about this release:
https://prtimes.jp/main/html/rd/p/000000323.000032317.html