KAFLIX CLOUD Co., Ltd.
KAFLIX CLOUD Co., Ltd. won the overall Grand Prix at the 1st place at Okinawa Prefecture's largest IT exhibition "Resortech EXPO 2022 in Okinawa"!
"KAFLIX CLOUD", which won the comprehensive grand prix at ResorTech EXPO 2022 and aims to completely transform the rental car market into DX

Okinawa Prefecture's largest IT / DX exhibition business meeting "ResorTech EXPO 2022 in Okinawa" will be held from November 17th to 18th, 2022, with a record 157 companies exhibiting, symposiums, various seminars, and business meetings. rice field.
"ResorTech EXPO AWARD"
(https://resortech-expo.okinawa/resortech-expo-award /)" KAFLIX CLOUD Co., Ltd. won the overall grand prix, which is the 1st place. In the selection process, the non-face-to-face kiosk terminal, which can support multiple languages, is an automatic identity verification system that scans passports and driver's licenses.It is an essential solution for the future increase in domestic and foreign tourists and car rental needs, and it will improve the operational efficiency of car rental companies. The core technology of the CLOUD ERP system with improved AI dynamic pricing and the fact that we boldly challenged the issues in the rental car industry were highly evaluated. A
non-face-to-face kiosk terminal that can be labor-saving and unmanned" was selected as the "ResorTech Exhibition Category Comprehensive Grand Prix".
KAFLIX CLOUD Co., Ltd. is aiming for DX in the travel industry in general, and as a start, we are working on complete digitalization of the rental car industry, which currently has the most analog parts. Next year, we plan to expand outside the prefecture, and we believe that winning the "ResorTech Exhibition Category Comprehensive Grand Prix" this time will support our goal of solving the problems of the entire rental car industry in Japan from Okinawa with DX and leading to an increase in tourists. We are here. We will continue to devote all our energies to the development of Okinawa's tourism industry, and we will make sincere efforts to improve technology not only in Japan but also in the world.
[Image 1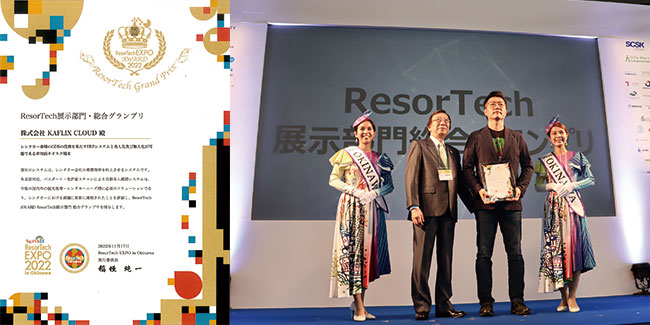 Rental car platform CLOUD ERP
・There are many end-users who want to rent a car, and this system enables real-time reservation of a designated rental car (a specific vehicle) via an OTA (Online Travel Agent). We have localized a system used by many users in South Korea to Japanese specifications. ・Rent-a-car companies can receive real-time reservations for specific vehicles from OTAs and collectively manage inventory.
・Automatic interlocking with over 100 OTAs is also possible, allowing car rental companies to increase the number of OTAs, which they have narrowed down due to the complexity of reservation operations, and increase sales.
・For EPR system services, dynamic pricing based on market conditions can be achieved while maintaining optimal utilization rates with AI.
What is a non-face-to-face kiosk terminal?
・The kiosk terminal connected to the ERP system integrates
state-of-the-art technology that allows the end user to complete reservation confirmation, payment, receipt issuance, parking location guidance, electronic contract issuance, and vehicle dispatch at the store without the intervention of staff. It is equipped with (Non-face-to-face, solving the problem of labor shortage, realizing paperless and cashless)
Core technology of KAFLIX CLOUD that plays the role of GDS in the car rental market
[Image 2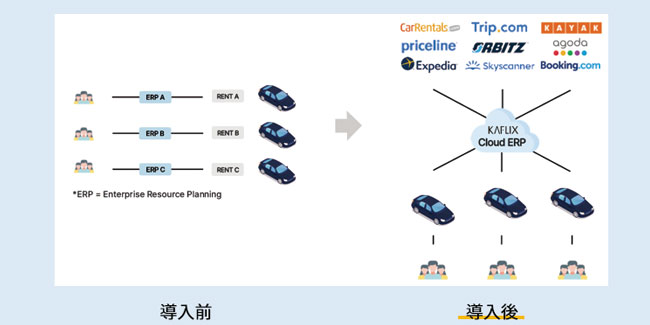 business in development
[Image 3

Details about this release:
https://prtimes.jp/main/html/rd/p/000000002.000112429.html