Kamiyama College of Technology
Kamiyama Marugoto Kosen Holds School Information Session "Marugoto Caravan" for Second Year Junior High School Students
Scheduled to be held at the Tokyo venue, Osaka venue, Tokushima venue, and online venue

School Corporation Kamiyama Gakuen Kamiyama Marugoto College of Technology (Kamiyama Marugoto College of Technology) will hold a school information session "Marugoto Caravan" for second-year junior high school students at Tokyo, Osaka, Tokushima, and online venues. This will be the first information session for the 2nd generation students who are scheduled to enter in April 2024.
[Image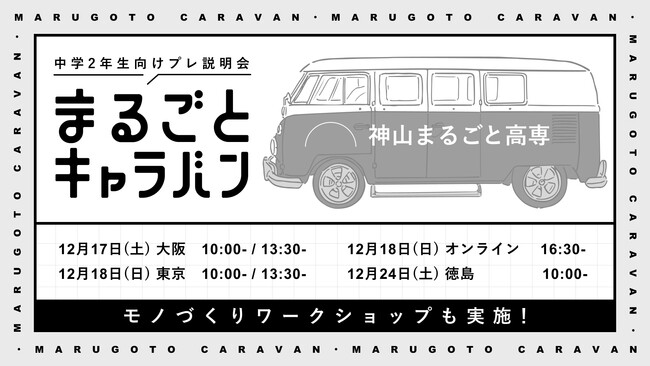 ■ Background
According to a survey, 34% of junior high school students start searching for a school before they enter the third year of junior high school (*1). In addition, as a point of choosing a school, it has become normal to choose a school that matches one's academic ability. This time, we decided to hold this event because we want to increase the number of junior high school students who choose their career path based on what they want to do, what they want to achieve, and what they want to be in the future. We hope that this event will be an opportunity for you to think about what you want to do and what you want to be while coming into contact with various options for the future.
In addition, this is the first student recruitment activity for the second generation as our school. Our school's entrance examination emphasizes "the degree of matching with the school", and through this event, we aim to deepen understanding of our school and consider it as one of the schools of your choice.
■Overview
Date and time:
・Osaka Venue December 17th (Sat) 10:00-12:00/13:30-15:30
・Tokyo Venue December 18 (Sun) 10:00-12:00/13:30-15:30
・Tokushima venue December 24 (Sat) 10:00-12:00
・ Online venue December 18th (Sun) 16:30-18:00
Venue:
・ Osaka venue Smaregi Co., Ltd. Osaka office
(Nomura Real Estate Midosuji Honmachi Building 3F, 4-2-12 Honmachi, Chuo-ku, Osaka-shi, Osaka)
・ Tokyo venue New Peace Co., Ltd.
(1F, Meguro Tokyu Building, 2-13-17 Kamiosaki, Shinagawa-ku, Tokyo) ・Tokushima Venue Awa Bank, Ltd. Head Office Sales Department (1-29 Higashi Shinmachi, Tokushima City, Tokushima Prefecture) ・Online venue Zoom (planned)
Contents:
・Explanation of the Kamiyama College of Technology
・Manufacturing workshop
・Introduction of future plans
*Contents are subject to change. Please note
subject:
Junior high school eighth graders and parents
Dear educators,
Expected number of participants:
40 people each time
Online 100 people
Entry fee:
Free (First-come, first-served basis)
way to participate:
Please apply after registering Kamiyama Marugoto Kosen LINE official. https://line.me/R/ti/p/%40179pvsul
* 1: Shinkenzemi Junior High School Course "High School Entrance Examination: How and When Will I Decide Which School I Want?" https://czemi.benesse.ne.jp/open/nyushi/article/closeup/00/1366384_13514.html (that's all)
■ What is Kamiyama Marugoto Kosen?
Kamiyama Marugoto College of Technology is a five-year private college of technology that will open in April 2023 in Kamiyama Town, Tokushima Prefecture. With "technology x design x entrepreneurship" as the foundation of our education, we aim to nurture human resources who are rooted in Kamiyama and move society, "those who create things with the power to create things".
Details about this release:
https://prtimes.jp/main/html/rd/p/000000049.000049229.html