Lawson Entertainment, Inc.
AB6IX's first documentary film "AB6IX:TAKE A CHANCE" will be released in Japan! Pre-screening with stage greetings by members and
congratulatory comments!
Limited release for 2 weeks at United Cinemas Aqua City Odaiba / Shinjuku Piccadilly and others from Friday, December 30, 2022
[Image 1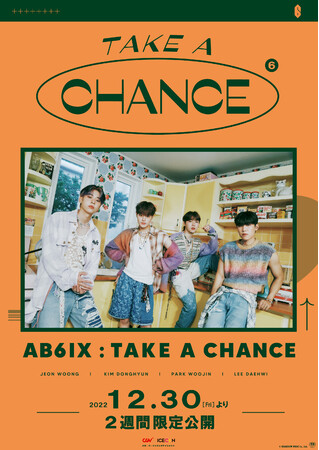 (C) BRAND NEW MUSIC Co., Ltd.
AB6IX Official Website: https://www.ab6ix.jp/posts/news
This time, the documentary film "AB6IX: TAKE A CHANCE" commemorating the release of the 6th mini album of the Korean boy group AB6IX will be released in Japan! Congratulatory comments from AB6IX members have arrived along with the release of the Japanese poster visual! This work will be a video work full of unreleased footage, including the production process of the album "TAKE A CHANCE", talks of the members who are not decorated, and live clips of the new album that can only be seen in the movie. In South Korea, it was released in theaters in October this year ahead of Japan, and at the time of the release, a screening with stage greetings by AB6IX members was held, and the screenings of full houses were enthusiastic.
And the long-awaited release has been decided in Japan! In Japan, it will be released for two weeks from December 30th (Friday), and on December 22nd (Thursday), it has been decided to hold an advance screening event with stage greetings by AB6IX members.
Please watch the first documentary film where you can enjoy the latest AB6IX at the theater!
Outline of work
Title: AB6IX:TAKE A CHANCE
Director: Park Woo Joo, Kim Hye Jin
Starring: AB6IX
Screening time: 55 minutes (planned)
-introduction-
Opportunities are always with us.
AB6IX's story "TAKE A CHANCE" proves this.
A documentary film commemorating the release of AB6IX's 6th mini album will be screened for a limited time.
Distributor: Lawson Entertainment
Copyright: (C) BRANDNEW MUSIC Co., Ltd.
▶AB6IX Official Website: https://www.ab6ix.jp/posts/news
▶ AB6IX Official Twitter: https://twitter.com/AB6IX_JP
[Japan public decision! congratulatory comment]
[Video 2: https://prtimes.jp/api/movieim.php?url=www.youtube.com/watch?v=cbanef7TAtQ] Hello everyone in Japan. It's AB6IX.
Congratulations on the decision to release "AB6IX:TAKE A CHANCE" in Japan. And even more! Our stage greetings have also been decided! terrible! This work is very meaningful to us. I would be happy if as many fans as possible could watch it. It's a wonderful work filled with a lot of our present. I'll be waiting for you at the cinema!
Screening overview
[Table 3: https://prtimes.jp/data/corp/34304/table/335_1_e624350aa520830f954ac07c28e6241c.jpg ]
-Holding Theater-
・(Tokyo) United Cinemas Aqua City Odaiba
・(Chiba) United Cinema Makuhari
*Ticket prices, sales information, and screening time details will be announced at a later date.
* There is no distribution of gifts for first-come-first-served visitors.
[Table 4: https://prtimes.jp/data/corp/34304/table/335_2_73b4268fc8955ca3758a736f3a16d7de.jpg ]
-Screening Theater-
(Hokkaido) United Cinema Sapporo
(Miyagi) MOVIX Sendai
(Saitama) United Cinema Urawa
(Chiba) United Cinema Makuhari
(Tokyo) United Cinemas Aqua City Odaiba
(Tokyo) Shinjuku Piccadilly
(Tokyo) MOVIX Akishima
(Kanagawa) Mobil
(Niigata) United Cinema Niigata
(Aichi) Midland Square Cinema
(Osaka) Namba Parks Cinema
(Fukuoka) United Cinema Canal City 13
-First-come, first-served gift-
Details to be announced at a later date
-Admission fee on the day-
Special viewing fee: 1,800 yen (tax included)
*Advance screenings with stage greetings differ in price. Details will be announced at a later date.
* Various discounts such as student, senior, couple discount, service day, etc. are not applicable.
*Complimentary tickets for shareholders, various invitation tickets, various movie tickets (common movie tickets), and welfare coupons cannot be used.
-Advance ticket information- *Cannot be used for advanced screenings with stage greetings.
Price: 1,800 yen (tax included)
Sales schedule: From Friday, November 25, 2022
・Movie ticket convenience store ticket
Sales locations: Loppi terminals in Lawson and Ministop stores nationwide ▶Detail page: https://l-tike.com/ab6ix-screening/
*After applying on Loppi, you can receive your movie ticket at the cash register immediately.
・Movie ticket advance ticket (online)
Bonus: original smartphone wallpaper
▶Detail page: https://mvtk.jp/Film/079264
*The screening schedule and theater are subject to change without notice, so please contact the theater where you plan to see the film directly for more information.
AB6IX Profile
[Image 2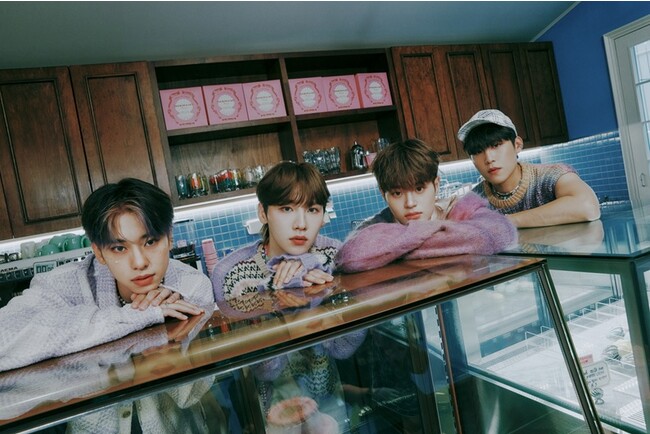 (C) BRAND NEW MUSIC Co., Ltd.
A 4-member boy group of Jeong Woong, Kim Dong Hyun, Park Woo Jin, and Lee Dae Hwi who debuted in Korea with the 2019 MINI ALBUM
"B:COMPLETE".
Tickets for the debut showcase were sold out within 30 seconds, proving their explosive popularity. Six months after their debut in their home country, they opened a Japanese fan club, and the tickets for the fan meeting held at the Pacifico Yokohama National Hall sold out on the same day. In addition, pop-up shops and collaboration cafes have been held and are attracting attention in Japan, and expectations for future activities are rising.
Details about this release:
https://prtimes.jp/main/html/rd/p/000000335.000034304.html