Decollete Co., Ltd.
[Limited to the first 20 pairs 33,000 yen OFF] Wedding photo taken with Kawazu cherry blossoms 2023 limited-time plan is now available A popular plan to shoot in the beautiful Kawazu cherry blossoms and the nature of Izu, pre-orders are now open!

We are pleased to inform you that we have started accepting
reservations for a limited-time plan that allows you to shoot with Kawazu cherry blossoms at the wedding photo studio "Studio AQUA / Studio 8" operated by Decorte Co., Ltd. (Headquarters: Ashiya City, Hyogo Prefecture, hereinafter referred to as "Decollete"). increase. [Image 1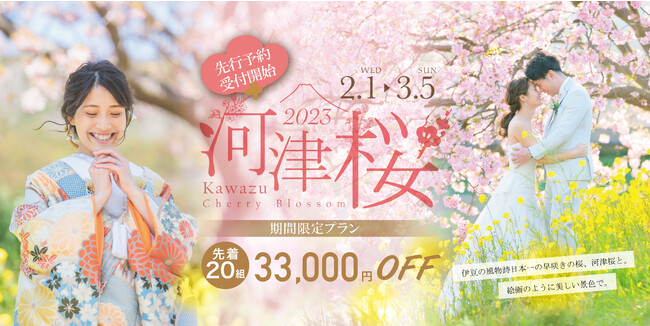 POINT of Kawazuzakura location
● Kawazuzakura is an early-blooming cherry tree that begins to bloom in early February every year.
● Larger and darker pink flowers than common Somei Yoshino.
● The beautiful contrast between the pink of the cherry blossoms, the yellow of the rape blossoms, and the light blue of the sky is a sight to behold.
● In addition to the beautiful cherry blossoms, you can enjoy shooting in the natural scenery of Izu.
In commemoration of the start of accepting reservations for the Kawazu Sakura Location Plan in 2023, we are holding a campaign to offer a total of 33,000 yen OFF for the first 20 groups only! You can enjoy wedding photography at a great price.
Plan overview
[Image 2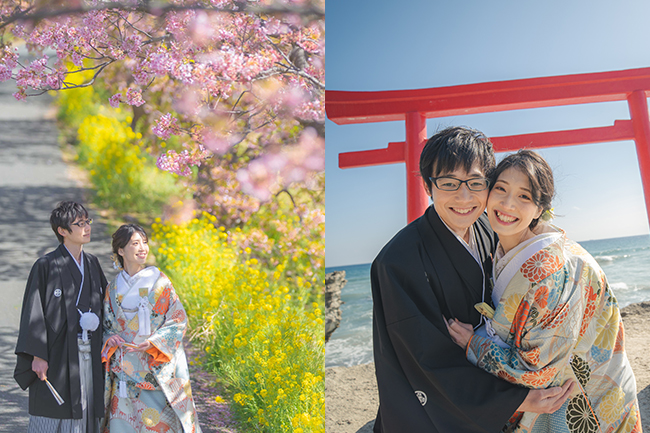 Kawazuzakura 2 places Kimono location 89,800 yen (98,780 yen including tax) ⇒ [Campaign limited price] 59,800 yen (65,780 yen including tax) Kimono plan to shoot at Kawazu cherry blossoms + temples and shrines, leaving the kimono beautifully and firmly
[Image 3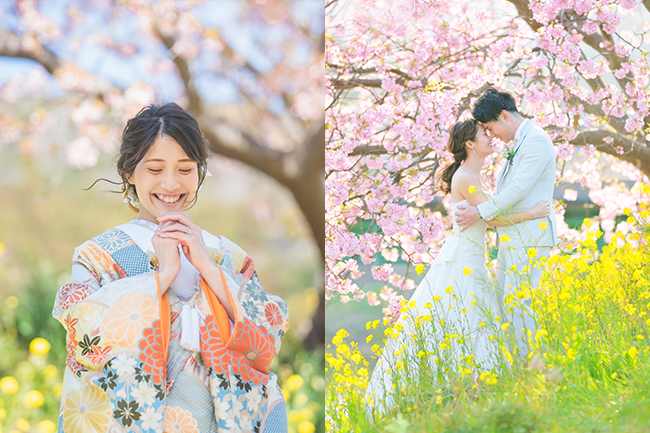 Kawazuzakura 2 places Kimono + western style location 119,800 yen (131,780 yen including tax)
⇒ [Campaign limited price] 89,800 yen (98,780 yen including tax) Popular set plan where you can leave both Japanese and Western clothes at Kawazu cherry blossoms + surrounding spots
[Image 4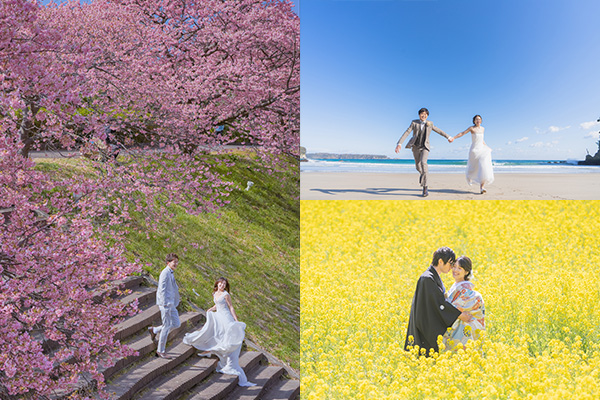 Kawazuzakura enjoyment Japanese style + western style special location 149,800 yen (164,780 yen including tax)
⇒ [Campaign limited price] 119,800 yen (131,780 yen including tax) A very satisfying set plan that tours the attractive spots of Kawazu cherry blossoms and Izu
◆ Shooting period
February 1 (Wednesday) to March 5 (Sunday), 2023
◆ Reservation acceptance store
[Kanto] Studio AQUA
Shinjuku store/Omotesando Shibuya store/Asakusa store/Tachikawa store/Yokohama Minatomirai store/Omiya store
[Nagoya] Studio 8
Sakae store/Nagoya station square store
◆ Reservation method
Visit your nearest store or contact us online.
We accept reservations for consultations from the special page. Studio AQUA: https://photo.decollte.co.jp/specials/kawazuzakura?brand_id=1 Studio 8: https://photo.decollte.co.jp/specials/kawazuzakura?brand_id=3 ‥ ‥‥ ‥‥ ‥‥ ‥‥ ‥‥ ‥‥ ‥‥ ‥‥ ‥‥ ‥‥ ‥‥
[Image 5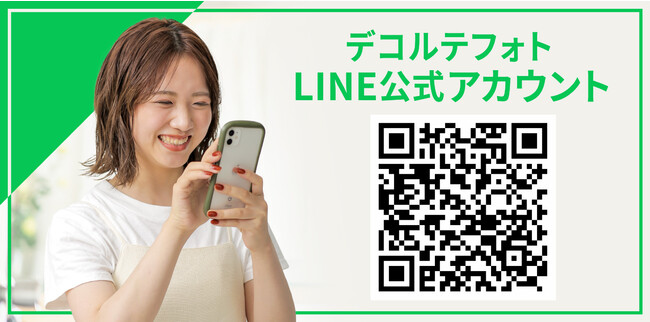 In addition to simple diagnosis, we will inform you of useful information and advantageous campaigns for wedding photography. Decollete photo @decollte_photo
‥ ‥‥ ‥‥ ‥‥ ‥‥ ‥‥ ‥‥ ‥‥ ‥‥ ‥‥ ‥‥ ‥‥
About Decorte Co., Ltd.
"Decollete" operates photo studios nationwide and provides services that are close to life events such as weddings taken by our highly skilled staff such as photographers and makeup artists.
In the photo wedding business, we have welcomed more than 220,000 brides and grooms so far. In order to meet the needs and requests of customers in line with the times, we will continue to follow trends and take the best shots that will be close to the hearts of couples who are about to get married.
[Image 6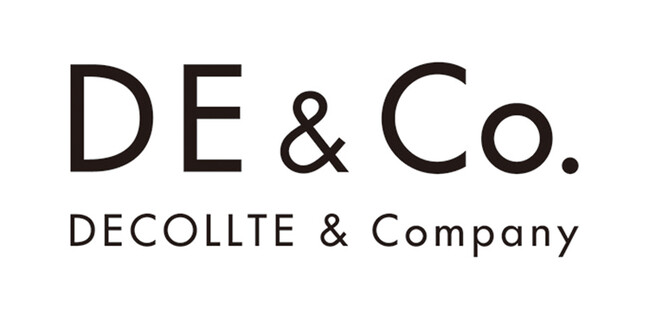 Representative: Toshiya Mizuma
Head office: Accessio Ashiya, 1-25 Omasu-cho, Ashiya City, Hyogo Prefecture Founded: November 2001
Business description: Operation of wedding photo studios and anniversary photo studios
URL: https://www.decollte.co.jp/
*Decollete Holdings Co., Ltd., the holding company, is listed on the Tokyo Stock Exchange Growth Market.
Request for credit notation when quoting or reprinting
Please be sure to comply with the following when quoting this press release. ・ Link installation https://photo.decollte.co.jp/specials/kawazuzakura · Copyright notice (C) Decollte Holdings Corporation ALL RIGHTS RESERVED.
Details about this release:
https://prtimes.jp/main/html/rd/p/000000087.000060273.html