Louis Vuitton Japan Co., Ltd.
Louis Vuitton stars Lionel Messi and Cristiano Ronaldo in new advertising campaign

[Image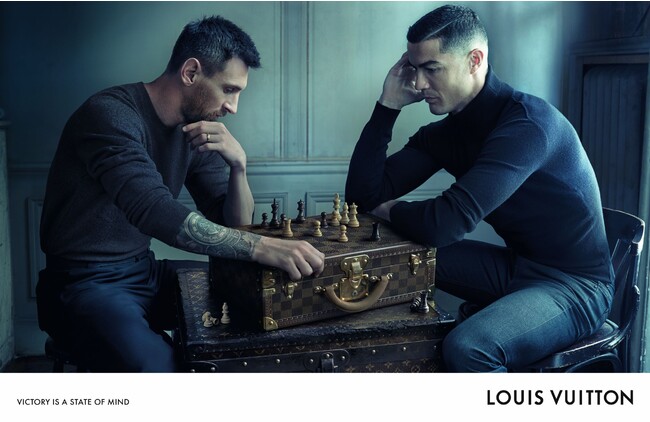 (C) LOUIS VUITTON, ANNIE LEIBOVITZ
Louis Vuitton is pleased to announce that football superstars Lionel Messi and Cristiano Ronaldo have been captured by photographer Annie Leibovitz in its latest brand advertising campaign, Victory is a State of Mind. State of Mind) was announced.
More than a decade after the 2010 campaign featuring three footballing legends Pele, Maradona and Zinedine Zidane, Annie Leibovitz once again captures two of today's footballing legends. . Away from the football field, the two play a game on a Louis Vuitton Damier attaché case that acts as an impromptu chessboard.
The latest brand advertising campaign, "Victory is a State of Mind," is rolling out worldwide on November 19th.
Contact: Louis Vuitton Client Service T 0120 00 1854
About Louis Vuitton
Since its founding in 1854, Louis Vuitton has consistently offered the finest quality in unique designs that combine innovation and style. Today, through travel luggage, bags, accessories, and other products, we have faithfully inherited the creative, elegant, and practical spirit of the "heart of travel" created by our founder, Louis Vuitton. It was Boldness that made the story of Louis Vuitton. Respecting tradition, it has opened its doors to architects, artists and designers throughout history, pioneering fields such as ready-to-wear, shoes, accessories, watches & fine jewelry, and fragrances. These carefully crafted products are testament to Louis Vuitton's commitment to craftsmanship.
For more information, please visit the official Louis Vuitton website louisvuitton.com.
Details about this release:
https://prtimes.jp/main/html/rd/p/000000583.000060591.html