Bace Co., Ltd.
Lucky bags that can be ordered with free shipping from Minimal are now available! Lucky bags containing various sweets unique to chocolate specialty stores will be released on November 24

Specialty chocolate specialty store from Japan "Minimal – Bean to Bar Chocolate -" (https://mini-mal.tokyo/) developed by βace Co., Ltd. (Shibuya-ku, Tokyo, CEO: Takashi Yamashita) will release a limited number of lucky bags that can be ordered at the online store from November 24th. In addition, discount lucky bags will be on sale at stores from December 26th.
[Image 1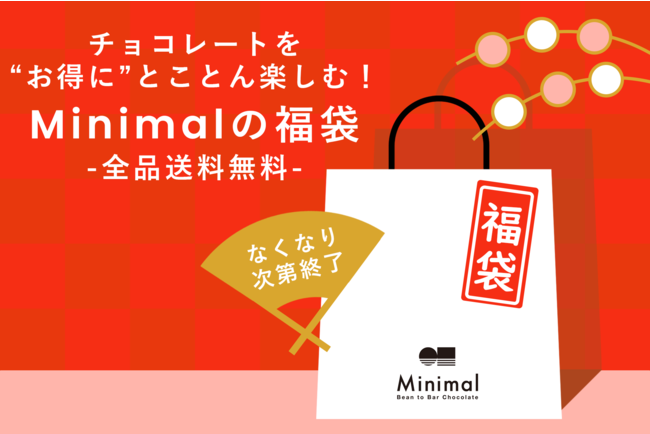 It is a lucky bag that you can enjoy chocolate that you can enjoy because it is Minimal with a variety of lineups such as plate chocolate, ice cream, raw gateau chocolate and cheesecake. Enjoy a limited number of lucky bags for a maximum of 3,170 yen as a reward for yourself who worked hard for a year or to accompany the year-end and New Year holidays.
Online store is more profitable with free shipping! Lucky bags that can be ordered, information on the lineup
Raw Gateau Chocolat & Ice Lucky Bag
[Image 2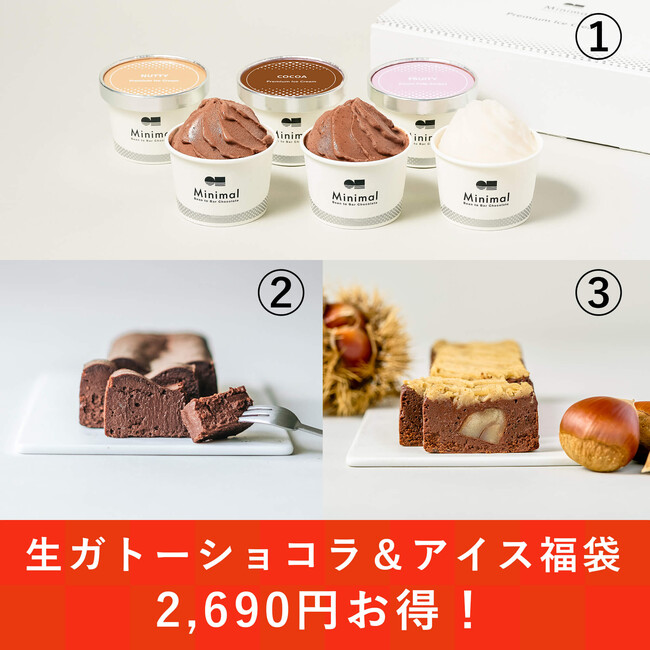 Seasonal limited raw gateau chocolate using Japanese chestnuts from Kyushu, standard popular NUTTY flavor raw gateau chocolate, two types of chocolate ice cream that makes use of cacao flavor, and sorbet using rare cacao pulp. A set that allows you to enjoy a variety of flavors.
● Set contents
1. Premium ice cream 3 types (6 pieces) x 1 box
2. Raw gateau chocolate -NUTTY- x 1
3. Raw gateau chocolate – Japanese chestnut – x 1
Normal 12,190 yen → 9,500 yen (approximately 2,690 yen saving) Standard Sweets & Ice Lucky Bag
[Image 3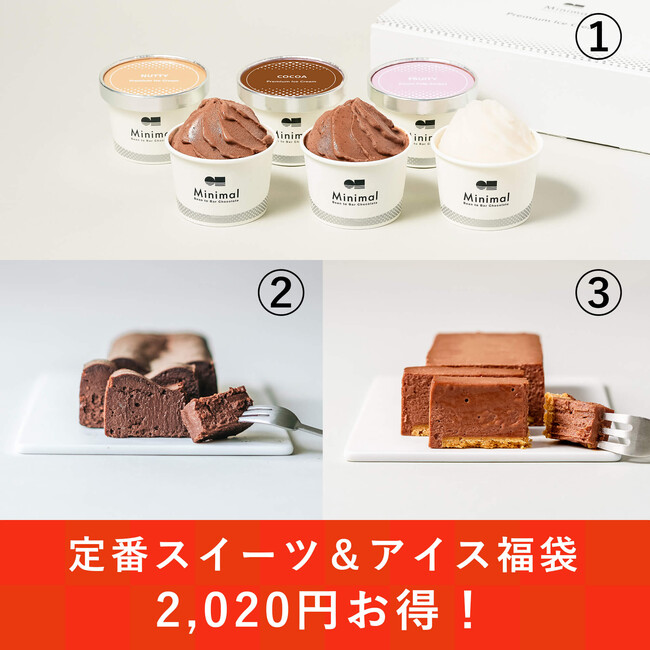 Recommended for those who are new to Minimal. A set where you can enjoy the classic popular raw gateau chocolate and chocolate rare cheesecake.
● Set contents
1. Premium ice cream 3 types (6 pieces) x 1 box
2. Raw Gateau Chocolat -NUTTY- x 1
3. Chocolate rare cheesecake x 1
Normal 11,520 yen → 9,500 yen (approximately 2,020 yen saving) Cheesecake & ice lucky bag
[Image 4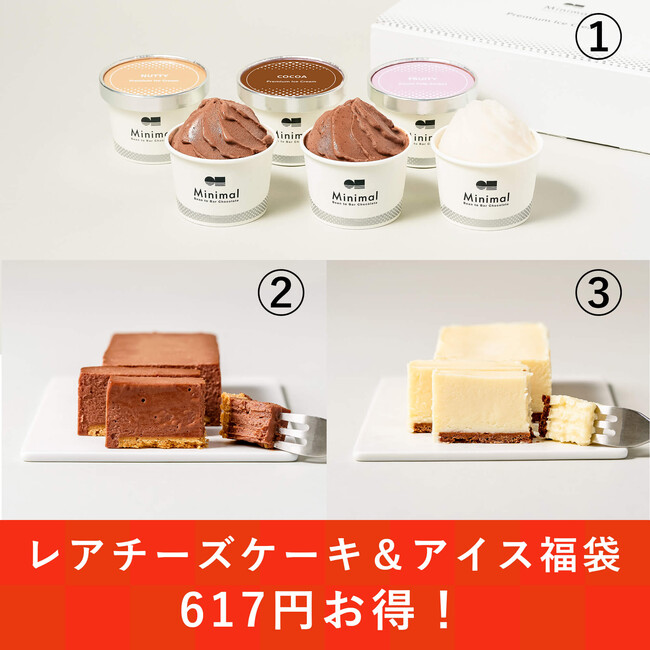 Recommended for cheesecake lovers. A set where you can enjoy eating and comparing two kinds of rare cheesecakes with completely different flavors using cacao.
● Set contents
1. Premium ice cream 3 types (6 pieces) x 1 box
2. Chocolate rare cheesecake x 1
3. Cocoa olea cheesecake x 1
Regular price 10,117 yen → 9,500 yen (saving about 617 yen)
Luxurious sweets lucky bag
[Image 5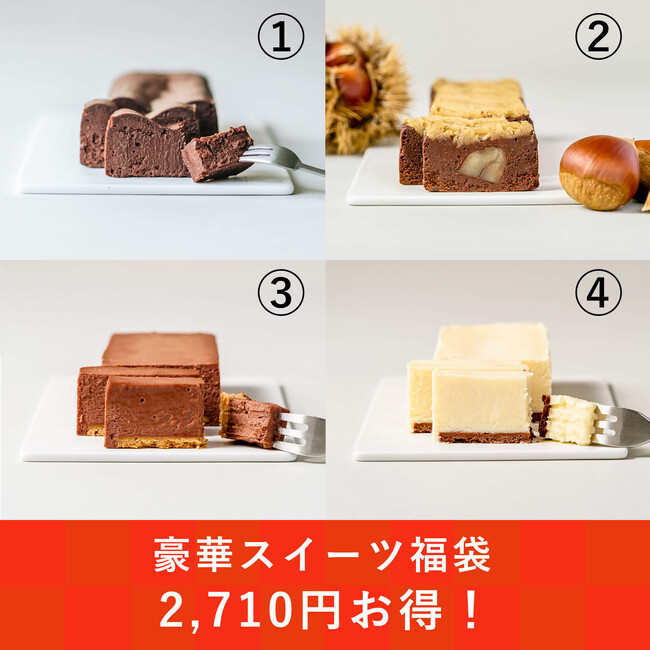 It is also recommended for those who enjoy with a large number of people. A set where you can enjoy 2 types of raw gateau chocolate and 2 types of cheesecake, including seasonal limited editions.
● Set contents
1. Raw Gateau Chocolat -NUTTY- x 1
2. Raw gateau chocolate -Japanese chestnut- x 1
3. Chocolate rare cheesecake x 1
4. Cocoa olea cheesecake x 1
Normal 14,210 yen → 11,500 yen (approximately 2,710 yen saving) Limited ice cream & sweets lucky bag
[Image 6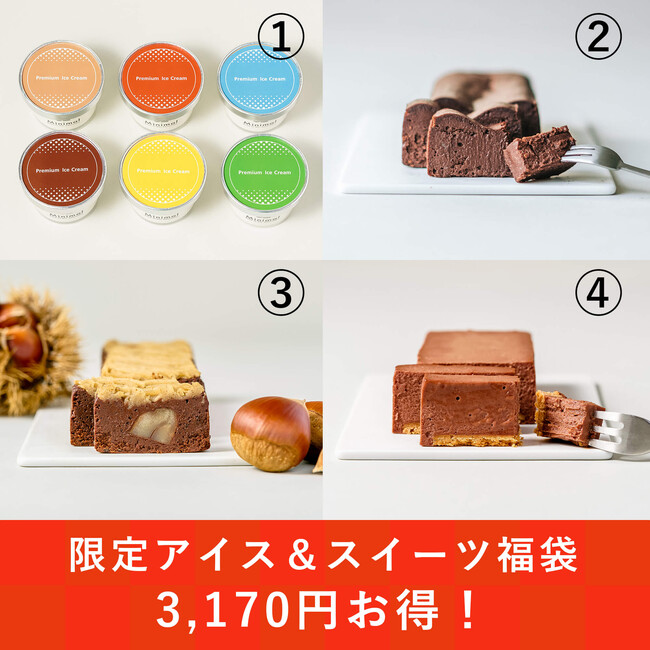 A very satisfying set where you can enjoy 6 types of ice cream including limited flavors, raw gateau chocolate and cheesecake. ● Set contents
1. Premium ice cream 6 types (6 pieces) x 1 box
2. Raw gateau chocolate -NUTTY- x 1
3. Raw gateau chocolate – Japanese chestnut – x 1
4. Chocolate rare cheesecake x 1
Normal 15,170 yen → 12,000 yen (approximately 3,170 yen saving) Satisfaction Chocolate Lucky Bag (Maron)
[Image 7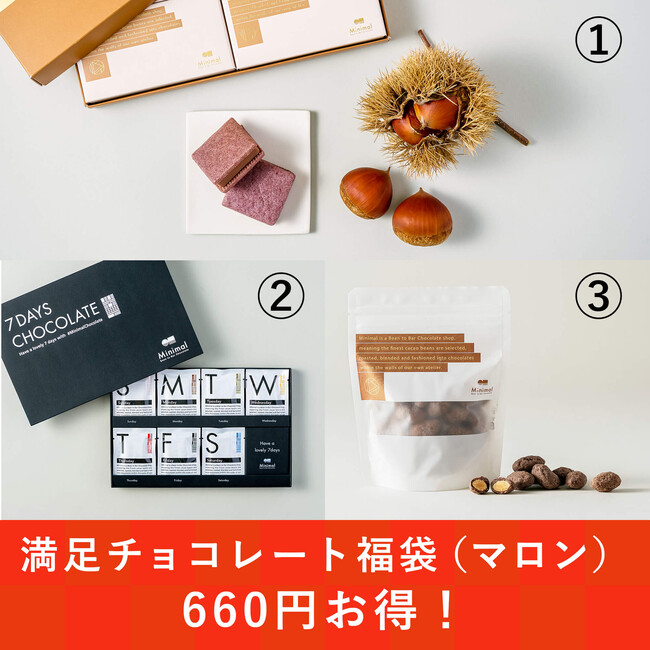 It is a set where you can enjoy a variety of chocolates, including seasonal chocolate sand cookies with chestnut and cassis flavors, "7DAYS CHOCOLATE" where you can enjoy 7 flavors of plate chocolate, and almond chocolate.
● Set contents
1. Chocolate sandwich cookie -chestnut & cassis- (8 pieces) x 1 box 2.7DAYS CHOCOLATE (14 pieces) x 1 box
3. Almond chocolate x 1 bag
Normal 7,410 yen → 6,750 yen (660 yen discount)
Luxury chocolate lucky bag (marron)
[Image 8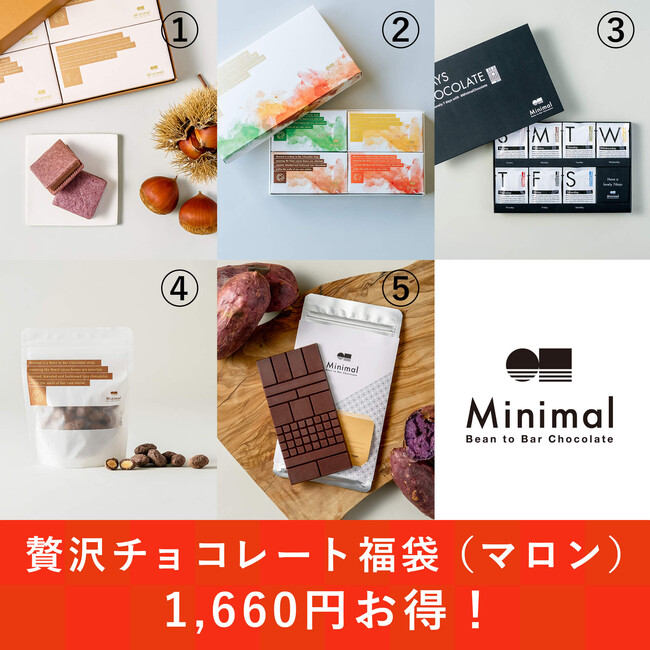 It is also recommended as a handout gift, and it is a set where you can enjoy chocolate sandwich cookies, plate chocolate, almond chocolate, etc.
● Set contents
1. Chocolate sandwich cookie -chestnut & cassis- (8 pieces) x 1 box 2. Chocolate sandwich cookie 4 types (8 pieces) x 1 box
3.7DAYS CHOCOLATE (14 pieces) x 1 box
4. Almond chocolate x 1 bag
5. SEASONAL Nicaragua 60% x 1 piece
Normal 11,160 yen → 9,500 yen (1,660 yen saving)
Reward chocolate lucky bag (maron)
[Image 9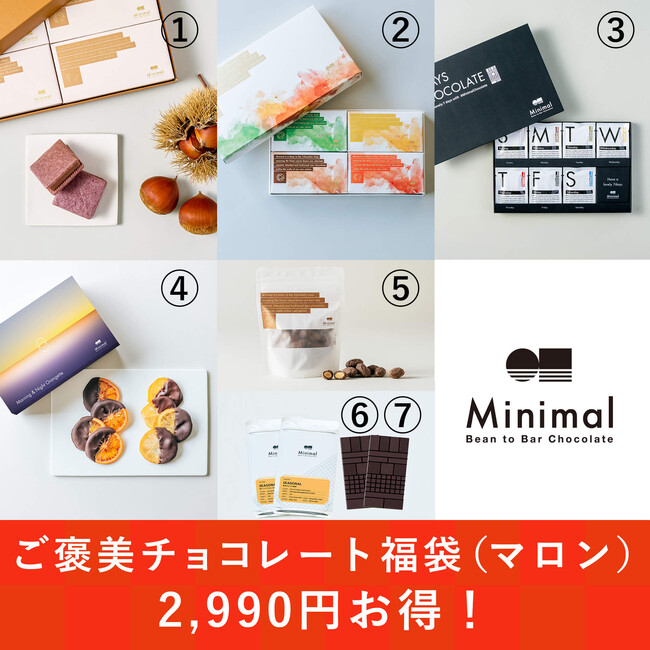 A set to enjoy plenty of chocolate. In addition to chocolate sandwich cookies and almond chocolate, you can also enjoy seasonal chocolate bars.
● Set contents
1. Chocolate sandwich cookie -chestnut & cassis- (8 pieces) x 1 box 2. Chocolate sandwich cookie 4 types (8 pieces) x 1 box
3.7DAYS CHOCOLATE (14 pieces) x 1 box
4. Minimal Orangette -Morning & Night- (8 pieces) x 1 box
5. Almond chocolate x 1 bag
6. SEASONAL Nicaragua 60% x 1 piece
7. SEASONAL Uganda 85% x 1 sheet
Normal 15,990 yen → 13,000 yen (2,990 yen saving)
Store sales start on December 26th! Unique to the store, there are also lucky bags that you can enjoy pairing with
[Image 10
Minimal visits cocoa production areas around the world and
manufactures chocolates one by one by hand by craftsmen from high quality cocoa beans. Patissiers, chocolatiers, and craftsmen who have honed their skills at Michelin-starred restaurants and top patisserie in Japan and overseas are earnestly based on the starting point of "carefully and simply, using the best ingredients to bring out the maximum aroma". We will make Minimal chocolates and sweets at work. As for cacao, which is a raw material, we conduct research and lectures on fermentation and drying work locally, and develop flavors that meet high quality and high unit price with cacao farmers. Aiming for sustainable economic self-reliance of the cocoa industry, which has remnants of plantations, we will provide technical support and fair and ethical transactions. In 2019, we conducted a cacao survey in Nicaragua as part of JICA's ODA feasibility study project.
Received 69 awards for 6 years in a row at international competitions due to the idea of ​​"subtraction" that makes the most of the ingredients and our unique manufacturing method. We would like to deliver "chocolate that leaves a lasting impression" that will make you want to eat again!
Store information
[Image 12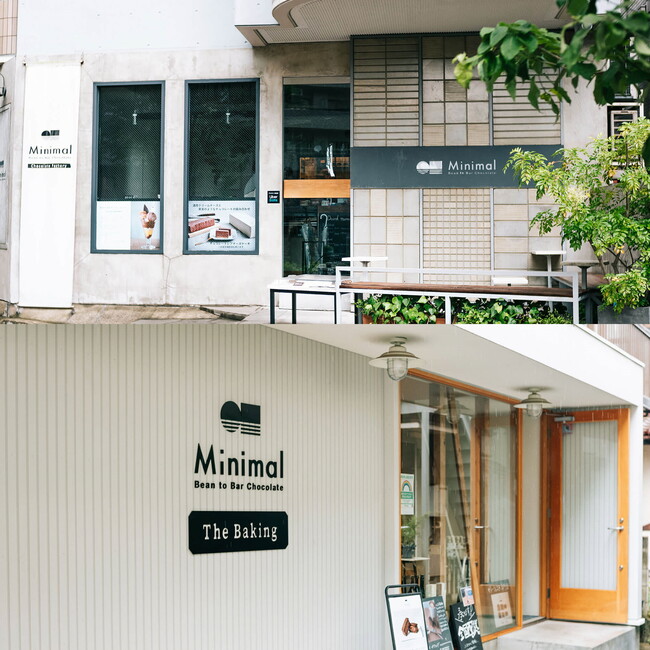 It also has a cafe space. You can also enjoy coffee, chocolate and parfaits. ■ Minimal Tomigaya Main Store
Address: 1F, 2-1-9 Tomigaya, Shibuya-ku, Tokyo
Access: 6-minute walk from Yoyogi-Hachiman Station on the Odakyu Line and Yoyogi-Koen Station on the Tokyo Metro Chiyoda Line
Business hours: 11:30-19:00 (L.O 18:30) No fixed holidays
■ Minimal The Baking Yoyogi Uehara
Address: 1-34-5 Uehara, Shibuya-ku, Tokyo
Access: 2-minute walk from Yoyogi-Uehara Station on each line Business hours: 11:00-19:00 No fixed holidays
Overview of βace Co., Ltd.
Company name: βace Co., Ltd.
Representative: Representative Director Takashi Yamashita
Address: Urban Terrace 21, 2-1-9 Tomigaya, Shibuya-ku, Tokyo 151-0063 Number of employees: 40 (including part-time workers)
Business: Manufacture and sale of chocolate products
Operation of chocolate specialty store "Minimal – Bean to Bar Chocolate -" Minimal – Bean to Bar Chocolate – Related Information
Website/Online store:
https://mini-mal.tokyo
LINE:
https://page.line.me/yrn4346m?openQrModal=true
Instagram:
https://www.instagram.com/minimal_beantobarchocolate
Twitter:
https://twitter.com/Minimal_tokyo
Facebook:
https://www.facebook.com/minimalchocolate/?fref=ts
Details about this release:
https://prtimes.jp/main/html/rd/p/000000107.000012047.html