Mashiko Town, Tochigi Prefecture
All 10 types announced! "Shishi Yamazaki" NFT art work [ma shishi ko]
Mashiko Town, Tochigi Prefecture collaborated with Shishiyamazaki to create an NFT art work [ma shishi ko]. We will announce a total of 10 types, including the newly written character "Potto-chan". From December 4th (Sun), it will be exhibited as a return gift for Mashiko Town's hometown tax.
Mashiko Town, Tochigi Prefecture (Mayor: Mojuro Hirota) has teamed up with world-famous artist Shishi Yamazaki, who has moved his base of activity to Mashiko Town since 2020, to launch the first regional revitalization project to promote Mashiko pottery. As a bullet, the NFT art work [ma shishi ko] will be exhibited from 6:00 pm on Sunday, December 4, 2022 as a hometown tax return item.
On November 15th, at the same time as the announcement of this project, five types of works were released in advance, and now all 10 types have been released. The work is a completely new work written by Mr. Shishiyamazaki for this time, and the vase, bowl, cup, etc. are all inspired by Mashiko ware. It is drawn with a characteristic touch. [Image 1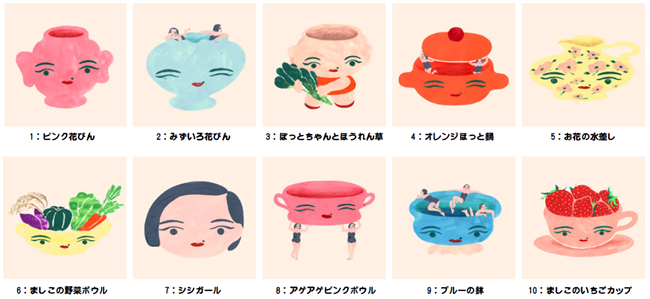 About Rakuten NFT
This NFT art work will be exhibited as a return gift on the hometown tax portal site "Rakuten Furusato Nozei" and will be issued on the "Rakuten NFT" platform, which started service in February this year. This project will be the first time that NFT art works will be exhibited in the "Rakuten Hometown Tax" as a return gift using "Rakuten NFT".
NFT is an abbreviation for non-fungible token, and is called "non-fungible token" in Japanese. Simply put, it's an official certificate just for you. Use blockchain to prove you own content. In addition, anyone can easily enjoy NFT by credit card payment using Rakuten ID.
About artist Shishiyamazaki
An artist who has established watercolor-like hand-drawn rotoscope animation as a unique expression method, and whose works that use a lot of unique pink colors are highly acclaimed both in Japan and overseas. I have been in charge of creating brand promotion images for brands such as "CHANEL", "PRADA", and "Shiseido".
In 2016, I met pottery at a pottery class in Tokyo, and after that, I started going to the pottery in Mashiko-machi, and from 2020, I moved the base of my activities to Mashiko-machi. He also creates pottery works himself, and in 2022, he will hold a POPUP of pottery works at Nihonbashi Mitsukoshi.
In 2021, NFT works will be exhibited on the world's largest virtual currency exchange "Binance", and in the planning of the NTV NFT auction program "# Digiseri", Nakayamakinni-kun and "Yamaza Kinnikun" will be produced, both of which are high. Rated.
He has been deeply involved in Mashiko through this project, and is currently producing a new animation set in Mashiko Town (short version is now available. https://onl.bz/YXGqCCY Music: YAMASUKI). I look forward to working with you!
[Image 2

                                         ※This is not a gift item About Mashiko Town, Tochigi Prefecture
Mashiko Town, located in the southeastern part of Tochigi Prefecture, is famous for "Mashiko ware", and although it is bustling with people during the pottery market held in spring and autumn every year, the number of tourists has decreased due to the Great East Japan Earthquake in 2011 and the recent corona disaster. is decreasing. The number of establishments related to Mashiko-yaki has also decreased by 40% from its peak in 1992, making the promotion of production areas such as fostering artists and promoting Mashiko-yaki a pressing issue. [Overview of gift items]
Return Gift|Mashiko Town x Shishi Yamazaki NFT art work [ma shishi ko] 1 piece + ceramic chopstick rest "ha shishi oki" set
Number of exhibited items|100 items (10 types x 10 packs each) Donation amount|100,000 yen
Donation start date|December 4, 2022 (Sunday) 6:00 pm start
Donation Site | "Rakuten Hometown Tax" Mashiko Town Page
(https://www.rakuten.co.jp/f093424-mashiko/)
There are many special products of Mashiko Town. Please take a look!
Details about this release:
https://prtimes.jp/main/html/rd/p/000000006.000109510.html