Mitsui Fudosan Co., Ltd.
Started construction of the Tsukiji 4-chome Hotel Project (provisional name) to meet the diverse accommodation needs of customers, including medium- to long-term stays
– Scheduled to open in fall 2024 –

Mitsui Fudosan Co., Ltd. (Headquarters: Chuo-ku, Tokyo / President: Masanobu Komoda) and Mitsui Fudosan Hotel Management Co., Ltd. (Headquarters: Chuo-ku, Tokyo / President and CEO: Masaru Sasabe) announced on November 18, 2022, "(provisional name) We are pleased to inform you that we have started construction of the Tsukiji 4-chome Hotel Project. The opening is scheduled for the fall of 2024. In this project, a hotel will be built on land owned by Mitsui Fudosan Co., Ltd. and Iwama Honsha Co., Ltd. (Headquarters: Chuo-ku, Tokyo; President: Akira Iwama), and Mitsui Fudosan Hotel Management will operate the hotel. In addition, a pottery shop operated by Iwama Headquarters Co., Ltd. is scheduled to move in on the first floor. With the spread of the new coronavirus infection, new lifestyles have spread, and the experience value that customers want from hotels is diversifying, such as day-use for business, micro-tourism, and daily relaxation, in addition to simply staying. This plan aims to be a hotel that responds to the diverse needs of customers, with a focus on long-term and medium- to long-term stays. In addition, Mitsui Garden Hotels will be rebranded in November 2022, and will introduce services and projects that meet leisure and refreshment needs in addition to business. This project will be promoted as a hotel that expresses the new brand tagline "Stay in the Garden."
Points of this release
・Scheduled to open in autumn 2024 in a highly convenient location suitable for sightseeing near Higashi-Ginza Station and Tsukiji Station on the Tokyo Metro Hibiya Line.
・The new brand tagline "Stay in the Garden" is expressed in terms of hardware and software.
-In order to meet the diversifying needs of hotel stays, washing machines and sound equipment are installed in all guest rooms to support a comfortable stay.
-In addition to the restaurant, large public bath, and fitness room, there is also a cafe and a refreshment space to expand the range of ways you can spend your time in the hotel.
[Image 1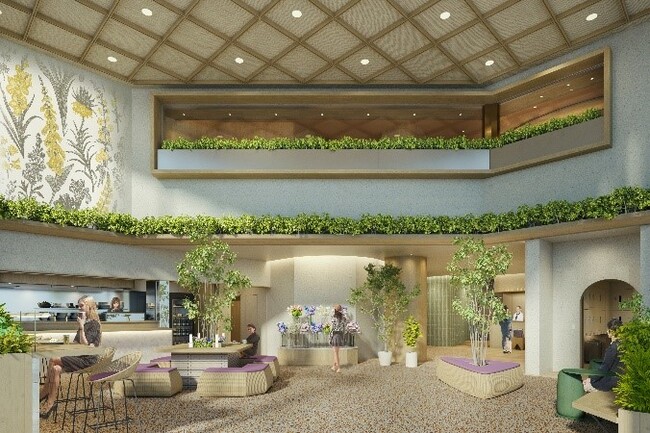 Lobby image perspective
[Image 2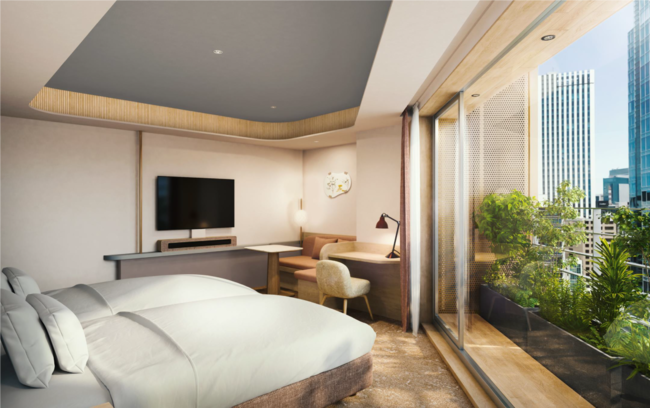 Corner room image perspective
■ Features of the (provisional name) Tsukiji 4-chome Hotel Project (1) Location
The project site is a 3-minute walk from Higashi-Ginza Station on the Tokyo Metro Hibiya Line and Toei Asakusa Line, and Tsukiji Station on the Tokyo Metro Hibiya Line, making it highly convenient for transportation. It is also accessible from Tsukiji Hongwanji Temple, the Tsukiji Outer Market, and the Ginza area. It is a convenient location. There are also plans to redevelop the site of the former Tsukiji market in the surrounding area, and further revitalization is expected in the future.
Due to such location characteristics, we aim to open a hotel that can be used for a wide range of purposes, from business to tourism. (2) Guest room
For the first time at Mitsui Garden Hotels, all guest rooms are equipped with washing machines, microwave ovens, refrigerators and freezers, etc., and we aim to provide a space where guests staying for multiple nights or medium- to long-term stays can spend a more comfortable daily life.
In addition, we will install audio equipment that focuses on sound quality, and will also come standard with a cast function to the TV. Fourth rooms with kitchens are also planned, making them more comfortable for leisure and family stays compared to previous Mitsui Garden Hotels.
(3) Common area
A restaurant on the top floor, a refreshment space that can be used for work, a large public bath to relieve fatigue during your stay, a fitness gym where you can sweat, and a cafe in the lobby. Doing. It can be used for various purposes such as working, living, and relaxing.
In addition, the cafe attached to the lobby, which is the entrance to the hotel, is designed so that it can be used not only by hotel guests but also by nearby residents, and we aim to be a hotel that is open to the city.
(4) Design and service
 We will introduce space design and services that allow customers to "live like they are at home" so that they can stay without stress. Plants will be placed on guest room balconies and in the lobby so that guests can feel connected to nature.
In addition, we will create a relaxing hotel stay for our guests, including the introduction of comfortable and convenient services for our guests and efficient check-in methods.
■ Mitsui Garden Hotels' new brand tagline "Stay in the Garden"
[Table 3: https://prtimes.jp/data/corp/51782/table/379_1_a693ce62ad15e9570570d77755ca7771.jpg ]
"As the name of Mitsui Garden Hotels suggests, in a garden-like space where you can feel safe and protected, you can feel the uniqueness of the area and nature, face your inner self, and spend time with your loved ones. We want to provide a comfortable stay at the hotel." With that in mind, we have established the above brand statement. Based on this statement, we established the brand tagline "Stay in the Garden" as a word that embodies the future of Mitsui Garden Hotels.
Hotels operated by Mitsui Fudosan Hotel Management
[Image 3

At Mitsui Garden Hotels, we set the brand tagline "Stay in the Garden" based on our desire to "provide a rich and relaxing stay experience like a garden," and offer approximately 10,000 rooms in 34 facilities in Japan and overseas. I'm here. We have prepared unique designs and "breakfast that you can enjoy" that value the regional characteristics of each region of the country, and you can enjoy not only business use but also leisure, retreat, refreshment, long-term stay, etc. in various situations.
In addition, there are three "THE CELESTINE HOTELS", which are "destination hotels where the stay itself is the purpose", and "sequence", a next-generation lifestyle hotel where you can enjoy "free time and how to spend it" in your own style. ] is deployed at 3 facilities. Mitsui Fudosan Hotel Management develops brands that meet diverse needs based on the philosophy and concept of "a memorable hotel" and "a hotel that satisfies the five senses of highly sensitive customers."
■ Plan overview (planned)
[Table 4: https://prtimes.jp/data/corp/51782/table/379_2_8c02ee3619c32efaae536f3b85d27d29.jpg ]
■ Location map
[Image 4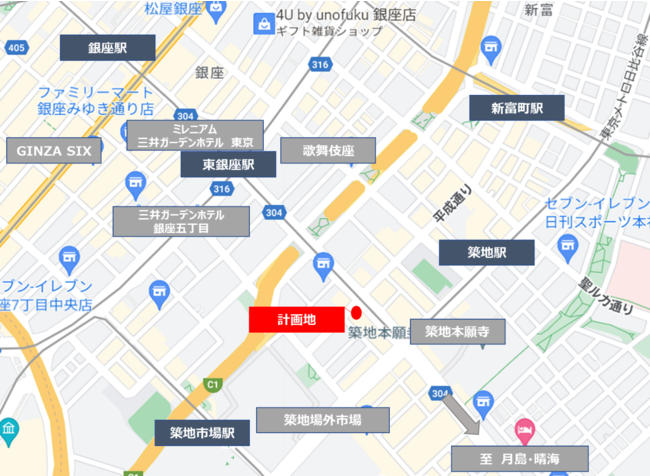 ■ About the "Mitsui Fudosan 9 Box Infection Control Standards" At the Mitsui Fudosan Group, we believe that easy-to-understand infection control measures based on medical and engineering knowledge are essential so that our facilities can be used with peace of mind. We are thoroughly taking measures against the new coronavirus infection. The Group operates a wide range of facilities, including office buildings, commercial facilities, hotels, resorts, logistics, and housing. I would like to contribute.
The Group will continue to work toward the realization of a
sustainable society through the creation of safe and secure
communities.
* Reference release:
https://www.mitsuifudosan.co.jp/corporate/news/2021/1001_01/ Sanitation Initiatives of Mitsui Fudosan Hotel Management
https://corp.gardenhotels.co.jp/hygiene/
■ Mitsui Fudosan Group's contribution to SDGs
https://www.mitsuifudosan.co.jp/esg_csr/
The Mitsui Fudosan Group aims to create a society that enriches both people and the earth based on the philosophies of "coexistence and coexistence," "connection of diverse values," and "realization of a sustainable society." We are promoting business with an awareness of (S) and governance (G), that is, ESG management. By further
accelerating the ESG management of the Group, we believe that we can make a significant contribution to the realization of "Society 5.0" advocated by the Japanese government and the achievement of "SDGs." In addition, in November 2021, we formulated the following group guidelines regarding "realization of a decarbonized society" and "promotion of diversity and inclusion". Going forward, the Group will continue to work toward resolving social issues through urban development.
【reference】
・"Formulate a group action plan for the realization of a decarbonized society"  https://www.mitsuifudosan.co.jp/corporate/news/2021/1124/
・Formulation of Diversity & Inclusion Promotion Declaration and Action Policy  https://www.mitsuifudosan.co.jp/corporate/news/2021/1129_02/ *The efforts in this release contribute to one of the SDGs
(Sustainable Development Goals).
Goal 11 Create sustainable communities
Details about this release:
https://prtimes.jp/main/html/rd/p/000000379.000051782.html