Musou ARGENTINAC.F.
"Musou ARGENTINA Football Conference" will be held on Sunday, December 4th. A football conference to think about the future of Japanese football from the powerhouse country Argentina.
~ Special guests including former Argentine national team coach who won the Athens Olympics, former Japanese national soccer team Satoshi Tonami and Takashi Ogura will be on stage! ~

Soccer conferences are a frequent occurrence in South America. In order to advance Japanese football, the event "Musou ARGENTINAC.F. Football Conference" was held in December, where elementary and junior high school students, parents, and coaches could come into contact with and experience various options for the future. It will be held on the 4th (Sun). The event will be held offline at the Rene Kodaira Grand Hall in Kodaira, Tokyo, and the venue will be broadcast online. ■ Background
The Japanese national team is expected to be in the top eight at the World Cup. The Argentine national team also has high expectations from the people and is aiming to win the championship. In 2020, a Japanese team established a soccer club called WARRIORS ARGENTINAC.F. in Argentina, a country that is passionate about soccer, and has challenged the Argentine league.
By sharing the hopes and challenges that come to light from taking on challenges, children who find it difficult to see what they want to be and what they want to achieve in the future will be exposed to people with diverse careers, and will be able to see future options and challenges. I decided to hold this event because I wanted to broaden my horizons.
■ Contents
At this event, with the theme of "Each person's learning determines the future", Japanese junior high school students will travel to Argentina this summer from the challenge story of WARRIORS
ARGENTINAC.F. and play against local strong clubs such as River Plate report. And the theme that will be an opportunity for children and leaders to think about the world by learning Argentina's upbringing, teaching method, and culture from the former Argentine national team coach.
Finally, a former guest of the Japanese national soccer team will discuss the environment necessary for Japanese people to grow.
[Image 1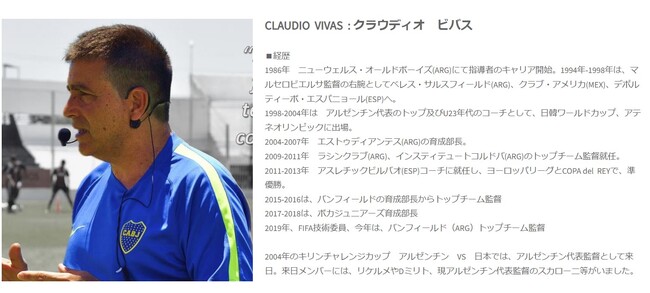 [Image 2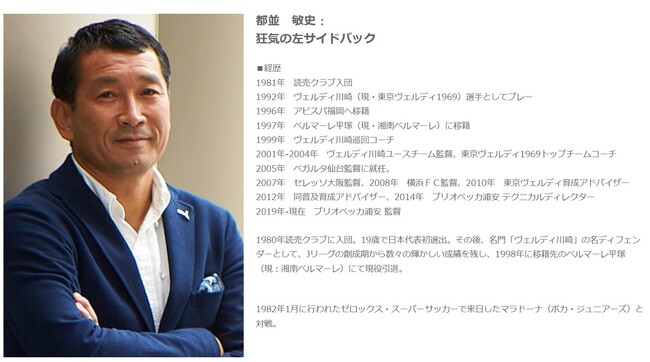 [Image 3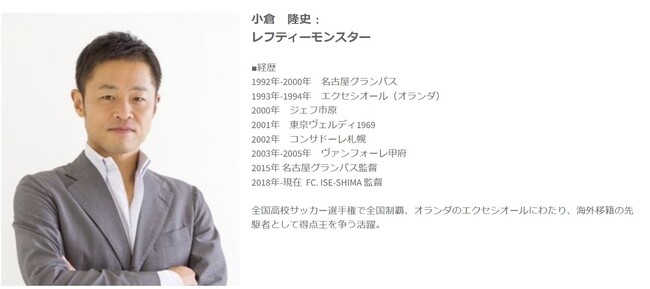 -Tokyo Kodaira Venue-
offline guest
From Japan:
Toshifumi Tonami (former Japanese national football team)
Takashi Ogura (former Japanese national football team)
online guest
From Argentina:
Fernando Moya (Musou ARGENTINAC.F. joint owner)
Claudio Vivas (former coach of Argentina national team)
■ Overview of "Musou ARGENTINA Football Conference 2022"
The Musou ARGENTINA Football Conference will be held on December 4, 2022 (Sunday) in Rene Kodaira, Tokyo. Based on the theme of "Each learning determines the future", we will hold an event to expand future options and the future from people with many diverse careers. Date: Sunday, December 4, 2022
Doors open: 18:40
Start: 19:00
End: Scheduled for 21:00
Venue: Rene Kodaira Large Hall (1-8-5 Misono-cho, Kodaira-shi, Tokyo) *There is no parking lot at the facility.
Please use nearby coin parking or public transportation.
ーーーーー
Entry fee:
Children (junior high school students and younger): 2000 yen General (high school students and above): 3000 yen
Online viewing (1 account): 2000 yen
* Breakdown: Participation fee 1000 yen ∔ Musou ARGENTINA enhancement fee etc. -How to apply-
Musou ARGENTINAC.F. Cooperation club member
・Direct application within the cooperating club
General participation individual
・Please apply for participation tickets from the following site. https://peatix.com/event/3423681/view
**Please show your ticket screen at the reception desk on the day of the event. General group
・Please apply by email.
・To the email address below, "Subject: WARRIORS ARGENTINA Football Conference" 1. Organization name 2. Category 3. Number of participants 4. Representative name and contact information", please apply.
*After confirming your application, we will send you a URL that you can view on the day.
e-mail: musouargentinacf2019@gmail.com
Contact: Musou ARGENTINAC.F. Football Conference Management Office Email address: musouargentinacf2019@gmail.com
https://www.musouargentinacf.com/football-conference/
Details about this release:
https://prtimes.jp/main/html/rd/p/000000007.000089506.html