Nagoya city
[Looking for start-up companies! ] Nagoya City's program "NAGOYA Movement" has started recruiting start-up companies aiming for co-creation with business companies in the Nagoya area.
"NAGOYA Movement" is a business company x startup matching and business creation program. If the matching is successful, you will receive escort support for business creation such as business launch and verification.

In order to encourage the growth of start-up companies, the city of Nagoya has been implementing the "NAGOYA Movement" program since September 2022 to promote co-creation with business companies. This time, we are looking for startup companies to participate in a matching program with business companies that have participated in the "NAGOYA Movement" startup co-creation promotion program for about two months.
In this program, in order to increase the success rate of business creation through co-creation, after the matching is established, we are preparing to support you.
[Image 1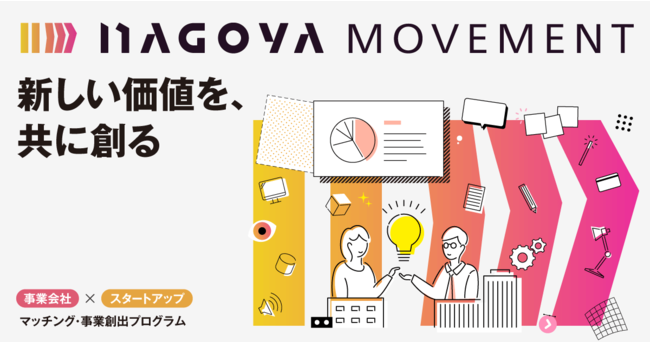 《Overview of NAGOYA Movement》
NAGOYA Movement is a program that aims to create businesses by matching startups and operating companies. In this program, in order to increase the success rate of business creation, we provide practical input and escort support.
Through NAGOYA Movement, we will create a model case of co-creation (open innovation) between startups and business companies, and create a new "movement" in open innovation that will lead to the accumulation and creation of startups.
■ Business scheme and overall schedule
-Business scheme-
[Image 2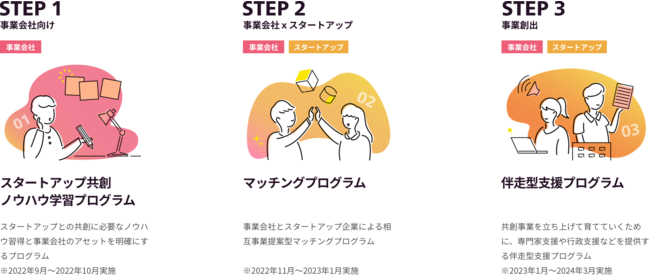 -schedule-
[Image 3

《Recruitment details for start-up companies》
▼ Recruitment period
November 21, 2020 (Monday) to January 13, 2023 (Friday)
▼Target
A start-up company aiming for co-creation with a business company in the Nagoya area
*Region does not matter. There is selection.
Definition of a startup: A highly growth-oriented company aiming to be listed on the stock exchange, etc., which has developed new technology and a new business model.
▼6 participating business companies (in alphabetical order) *See below for the recruitment themes of each company.
Chunichi Shimbun Co., Ltd.
Chubu Electric Power Co., Inc.
NGK INSULATORS, LTD.
Valor Holdings Co., Ltd.
Fujimi Incorporated Co., Ltd.
Yazaki Energy System Co., Ltd.
▼Participation fee
free
▼ How to apply
We accept applications from HP. (https://nagoyamovement.jp/) * A briefing session for startups will be held on Friday, November 25, 2022. Please apply for the briefing session from Peatix (https://ng37.peatix.com/). ▼Selection method
Document review
Individual interview (matching)
– Flow of matching program between operating company and startup company – [Image 4

▼ Recruitment themes, etc. (in Japanese syllabary order)
[Table 2: https://prtimes.jp/data/corp/59250/table/16_1_16971b38155b8a6a112d6e51e742e0ca.jpg ]
▼About NAGOYA Movement NEXT
NAGOYA Movement NEXT will be organized in parallel with the NAGOYA Movement main program, and we will accept proposals to four NEXT companies.
Alps Steel Co., Ltd.
Ito Techo Co., Ltd.
Hagiwara Electronics Co., Ltd.
Fuji Industries Co., Ltd.
▼NAGOYA Movement homepage
https://nagoyamovement.jp/
▼Nagoya Startup Promotion Portal Site
https://nagoya-innovation.jp/
▼JellyWare homepage
https://jellyware.jp/
▼ Inquiries regarding this release
NAGOYA Movement Management Office: JellyWare Inc.
info@jellyware.jp
052-211-8657
Details about this release:
https://prtimes.jp/main/html/rd/p/000000016.000059250.html