NIL Co., Ltd.
[New release! ! Contains cod tannin] SUNA Treatment Premium II has been redesigned
A campaign to launch a new SUNA product that keeps your hair bouncy and supple and has a good finish on your fingers is underway! !
Cosmetics venture company NIL Co., Ltd. (President: Masaaki Sato, head office: Kanagawa Prefecture) that develops aging care products with dramatically improved functionality with "cutting-edge nanoparticle technology x naturally derived physiologically active substances" County) has launched Treatment Premium II from the innovative hair care brand SUNA.
[Image 1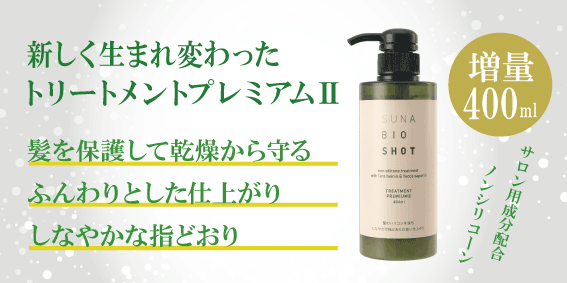 SUNA Treatment Premium II
■ SUNA Treatment Premium Contents: 400ml Price: 3,300 yen (tax included) https://www.suna-bioshot.jp/products/treatment_p/
Formulated with plant ingredients (=SUNA PLANTS: cod tannin, yucca saponin, glyceryl glucoside) that keep the scalp healthy. Contains salon ingredients (white fungus, keratin (wool), polysaccharide). Keeps your hair bouncy and supple, making it easy to pass through your fingers. It also protects your hair from dryness, repairs damage, and creates a soft finish. A refreshing scent of lavender and rosemary essential oils. ("Silicone, paraben, mineral oil, synthetic fragrance, synthetic coloring" are not included.)
The new [SUNA Treatment Premium II] is different here!
Until now, the SUNA Treatment Premium had a moist feeling when used, but the newly released SUNA Treatment Premium II spreads well, and you can feel a smooth and moist feeling. In addition, the content has been increased to 400ml, which is the same amount as shampoo.
[Image 2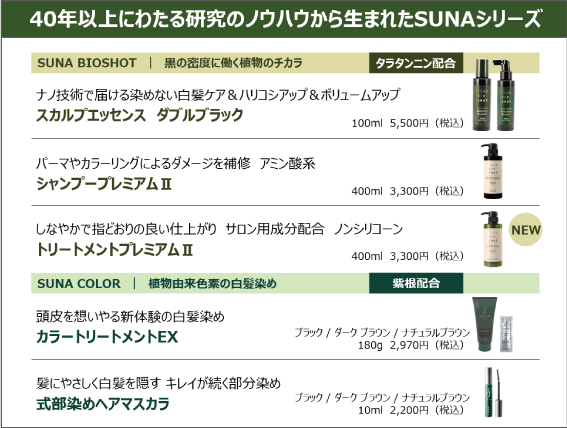 SUNA series
■SUNA Scalp Essence Double Black Volume: 100ml Price: 5,500 yen (tax included) https://www.suna-bioshot.jp/products/d_black/
Active care for gray hair without dyeing with patented newly discovered plant ingredients (cod tannin) x innovative nanotechnology (SNP). Cod tannin is a component like a switch that works on the black density of hair. By adopting SNP born from innovative nanotechnology, it efficiently delivers to the part of the scalp related to melanin pigment. Useful botanical ingredients (=SUNA PLANTS: cod tannin, quillaya saponin, yucca saponin, mucuna, forskolin) that condition the scalp in a healthy way will give you black hair with firmness and elasticity as you continue to use it. ("Silicone, synthetic
surfactant, mineral oil, synthetic fragrance, synthetic colorant, preservative, synthetic preservative" are not included.)
■ SUNA Shampoo Premium II Volume: 400ml Price: 3,300 yen (tax included) https://www.suna-bioshot.jp/products/shampoo_p/
Formulated with botanical ingredients (= SUNA PLANTS: cod tannin, yucca saponin, quilla saponin) that keep the scalp healthy. Increases firmness and luster while maintaining volume. Soft lather that suppresses dryness, smooth fingers, and repairs damage caused by perms and colors. A refreshing scent of lavender and rosemary essential oils. ("Silicone, paraben, mineral oil, synthetic fragrance, synthetic coloring" are not included.)
"SUNA COLOR"
It does not use HC dyes or basic dyes, so it is easy to use even for those who have given up dyeing gray hair because of their sensitive scalp and skin. It was created by combining organic chemical technology with three plant-derived pigments: shikonin, a rare patented natural ingredient extracted from purple root, which has been popular in Japan since ancient times, and curcumin and quercetin. It is SUNA COLOR. This is a new gray hair dye brand that overcomes the difficulties of conventional gray hair dyeing with a plant hair dyeing technology that has never been seen before.
■ Color Treatment EX Volume: 180g Price: 2,970 yen (tax included) https://www.suna-bioshot.jp/products/color_treatment/
Using NIL's proprietary technology, we are particular about
hypoallergenic and use plant-derived pigments to gently dye gray hair on the hair and scalp. We have newly developed our own pigment penetration technology and succeeded in introducing it for the first time this time, realizing high hair dyeing, durability, and
simplicity. It does not use cationic surfactants that irritate the scalp and contains effective treatment ingredients to achieve high treatment properties.
Shikibu Dyed Hair Mascara Contents: 10ml Price: 2,200 yen (tax included) https://www.suna-bioshot.jp/products/hair_mascara/
Considering the safety of hair and scalp with the power of plant pigments, excellent dyeability with our unique NIL dyeing technology. High shampoo resistance and short dyeing time.
[Image 3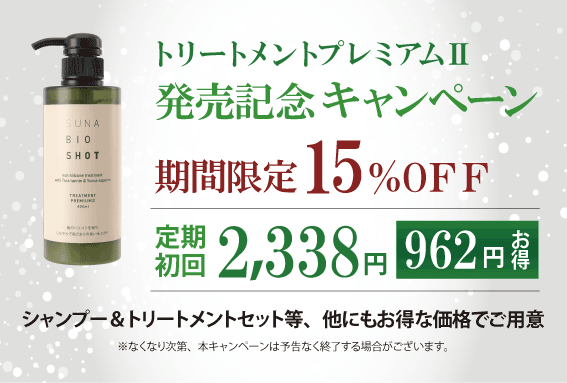 SUNA Treatment Premium II Release Commemorative Campaign
[SUNA Treatment New Release Commemorative] 15% OFF campaign in progress! -SUNA ONLINE STORE-
https://www.suna-bioshot.jp/
Rakuten Ichiba and Yahoo! Shopping will also hold a 15% OFF campaign at the same time!
-SUNA BIOSHOT Rakuten Market Store-
https://www.rakuten.ne.jp/gold/sunabioshot/
-Yahoo! Shopping SUNA BIOSHOT Shop-
https://store.shopping.yahoo.co.jp/sunabioshot/index.html
What is "SUNA"
This hair and scalp care product was born to provide safe, secure, and healthy aging care with the power of plants and cutting-edge technology to address concerns such as gray hair, thinning hair, and scalp damage. An aging care brand for
SUNA is a product that combines our organic chemical technology accumulated over 40 years with our core SNP* technology.
*SNP = Super Nano Particle is NIL's proprietary biotechnology born from 40 years of research achievements. Nano particles are designed to be easier to penetrate and absorb, with a size smaller than general nanoparticles. Efficiently deliver plant ingredients that are gentle on the skin but have low stability and are difficult to penetrate. In addition, SUNA products contain an original ingredient, cod tannin*, which has the effect of promoting melanin production. *Tara tannin: Polyphenols (common name: tara tannin) extracted from the bean pods of Caesarpinia spinosa, an endemic species of Peru in South America, has a remarkable effect on dermal papilla cell proliferation and melanin pigment production. has been verified. We developed Suna to explore the possibility of contributing to society by utilizing the advanced organic chemistry technology that we have been involved in for 40 years to create products that solve the problems of many people. Please take this opportunity to try it.
Details about this release:
https://prtimes.jp/main/html/rd/p/000000013.000036098.html