nex Inc.
WOOC's co-working space "BIZcomfort" and nex's "THE HUB" partner! BIZcomfort 26 bases are now available for nex satellite office members!

In partnership with WOOC Co., Ltd., which develops coworking spaces and rental offices nationwide, nex Co., Ltd. will convert 26 "BIZcomfort" locations operated by WOOC from December 1, 2022 into nex's multi-site satellite office " We will start providing it for members who use THE HUB all access (hereinafter referred to as "all access").
◆About THE HUB all access: https://allaccess.nex.works/
Based on the concept of "anytime, anywhere, as much as you need", this is a multi-site satellite office service that can be used at 700 locations, the largest in Japan. This service is used by more than 25,000 workers, and is effective for supplementing telework, using sales offices and sales employees' free time, and for corporate BPO measures.
◆ About BIZcomfort: https://bizcomfort.jp/
While flexible working styles such as telework are required, "Working more freely and comfortably! Based on the concept of ", we provide a variety of businesses with future work styles and convenient, low-cost offices.
[Image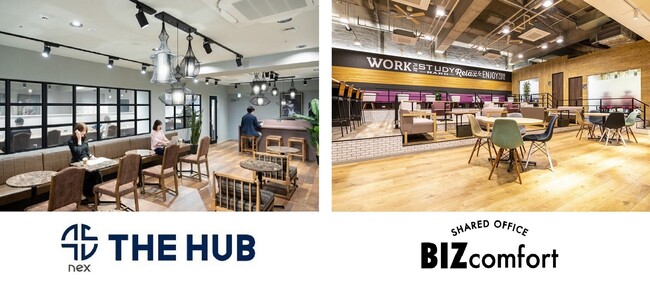 Background of the partnership
WOOC Co., Ltd. and our company utilize the affinity of coworking spaces and rental offices in the same industry, improve the
convenience of users by effectively utilizing both resources, and use the workspace for mutual business development through collaboration. We have entered into a partnership with
In the future, we will continue to promote flexible work style proposals, with a view to mutual member use and other collaborations. BIZcomfort 26 locations are now available on THE HUB app
"all access" is a sharing service that allows you to use the workspace "anytime, anywhere, as much as you need" with two price plans: 0 yen per month + pay-as-you-go for usage and 16,500 yen flat rate. Combined with over 700 locations (including member stores), which is one of the largest in Japan, it will be possible to use the co-working space of "BIZcomfort", further enhancing user convenience.
-BIZcomfort 26 bases- *Displayed at the nearest station to the facility Tokyo: Kanda, Ikebukuro, Minami Machida Grandberry Park, Hachioji, Keio Hachioji, Nishiarai
Kanagawa Prefecture: Mizonokuchi, Noborito, Ishikawacho,
Shin-Yokohama, Hiratsuka, Center Kita, Hashimoto
Chiba Prefecture, Saitama Prefecture, Ibaraki Prefecture: Chiba, Matsudo, Yachiyo Midorigaoka, Omiya, Shiki, Mito
Other areas: Sendai, Aobadori Ichibancho (Sendai), Sapporo, Hamamatsu, Nagoya, Fushimi (Nagoya), Motomachi (Kobe)
WOOC Co., Ltd. Company Profile
Trade name: WOOC Co., Ltd. (pronunciation: walk)
Representative Director and President: Yasuyuki Sakatani
Head office location: BR Gotanda Building 7F, 2-30-4 Nishi-Gotanda, Shinagawa-ku, Tokyo
Date of establishment: September 2008
Business content: Rental office, co-working space, housing sublease, remodeling and renovation, real estate management and brokerage business, real estate brokerage
Capital: 175.1 million yen (including capital reserve of 82.55 million yen) URL: https://www.wooc.co.jp/
Nex Co., Ltd. Company Profile
Trade name: nex Inc.
Representative Director: Takeshi Wakabayashi
Head office location: 2-11-6 Nishi-Shimbashi, Minato-ku, Tokyo New Nishi-Shimbashi Building 3F
Date of establishment: April 2007 (Founded in May 1999)
Business content: Shared office, shared salon, various real estate services Capital: 368 million yen
THE HUB all access official website https://allaccess.nex.works/ (C) nex All Rights Reserved.
Details about this release:
https://prtimes.jp/main/html/rd/p/000000026.000031884.html