Office Busters Co., Ltd.
[Original research 20.] We have compiled an index showing the trends and trends of used office furniture handled by our company. Office Busters will announce its own "used office furniture index" for October 2022.

[Image 1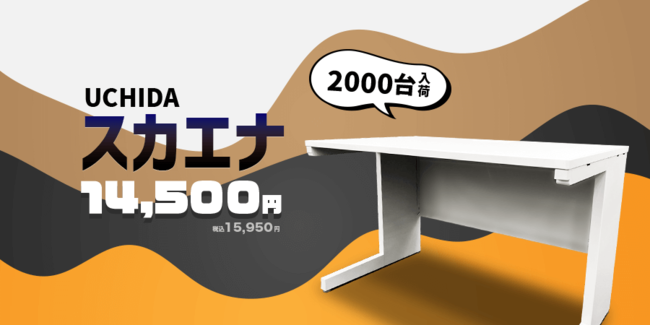 This month we received about 2500 flat desks from the Scaena series, which are becoming rare in the used market.
Office Busters Co., Ltd. (Chuo-ku, Tokyo, President: Masayoshi Kumagai, hereinafter referred to as the Company) has compiled the used office furniture index for October 2022. By reporting our used office furniture trends to everyone on a monthly basis, we provide
information on trends and transitions among corporations and individuals who have used our company.
whole market
In October, the vacancy rate in the five major wards decreased slightly, increasing by 0.2 percentage points to 1.34 times the active job openings-to-applicants ratio. The unemployment rate also increased by 0.1 points to 2.6%. Demand for offices continues, but with the news of the 8th wave coming out, there seems to be no sign of stopping offices. Although there are various external factors such as the strong yen and special demand for travel support, the movement of offices has not stopped so far.
Changes in products
Overall: ↓
Chair: ↓ -872 yen sales price drop…
Although the product unit price decreased slightly, individual chair needs remained high, and high unit price (around 30,000) chairs were popular. The sales volume is also increasing, partly due to bulk sales from corporations. Orders from small and medium-sized enterprises with a large number of customers were also seen here and there, and the demand for chairs was high.
Desk: ↓ -2,999 yen sales price increase…
Although the unit price decreased, the results were as expected. In particular, the revision of the selling price of free address desks was a factor, and along with that, the number of free address desks sold was the best month in this term.
Library: ↓ 1,646 yen selling price increase…
A slight decrease results. Inventory depletion trend in the used industry. In particular, good-selling products such as Okamura's Rectoline had very little inventory even in the second-hand market. Locker: ↓ -551 yen sales price decrease…
Unit prices declined slightly (substantially remained flat). Many companies purchase personal lockers together with free-address desks, and most of them purchase either wagons or personal lockers. Table: ↓ -537 yen sales price decrease…
It remained almost unchanged from the previous month. The need for stack tables is higher than meeting tables, and we predict that the demand for stack types that can be moved flexibly will increase again in order to avoid crowding.
[Image 2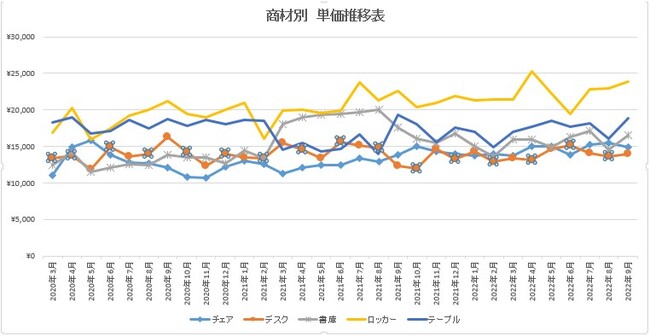 findings
In October, the vacancy rate decreased mainly in Tokyo, and the active job openings-to-applicants ratio continued to improve. Demand for used furniture from small and medium-sized companies was high, and purchases continued above a certain level. The price of the free address desk has been changed to match the market, and demand is expanding further. Towards the end of the year, there was an increase in purchases in large quantities, and I had the impression that many companies were positive about opening new bases, changing layouts, and making moves for replacement within the year. Since there are many requests from office design companies, it seems that the movement in the building is increasing, and it is predicted that the demand for used furniture sales will increase to some extent in the future.
Survey outline
Survey target: Our sales outlets
Survey period: October 1, 2022 to October 31, 2022
Research agency: Our company's own research (Source: In-house operation and sales data)
Survey target: Products handled by our company (chairs/desks/book storage/lockers/tables)
Survey/Calculation: Our operation sales data survey
■ Contact information for this matter:
Office Busters Co., Ltd.
Public Relations & Investor Relations Office and the Company's Marketing Committee
Person in charge: Ueda, Muroya
Reception hours (weekdays) 9:00-18:00
03-6262-3155
[Image 3


■ Company profile:
Company name Office Busters Co., Ltd.
Representative Director and President Masayoshi Kumagai
Operating officer
marketing committee
Chairman Hiroshi Osaki
Headquarters: 〒103-0022
Fukushima Building 2F, 1-5-3 Nihonbashi Muromachi, Chuo-ku, Tokyo TEL: 03-6262-3155
■ Products and services handled
Office desks, office chairs, conference tables, conference chairs, stacks, lockers, business phones, multi-function machines, fax machines, printers, personal computers, shredders, smoke separators, etc. All office equipment and office furniture
Office design, design, project management, various construction, logistics services
Environmental consulting services associated with the purchase and disposal of unnecessary fixtures
■ Permits, etc.
Tokyo Metropolitan Public Safety Commission Office Equipment Dealer (Secondhand Dealer) No. 304350307627
First Class Consigned Freight Forwarding Business Seki Jikin No.928 Specially controlled medical equipment sales and rental Kashiwabo No. 0426 Sales and rental of highly controlled medical equipment for animals 27 Middle and high school 002
Building lots and buildings transaction business Governor of Tokyo (2) No. 90179 Interior finishing work Minister of Land, Infrastructure, Transport and Tourism Permit (Han-29) No. 26676
Demolition work Minister of Land, Infrastructure, Transport and Tourism Permit (Han-30) No. 26676
First-class architect office Tokyo governor registration No. 61767 Industrial waste collection and transportation business Tokyo No. 13-00-157967 Industrial waste collection and transportation business Chiba Prefecture No. 01200157967
Industrial waste collection and transportation Saitama Prefecture No. 01100157967
Industrial waste collection and transportation Kanagawa Prefecture No. 01400157967
■ Participating organizations
Regular member of Japan Office Furniture Association (JOIFA) Regular member of Japan Reuse Industry Association (JRAA)
Japan Furniture and Fixtures Reuse Association (JAFRA) regular member Tokyo Employers' Association Management Round-table Committee Member of Tokyo Chamber of Commerce and Industry
Member of Kashiwa Chamber of Commerce and Industry
Member of Kyoto Chamber of Commerce and Industry
Member of the Diamond Management Club
Details about this release:
https://prtimes.jp/main/html/rd/p/000000240.000044939.html