Sony Creative Products Inc.
On Labor Thanksgiving Day, a message from Thomas who "missed the rail 249 times" to the working adult generation "Let's work, sometimes jump out of the rail." Thomas jumps out of the paper! Newspaper advertisement released today
For adults!? The drama "Salaryman Thomas" is also a hot topic! ) will also be released sequentially

Sony Creative Products Inc. (Headquarters: Minato-ku, Tokyo, CEO: Ken Otake, hereinafter SCP) holds the master license "Thomas the Tank Engine" will be fully renewed for the first time in 12 years this year. On November 23 (Wednesday), Labor Thanksgiving Day, the Tokyo Shimbun morning edition will post a "Thomas jumps out! Newspaper advertisement".
[Image 1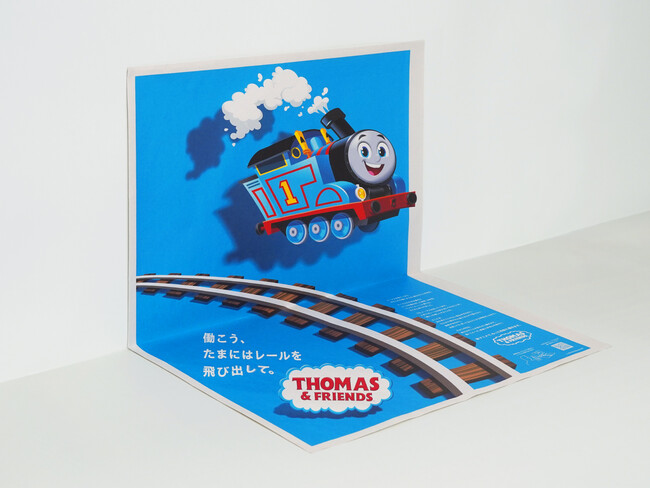 [Image 2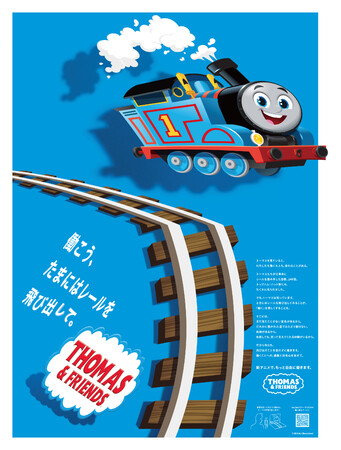 ■Overview
Posting date: Wednesday, November 23, 2022
Posted in: Tokyo Shimbun morning edition
Thomas knows. Sometimes jumping off the rails makes "work" fun. Message to Working Adults on Labor Thanksgiving Day
"Thomas the Tank Engine" has a history of more than 75 years since the original publication in the UK, and has been popular in Japan for more than 30 years since the start of television broadcasting. "Thomas the Tank Engine", which has been loved by men and women of all ages, is full of lessons that you didn't notice when you were a child and scenes that give you a glimpse of the feelings of the characters. We have received a response that "adults will stick".
In the newspaper advertisement posted on Labor Thanksgiving Day, a message is posted for working adults.
So far Thomas has made many mistakes in his work. In the entire series aired, Thomas and friends have gone off the rails 249 times. Even so, it conveys the message that "going off the rails" and taking on new challenges while being supported by colleagues without fear of failure will make "work" more enjoyable.
Parents and children can enjoy the gimmick advertisement "Thomas pops out!" Shooting points
A gimmick advertisement that folds the long side of the newspaper advertisement in half and shoots it from an angle, making it look like Thomas is jumping out of the rail as the message suggests. Taking advantage of the full renewal, it expresses Thomas who works more freely. The point of shooting is to lean it against a wall and place it so that the paper surface is at a right angle, and shoot from an angle where the letters "Let's work, sometimes jump out of the rail" can be seen in front. Rather than seeing it with the naked eye, it's easier to see how Thomas pops out with a camera, so please give it a try.
Reference information
Adults can relate! ? The "attefuri" drama "Salaryman Thomas" is also a hot topic on SNS! !
What is the "attefuri" drama "Salaryman Thomas"?
"Thomas the Tank Engine" that everyone has seen once when they were children. While everyone feels "nostalgic", it is actually full of interesting "learning that leads to society" because it is an adult. With this full renewal, we want not only children but also adults who used to be children to see Thomas, so the story remains as it is, and Thomas and his friends become "salarymen" web drama. "Salaryman Thomas" has been released on the official YouTube of Thomas the Tank Engine from November 17, 2022 (Thursday).
It has become a hot topic on Twitter with 21,000 likes and 16,000 retweets* recorded. On SNS, popular comments such as "I'm too curious about the follow-up to office worker Thomas", "High reproducibility", and "I laughed out loud from the morning, must-see" have been received one after another. The second episode will be released on November 25th, and the third episode will be released on December 2nd. Please take a look.
*As of Tuesday, November 22, 2022
■ Points of the "attefuri" drama "Salaryman Thomas"
️ For adults who used to watch Thomas, a total of 3 episodes dramatized from the nostalgic past works.
・️ A web drama that is not an "ateleco" but a "attefuri" that reconfigures Thomas and others as office workers while keeping the content of the story and the voices of Thomas and others as they are. For adults, it's nostalgic, but at the same time it's an emotional composition that overlaps with the current self and society. ・️ It depicts Thomas, a member of society, struggling to work even though he makes mistakes, and says, "Take care of the attitude of learning from failure. Build a good relationship with your boss." It depicts a scene where both children and adults can learn lessons, such as "Understand the strengths of your colleagues and help each other with the right people in the right place."
・️ The leading actor, Thomas, will be played by Oshiro Maeda, a young actor who is attracting attention, such as appearing on Fuji TV on January 9, 2023.
■Overview
Title: "Salaryman Thomas"
・ Episode 1 "Thomas who fell into Soshage swamp" (Released on November 17. Episode original title: Thomas who fell into hole)
・Episode 2 "Employee Toilet (Kikanko) Trouble" (Scheduled to be released on November 25. Episode original title: Kikanko Trouble) ・ Episode 3 "Thomas and Restructuring Signs (No Rumors)" (Scheduled to be released on December 2nd. Original episode title: No Thomas and No Rumors)
Cast: Toshiro (Thomas): Oshiro Maeda, Goto (Gordon): Takeshi Itakura and others Main URL: https://youtu.be/sXRHvj_DcTQ
[Video 2: https://prtimes.jp/api/movieim.php?url=www.youtube.com/watch?v=sXRHvj_DcTQ]
About Thomas the Tank Engine
Thomas the Tank Engine is a very popular character among preschoolers who celebrated the 75th anniversary of the original publication in 2020. "Thomas the Tank Engine" became a popular character when it appeared in the "Train Picture Book" series drawn by British clergyman Wilbert Audrey, and was later visualized in 1984 by British video producer Britt Allcroft. . To date, more than 500 episodes have been aired in over 230 regions and 67 languages. In Japan, it has a history of more than 45 years since it was published as a picture book, and more than 30 years since it was broadcast on TV. In addition to products such as toys, picture books, and apparel, we are developing various touchpoints such as various events, theme parks, and movies. ● Requests regarding publication
Please write the credit below. Please check the manuscript before posting. (C) 2022 Gullane (Thomas) Limited.
● Inquiries about Thomas the Tank Engine
Sony Creative Products Inc. IP Marketing Headquarters Public Relations Department
TEL: 03-6738-8156 (Reception hours: 9:30-18:15 on weekdays, excluding year-end and New Year holidays)
URL: http://www.scp.co.jp
Details about this release:
https://prtimes.jp/main/html/rd/p/000000002.000112118.html