Gin no Mori Corporation Co., Ltd.
[Patisserie GIN NO MORI] Acorn x Chocolate? ! "Petit Bois 150 can winter" filled with winter-like rich baked sweets made using the blessings of the forest is now available!

Gin no Mori Corporation (Headquarters: Nakatsugawa City, Gifu Prefecture / President: Kosaku Watanabe) operates a baked
confectionery shop "Ena Gin no Mori", a park-type facility in Ena City, Gifu Prefecture. From December 10, 2022, we will start selling the winter-only cookie can "Petit Bois 150 can winter" from Patisserie GIN NO MORI at directly managed stores.
About "Petit Bois 150 can winter"
[Image 1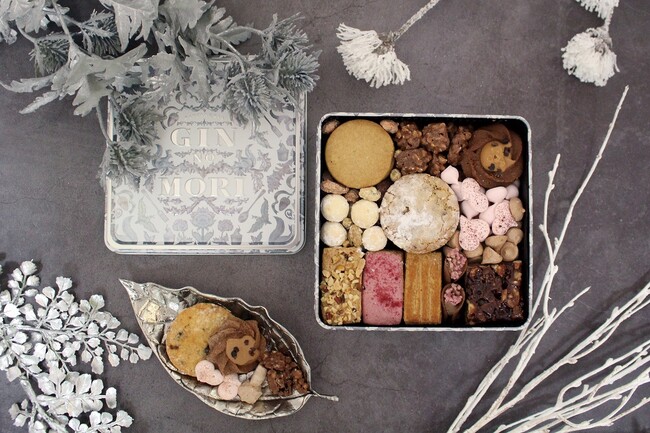 Petit Bois 150winter
The winter version of Patisserie GIN NO MORI's seasonal cookie cans, which have been well received every season, will be available again this year.
There are a total of 13 types of cookies that are carefully baked with winter chocolate and spices together with forest ingredients such as nuts and fruits to create a complex and unique taste.
Assorted tightly without partitions in a limited aurora color can. Speaking of patisserie GIN NO MORI, cookies using "acorn".
We offer 3 types of cookies using acorns that can only be tasted in winter cans, such as acorn and honey cookies, and a cornet made with acorn ganache in a bouquet shape with a thin cookie.
Treat yourself with a warm cup of tea on a cold day,
In the coming season, it is also recommended as a gift for Christmas and Valentine's Day.
Please enjoy the winter side dish delivered by the chef of the forest. [Image 2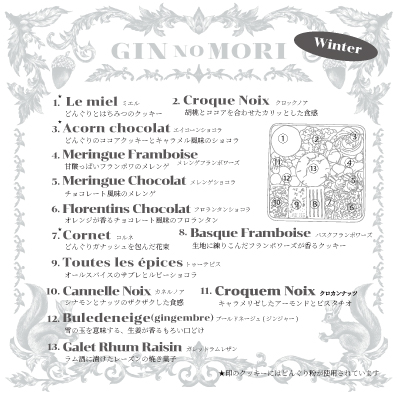 winter can menu
【Product Summary】
Sales period: December 10-February 28, 2022 (planned)
*This product has a limited sale date.
Please contact each store for sales dates.
Where to buy: Ena Main Store/Ginza Main Store/Nagoya Store/Each POPUP shop Price: 4,050 yen (tax included)
Size: 150 x 150 x 50 (mm)
Expiration date: 45 days from the date of manufacture
Temperature range: normal temperature
About Patisserie GIN NO MORI
[Image 3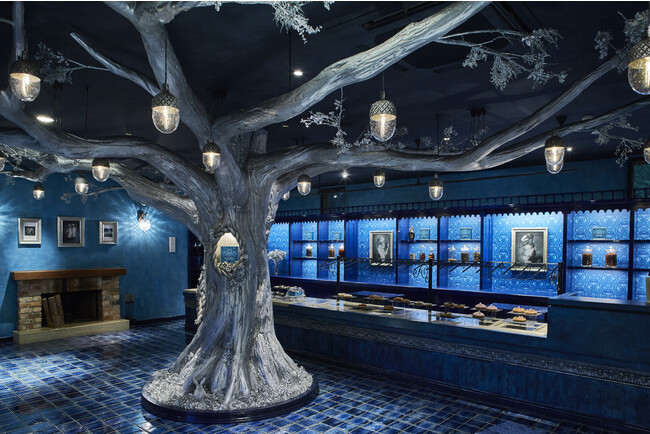 Ena head office interior
Beautiful colors of the four seasons, trees and flowers that give off a rich scent. And nuts and fruits that are not the same as a grain. The forest, which nurtures countless lives, is endlessly deep and full of charm.
I want to carefully examine the materials of the forest and pursue the infinite possibilities of the beauty of nature as it is. With that in mind, we carefully handcraft each and every sweet.
The shop is lined with sweets that use plenty of the blessings of the forest, such as cookie tins, pound cakes and confitures. We are waiting for you with "forest sharing" so that you can forget your busy daily life and be healed by the deliciousness of nature for a short time.
[Image 4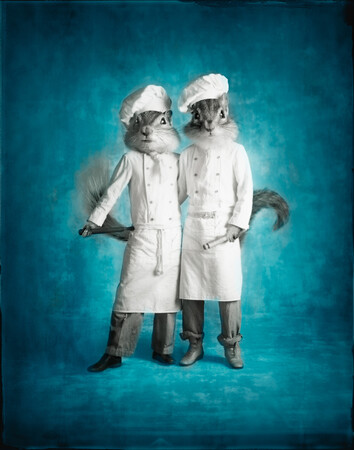 chess and nuts
Our head chef and assistant chef
"If you were to make sweets that are only available in Silver Forest, what would it be? Sweets that will surprise you. 』
Chess, the head chef who researches the blessings of the forest every day and creates new flavors, and Nuts, the head chef who is good at finding delicious ingredients by relying on the five senses. We carefully handcraft sweets full of ideas with all our hearts.
■ Store information ■
[Ena Main Store]
Address: 2711-2 Oimachi, Ena City, Gifu Prefecture Ena Gin no Mori facility Phone: 0800-200-5095 (representative)
Hours: April-September/10:00-18:00
October-March/10:00-17:00
Closed: Wednesdays (open on holidays)
[Ginza Main Store]
Address: GINZA SIX B2F, 6-10-1 Ginza, Chuo-ku, Tokyo
Phone: 080-2396-6870
Business hours: 10:30-20:30
[Nagoya store]
Address: Midland Square commercial building B1F, 4-7-1 Meieki, Nakamura-ku, Nagoya-shi, Aichi
Phone: 052-526-7860
Business hours: 11:00-20:00
Patisserie GIN NO MORI Official Website: http://ginnomori.info/patisserie/ Ena Silver Forest Official Homepage: http://ginnomori.info/
Ena Gin no Mori Official Online Shop: https://ginnomori.jp/
Instagram: @pati.ginnomori (https://www.instagram.com/pati.ginnomori/) Twitter: @pati_ginnomori (https://twitter.com/pati_ginnomori) Ginnomori Corporation Company Profile
◆Location of Headquarters/Ginnomori Campus Factory
112-2 Nasugawa, Nakatsugawa City, Gifu Prefecture 509-9132
Phone: 0573-64-2501 Fax: 0573-64-2505
◆ Ena Gin no Mori facility location
2711-2 Oimachi, Ena City, Gifu Prefecture 509-7201
Phone: 0573-59-8880 Fax: 0573-59-8488
Operating hours 10:00-17:00 (October-March)
10:00-18:00 (April-September)
●Closed on 12/31.1/1 ●Closed every Wednesday (open on public holidays) Facility HP: https://ginnomori.info/
Details about this release:
https://prtimes.jp/main/html/rd/p/000000021.000105650.html