Persol HD
[Fact-finding survey of companies seen from Persol data] Less than 80% are working on human capital management 60% are aware of the problem of lack of AI, DX, and highly skilled human resources
– Free distribution of the actual situation of corporate efforts (29 pages in total) related to human capital management [human resource portfolio] –

Persol Holdings Co., Ltd. (Headquarters: Minato-ku, Tokyo, President and CEO: Takao Wada), a comprehensive human resource service, conducted a survey of companies' efforts related to human capital management (human resource portfolio).
[Table 3: https://prtimes.jp/data/corp/16451/table/723_1_fc652b851dd56f1c30a8d55955847507.jpg ]
In this survey, we surveyed corporate executives and people involved in personnel affairs about personnel policies related to human capital management, and compiled a report on "efforts related to human resource portfolios." In addition, trends in personnel systems, the degree of sufficiency of core human resources, and the degree of management and utilization of employee information are described. In the future, we plan to announce research on the following themes. D&I version (women, foreigners, mid-career recruitment, seniors, etc.), Human resource development/Reskilling version, Employee engagement/Well-being version, Diverse work styles (telework, digitalization, childcare leave, etc.)
▼Click here to download the survey report for free▼
https://go.persol-group.co.jp/wp26_phd_dl.html?utm_source=release&utm_medium=pr&utm_content=wp26&utm_campaign=2211pr *When citing this survey, please specify "PERSOL HOLDINGS" as the source. TOPICS
1. Initiatives for "Human Capital Management"
Degree of human capital management initiatives (total/by company size) Regarding the degree of efforts toward human capital management, 31.8% of the respondents answered that they were "sufficiently working" and 44.8% answered that they were "partially working". The larger the company size, the higher the percentage of companies that are working on it. Among super-large companies, 85.9% of the respondents answered that they are "sufficiently working" or "partially working." [Image 1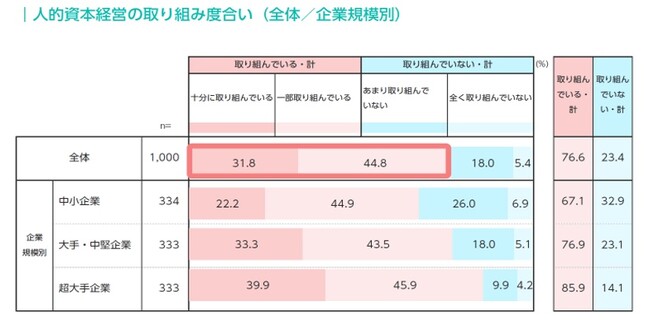 [Business Fact-finding Survey Based on Persol Data] Human Capital Management Survey Report (Human Resources Portfolio Edition) 2. Initiatives related to "Human Resource Portfolio"
●Issues in constructing and considering a medium-term human resource portfolio (overall)
In terms of issues in constructing and examining medium-term human resource portfolios, the top issue was "Difficulty implementing appropriate human resource allocation." This was followed by the lack of human resources capable of formulating human resource strategies. considered as one of the challenges.
[Image 2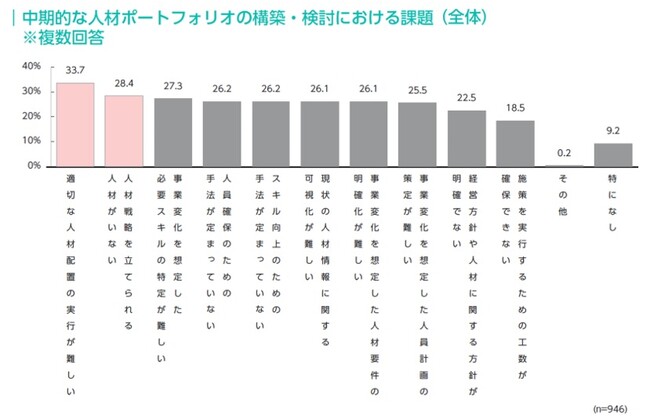 [Business Fact-finding Survey Based on Persol Data] Human Capital Management Survey Report (Human Resources Portfolio Edition) 3. Sufficiency of core human resources
Sufficiency of core human resources (overall)
Companies that responded that they were "sufficiently satisfied" or "sufficient to some extent" with regard to the degree of sufficiency of core human resources were 42.2% in total for "next-generation management candidates," 43.1% in total for "management personnel," and 43.1% for "AI/ A total of 33.6% for "DX human resources" and a total of 34.2% for "highly skilled / specialized human resources", respectively, were less than half. In particular, the sufficiency of AI/DX human resources was the lowest.
[Image 3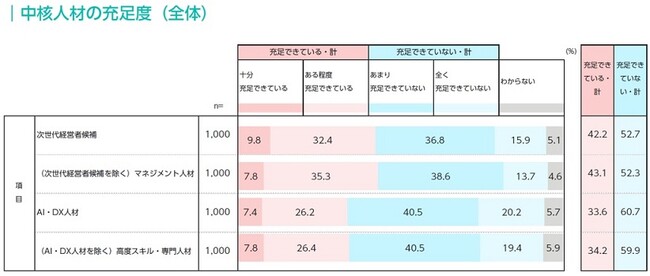 [Business Fact-finding Survey Based on Persol Data] Human Capital Management Survey Report (Human Resources Portfolio Edition) 4. Management and utilization of employee information
Degree of management and utilization of employee information (total/by company size)
With regard to employee information, a total of 62.8% of companies answered that data management is "sufficient" or "somewhat
successful", and similarly, 52.3% of companies are able to utilize data.
[Image 4

[Business Fact-finding Survey Based on Persol Data] Human Capital Management Survey Report (Human Resources Portfolio Edition) ▼Click here to download the survey report for free▼
https://go.persol-group.co.jp/wp26_phd_dl.html?utm_source=release&utm_medium=pr&utm_content=wp26&utm_campaign=2211pr *When citing this survey, please specify "PERSOL HOLDINGS" as the source. ■Survey overview
[Table 4: https://prtimes.jp/data/corp/16451/table/723_2_c16a28098b569534d85cf6bf4706a027.jpg ]
■ About Persol Holdings Co., Ltd.
Since our founding in 1973, we have developed comprehensive human resources services such as temporary staffing, recruitment,
outsourcing, and reemployment support. Established joint holding company Temp Holdings Co., Ltd. in October 2008. Changed company name to Persol Holdings Co., Ltd. in July 2017. Listed on the Tokyo Stock Exchange Prime Market (Securities Code: 2181). Sales for the fiscal year ending March 2022 are 1,060.8 billion yen.
■ About "PERSOL" – https://www.persol-group.co.jp/ –
Based on the group vision of "Work and Laugh", the Persol Group is developing a wide range of businesses related to people and
organizations, such as temporary staffing service "Tempstaff", career change service "doda", IT outsourcing and design development. . By promoting business activities in line with the Group's management philosophy and sustainability policy, we will contribute to the realization of a sustainable society and the achievement of the SDGs. In addition, through the fusion of human resource services and technology, we are actively working on the development of
next-generation innovations, and we are actively working to find market value in the job change service "Midas", and "TECH PLAY", which empowers technology human resources and supports the construction of DX organizations for companies. We are also developing services such as the cloud-based mobile POS cash register "POS+".
Details about this release:
https://prtimes.jp/main/html/rd/p/000000723.000016451.html