RABO, Inc.
[11/22 is a day to thank pets] The Catlog (R) series of IoT devices exclusively for cats is now available as a return gift for hometown tax!
Would you like to give a gift of health for Christmas and New Year's holidays with gratitude to cats? Develop a special Catlog set product only for Furusato Nozei that can be selected after the cat actually tries on the collar

RABO Co., Ltd. (Headquarters: Shibuya-ku, Tokyo, President: Yukiko Iyo, hereinafter "RABO") will start handling the Catlog (R) series as a return gift for hometown tax donation. Focusing on the Catlog basic set, we will also develop multiple sets for multi-headed households at the same time.
Furusato Nozei will be exhibited from Sakaimachi, Ibaraki Prefecture, where top-class donations in Japan gather, and can be purchased through major Furusato Nozei sites such as Furusato Choice, Satoful, and Rakuten.
-Catlog hometown tax-
1. You can start using it with less actual burden
2. Prepare a special set with a fitting plan
3. Set products for multiple cats
[Image 1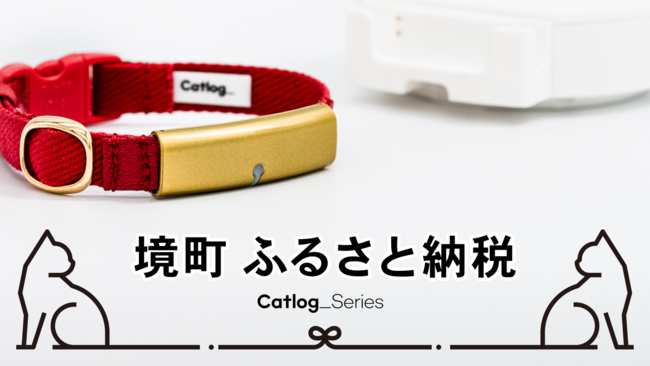 Catlog is an IoT device exclusively for cats that "watches cats' lives with technology so that cats and owners around the world can be together for as long as one second." As part of the Catlog series, by recording your cat's behavioral data such as meals, exercise, and rest, you can notice even the slightest changes with the collar-type device "Catlog", and you can monitor your weight without changing your cat's favorite litter box. We are developing the "Catlog Board", a device that automatically records the number and amount of urination, the number and amount of poops, the time spent in the toilet, etc., and the "Catlog App" that allows you to view all information in one app.
■ It is possible to start Catlog at a great price with a gift in return for donation!
Furusato Nozei is a mechanism that allows people to obtain desired goods and desired services in return by making donations to local governments. Taxes for the following year are deducted except for copayments, so even if you do not purchase the Catlog series directly, you can receive the deduction in the form of a donation and start using it.
RABO Co., Ltd., which develops Catlog, has been outsourcing part of the work to Sakai Community Development Public Corporation in Sakaimachi, Ibaraki Prefecture, and now it is possible to obtain the Catlog series as a specialty product of Sakaimachi.
■ It's more profitable for a multi-headed family! Set items for multiple Catlog cats are also available
[Image 2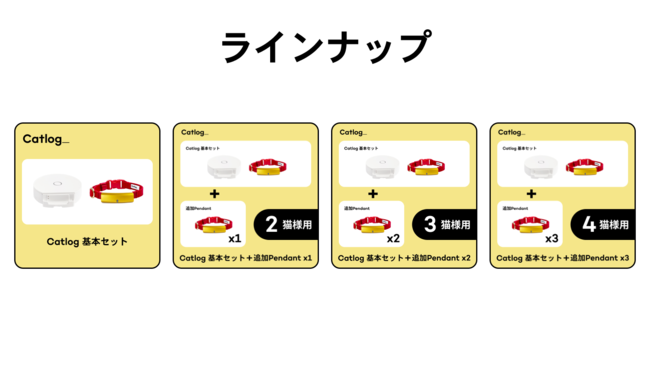 As a return gift for hometown tax, we are developing the following product lineup.
1. [For 1 cat] Basic set of Catlog
2. [For 2 cats] Catlog basic set + 1 additional pendant
3. [For 3 cats] Catlog basic set + 2 additional pendants
4. [For 4 cats] Basic set of Catlog + 3 additional pendants
The Catlog basic set comes with a "Catlog Home" that doubles as a charger and a WiFi repeater, and a "Catlog Pendant" that is a collar. We also offer a set for multiple cats that allows you to have multiple cats at once. Since the co-payment (2,000 yen) does not change for any of 1. to 4., it is better to arrange for multiple cats. Why don't you take this opportunity to make a Catlog debut with all cats?
In addition, we are planning to exhibit a set product with the Catlog Board in the future.
■ [Available to try on! ] Special plan that you can order after actually trying the size of the collar
[Image 3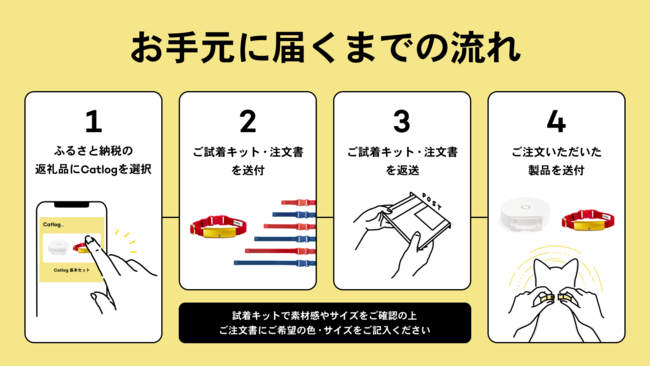 Catlog, which will be exhibited at the hometown tax donation, allows you to choose the size and color after actually trying the collar. After ordering on each site, we will deliver a sample product containing all sizes. Please try it on your cat and choose the right size. You can also freely choose the color from among those prepared for hometown tax return gifts. Order the perfect Catlog for your cat. ■Available on major sites such as Furusato Choice, Satofuru, and Rakuten! We will develop Catlog on more than 10 platforms, including major hometown tax sites. Please see each site for details.
Furusato Choice (https://www.furusato-tax.jp/product/detail/08546/5619210) Satofuru
Rakuten hometown tax (https://item.rakuten.co.jp/f085464-sakai/c/0000000163/) Furunavi (https://furunavi.jp/product_detail.aspx?pid=738794) Furusato Premium (https://26p.jp/products/165395)
JAL hometown tax (https://furusato.jal.co.jp/goods/?w=Catlog) ANA Hometown Tax
(https://furusato.ana.co.jp/08546/products/detail.php?product_code=K2122) JRE MALL hometown tax
(https://www.jreastmall.com/shop/goods/goods.aspx?goods=F024-K2122) au Pay hometown tax
Sakai Town, Ibaraki Prefecture Hometown tax special site
(https://furusato-sakai.jp/items/index.php?g_name=catlog)
* Some sites may start handling at a later date.
■ Catlog (R), "Watch over the lives of cats with technology" Make the life of your beloved cat healthy. Catlog is always by your side. Catlog automatically records your cat's health information with two devices, "Catlog" and "Catlog Board". By recording your health on a daily basis, you will not miss even the slightest fluctuations in your cat's physical condition, and will support a healthy and happy life for you and your cat.
https://rabo.cat/catlog
All for cats.
-About RABO-
Trade name: RABO Co., Ltd. (RABO, Inc.)
Representative: Yukiko Iyo, President and Representative Director Location: 3-9-19 Higashi, Shibuya-ku, Tokyo 150-0011
Established: February 22, 2018 (Cat Day)
URL: https://rabo.cat
LINE: https://lin.ee/pjWQlUc
Twitter: https://twitter.com/Catlog_RABO
Instagram: https://www.instagram.com/catlog_rabo/
TikTok: https://www.tiktok.com/@catlog_rabo
"Catlog" and "Neko-sama" are registered trademarks of RABO Co., Ltd.
Details about this release:
https://prtimes.jp/main/html/rd/p/000000046.000037478.html