FUGU INNOVATIONS JAPAN Co., Ltd.
Rakuten Ichiba "Show !t" points 10 times! BLACK FRIDAY SALE held. At 20:00 on Tuesday, November 22nd, we will carry out a gift campaign for helmets and bicycle backpacks for those who purchase electric kickboards.
Limited to BLACK FRIDAY SALE! Original waterproof bag present! https://item.rakuten.co.jp/show-it/c/0000000006/

Rakuten Ichiba "Show!t" will start at 20:00 on November 22nd (Friday), and a campaign will be held to present a helmet and a bicycle backpack worth 10,000 yen for purchasing a MESTER.F electric kickboard. In addition, a MEISTER.F original waterproof bag will be given as a gift only for the BLACK FRIDAY SALE.
Take this opportunity to get an electric scooter and move in style. In addition, we will participate in the Rakuten shopping marathon, which will be held from 20:00 on November 22nd (Tuesday) to 01:59 on November 27th (Friday), with a maximum of 44 times the points. ) will be implemented.
[Image 1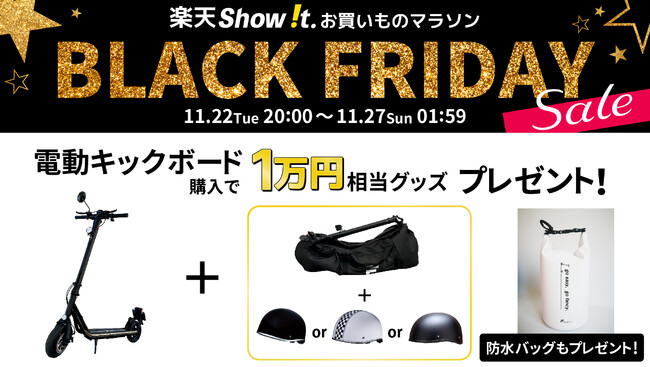 [Compatible with public roads] Electric keyboard with chair Price 76,780 yen (tax included)
[URL] https://item.rakuten.co.jp/show-it/v_4589490375943/
We will give you a helmet in your favorite color worth 10,000 yen and a bicycle bag that is convenient to carry!
[Image 2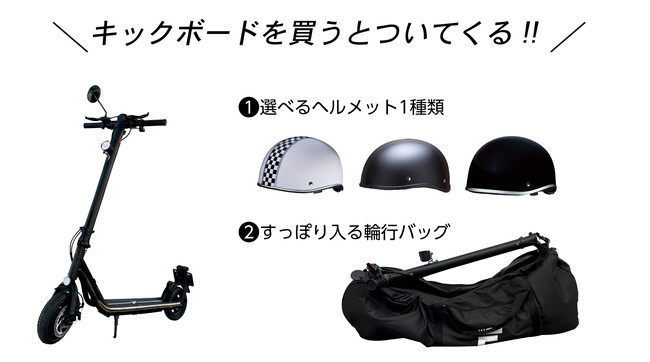 point 1 Security equipment included
Security equipment such as headlights, rearview mirrors, horns, tail lamps, and number lights are included.
Point 2 Comfortable ride with a sense of stability even when traveling long distances with a chair
The highly cushioned chair softens vibrations, so you won't get tired even when driving long distances.
point 3 Equipped with front and rear physical brakes for safe driving and a highly visible digital meter
Equipped with front and rear wheel physical brakes with disc type front wheels and drum type rear wheels
point 4 Convenient foldable
Compact size by folding the handle and chair
[For both public road driving and leisure] Electric kickboard with enhanced safety equipment Price 65,780 yen (tax included)
[URL] https://item.rakuten.co.jp/show-it/v_4571574631069/
We will give you a helmet in your favorite color worth 10,000 yen and a bicycle bag that is convenient to carry!
[Image 3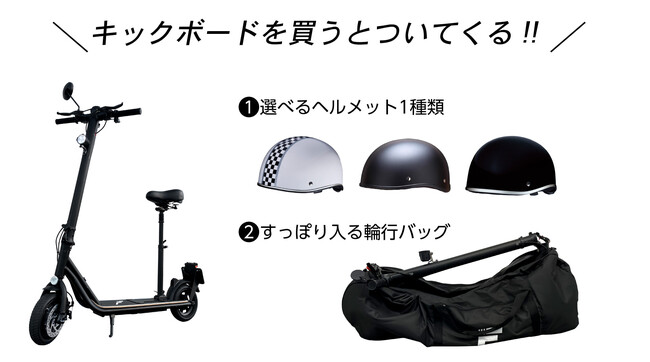 point 1 Enhanced safety equipment as well as safety equipment attachment 1. Brakes: front wheel disc brake, rear wheel drum brake
2. Mirror: Equipped with a large mirror for improved visibility point 2 With wire lock for peace of mind
point 3 Equipped with a large-capacity battery for long-distance driving Can run up to about 30 km with about 4 hours of charging
point 4 Use of 8.5 inch large no-puncture tires
[For leisure] Electric kickboard 43,780 yen (tax included)
[URL] https://item.rakuten.co.jp/show-it/v_4589490375950/
We will give you a helmet in your favorite color worth 10,000 yen and a bicycle bag that is convenient to carry!
[Image 4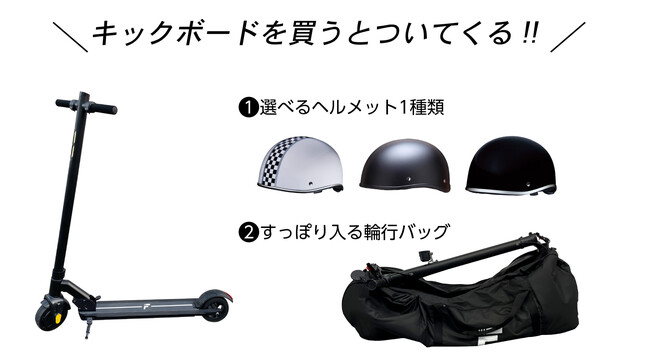 Point 1 The charm is the exhilaration of running in the wind, and the maximum speed is about 20km.
Point 2 Digital display allows you to easily adjust the speed of 3 gears Since the remaining battery level and running speed can be displayed, you can check it at a glance and feel safe and secure.
Perfect for kickboard beginners
Point 3 Equipped with LED lights before and after
With bright LED lights, you can see up to about 3m ahead,
You can also inform your position, so you can drive safely.
BLACK FRIDAY SALE Limited Bonus for Electric Kick Board For those who purchase MEISTER.F original waterproof bag * The color of the waterproof bag is black.
[Image 5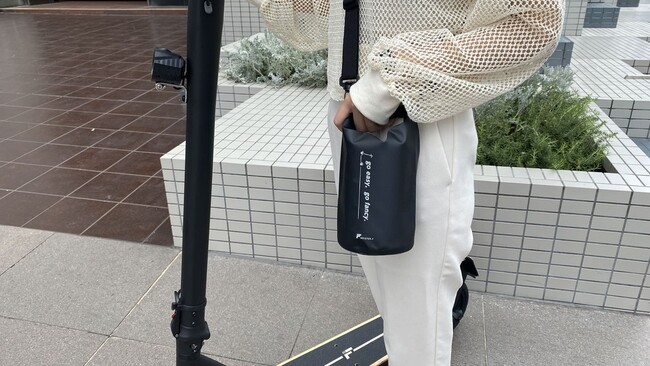 MEISTER.F's original waterproof bag is a roll-top type that can be folded and fastened with a buckle to securely protect the contents inside from dirt, dust, sand, water, etc., and can be used for a variety of purposes. This waterproof bag is just the right size for leisure activities such as camping, playing in the sea, and barbecues.
Details about this release:
https://prtimes.jp/main/html/rd/p/000000294.000047737.html