Seibu Prince Hotels Worldwide Co., Ltd.
Oiso Prince Hotel Selling 4 types of Christmas cakes with the theme of "time" OISO CHRISTMAS CAKE2022

Oiso Prince Hotel (Location: 546 Kokufuhongo, Oiso-cho, Naka-gun, Kanagawa Prefecture; General Manager: Fumiaki Nunokawa) has a lineup of four types of Christmas cakes for 2022, and will accept
reservations until Monday, December 19th.
[Image 1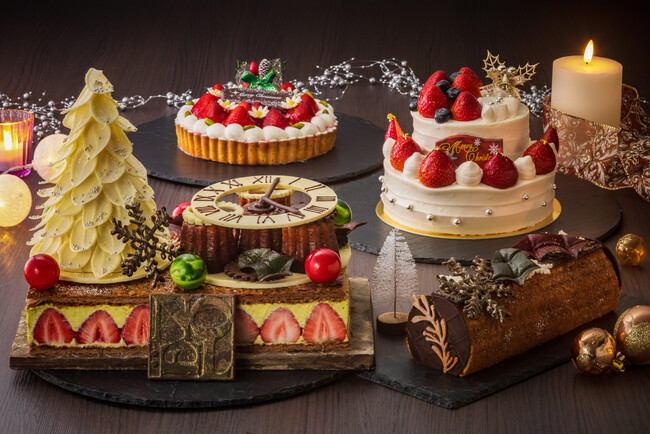 Clockwise from the left front, chocolate mille-feuille ~dream time~, Amaou strawberry tart, Amaou Chantilly phrase, caramel fromage Noel For the first time in three years, there will be no restrictions on Christmas, and this year's theme is "time", with the hope that you will spend a memorable time with your family, lover, friends, and those who are important to you. )".
The elegant and sophisticated Christmas cakes are designed with attention to the beauty of the cross section.
The limited-edition "Chocolat Millefeuille ~Yume no Toki~" is a Christmas cake created by a patissier on the long-awaited Christmas snowy night, a dream-like time waiting for Santa Claus. The clock finished with chocolate has a device that allows you to advance the hands, and gifts from the pastry chef are hidden in the white tree, so it is also recommended for surprises at Christmas parties.
In addition, two types of Christmas cakes that use plenty of large strawberries "Amaou" with a rich aroma and moderately sweet and sour taste are also available. In addition, we will create a memorable Christmas with all four types of Christmas cakes that can be enjoyed at home or in a hotel room, such as "Caramel Fromage Noel" finished in an antique atmosphere.
≪Christmas cake overview≫
[Reservation period] Until December 19, 2022 (Monday)
[Delivery period] Friday, December 23, 2022 to Sunday, December 25, 2022 [Handing time] 12:00 NOON-5:00 P.M.
[Handing-over location] Chinese Cuisine Cang (guest room building 1F) [Reservations] Restaurant reservations TEL0463-61-7812 (Reception 10:00 A.M.-8:00 P.M.)
Chocolate mille-feuille ~Yume no Toki~ ¥25,000 <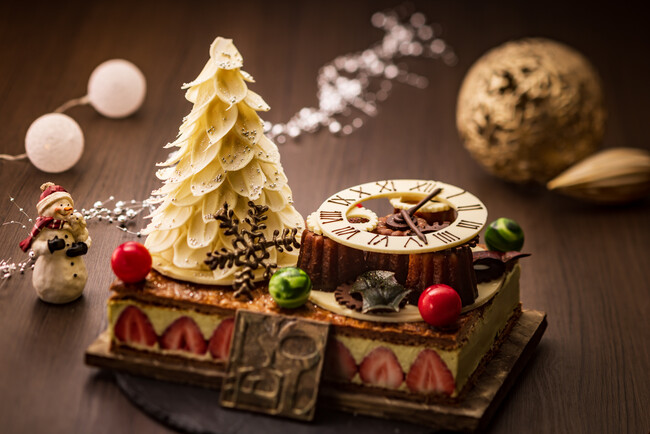 Chocolate mille-feuille ~Dream time~ (width 29cm x depth 18cm x height 19cm) The long-awaited Christmas. A dish inspired by the dream-like "time" of waiting for Santa Claus in the snow.
Carefully woven with butter and cocoa, the finely finished pie is crunchy. In between, it is a luxurious taste that uses plenty of pistachio crème mousseline with butter cream and custard and large Amaou. The hands of the chocolate-finished clock can be advanced, and a gift from the pastry chef is hidden in the white tree, making it a recommended Christmas cake for surprises.
Amaou Chantilly Phrase ¥7,800 <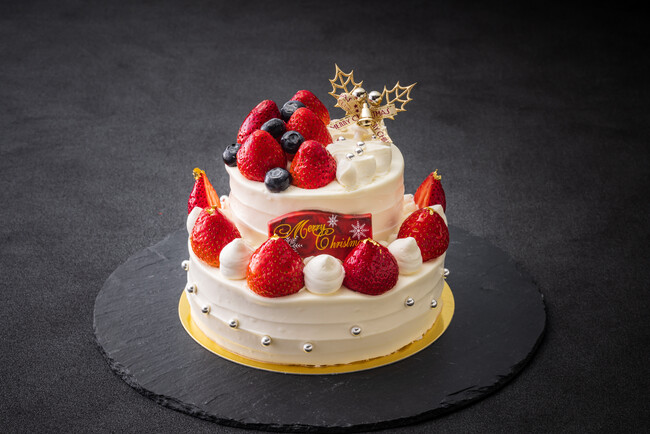 Amaou's Chantilly Phrase (Upper 10cm in diameter / Lower 15cm in diameter / 14cm in height)
Using large strawberries "Amaou", which has a rich aroma and moderately sweet and sour taste, it is a luxurious two-tiered product with a fluffy sponge and cream with a gentle sweetness. It is elegant and cute like a wedding cake.
Amaou Tart ¥5,800 <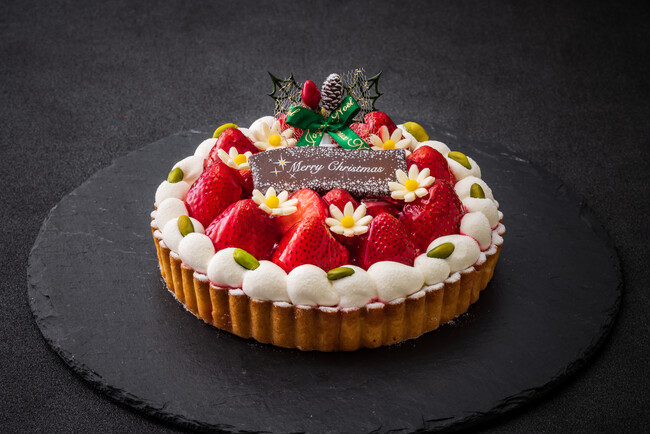 Amaou tart (diameter 17.5cm/height 5cm)
The tart is a Christmas-only tart accented with cute flowers that squeeze custard cream into crème damand, and is filled with large strawberries "Amaou", which has a rich aroma and moderately sweet and sour taste.
Caramel Fromage Noel ¥5,800 <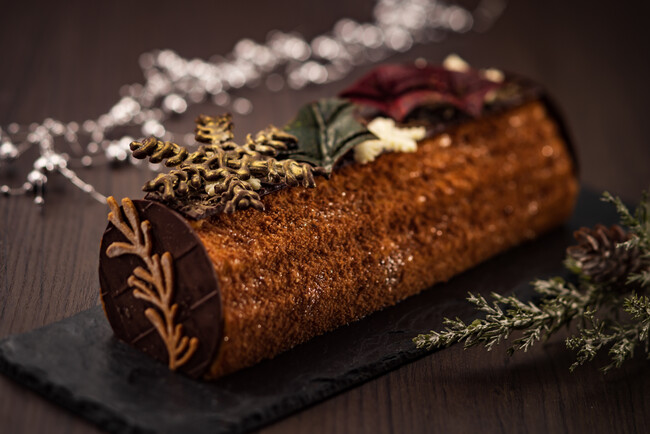 Caramel Fromage Noel (Diameter 7cm x Length 20cm x Height 8cm) Caramel glasage is finished with cocoa-flavored crumbs, and inside is layers of rare cheesecake, pear jelly, and almond biscuit. This is an adult Noel with chocolate snowflakes and holly decorations in an antique atmosphere.
*Prices listed are for take-out.
*Prices include consumption tax.
* The above information is the information at the time of release (as of November 17), and may be subject to change depending on business content and purchase status. Please see our website for the latest information.
Details about this release:
https://prtimes.jp/main/html/rd/p/000001597.000024668.html