Singular Perturbations Inc.
Honduras National Police Begins Efficacy Verification of Crime Prediction System CRIME NABI [Singular Perturbations Inc.]

Singular Perturbations Co., Ltd. (Chiyoda-ku, Tokyo, CEO: Mami Kajita, https://www.singular-perturbations.com/), which develops and provides crime prediction systems, has developed the crime prediction system CRIME NABI with the Honduran National Police. We are pleased to inform you that the verification will start from November 7, 2022.
[Image 1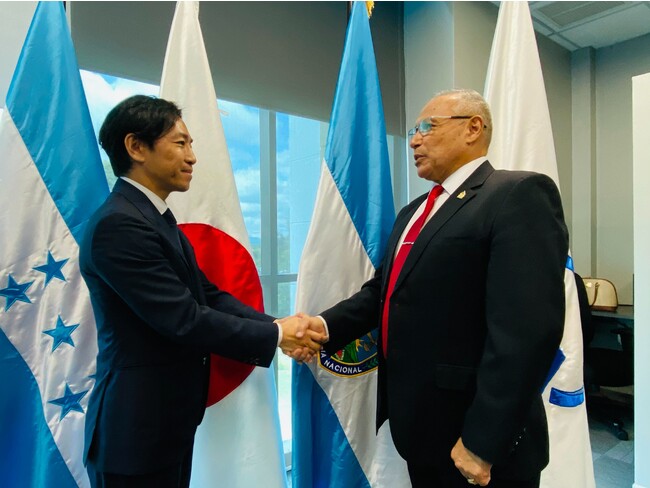 [Image 2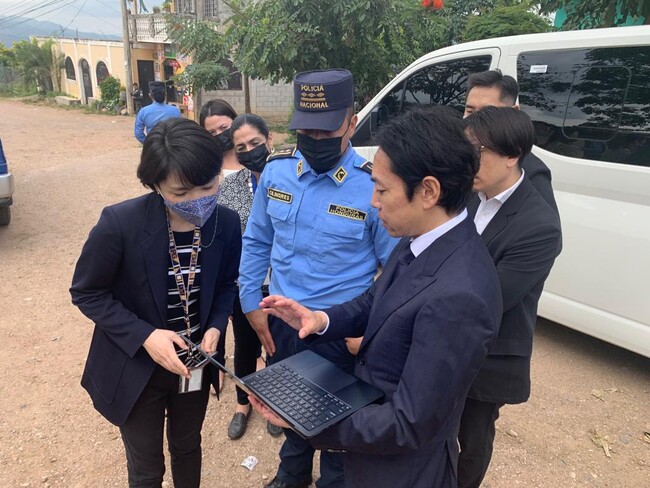 ■ Period: November 7, 2022 (Monday) to December 31, 2022 (Saturday) ■ Target: Honduras Police
■ Cooperation: JICA Honduras
■Project name: North America/Latin America (Wide Area) With/Post COVID-19 Information collection/confirmation survey on human resources and infrastructure development for resilient social co-creation under COVID-19
We have developed the crime prediction system "CRIME NABI" based on crime prediction algorithms that include our own high-precision and high-speed methods.
In addition, based on the prediction results, we released CRIME NABI, an optimization support application for security and patrol operations intended to reduce crime. We have developed and provided solutions such as risk visualization and real-time management of security status for local governments and security companies. This time, with the cooperation of JICA Honduras, in the "North America / Central and South America (Wide Area) With / Post COVID-19 disaster" information collection / confirmation survey on human resources and infrastructure development for resilient social co-creation under the disaster" project, We will start verifying the effectiveness of the crime prediction system developed and provided by Honduras Police and our company.
Incorporating the know-how in business utilization obtained through this verification, we will continue to strive to build a more advanced crime prediction service in order to realize our vision of "reducing the sad experiences of the world." .
■ Briefing session
[Image 3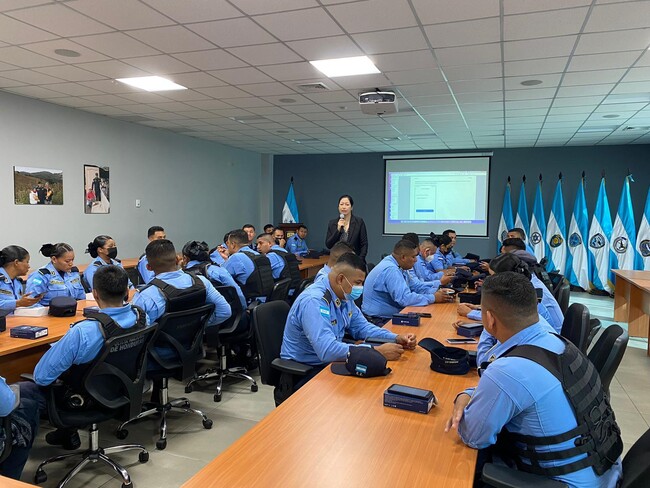 [Image 4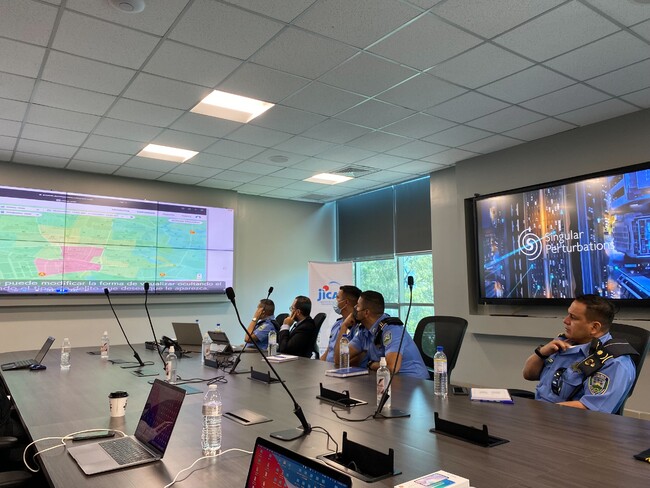 ■ Ceremony with the Honduran National Police held on November 8 [Image 5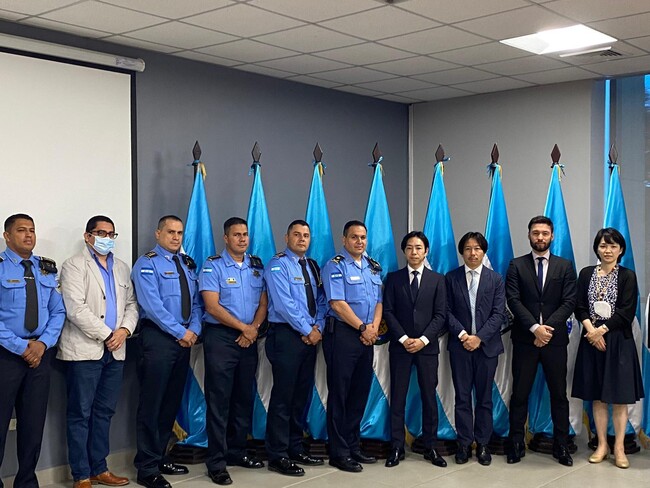 〇 Honduras National Police article ↓
https://www.policianacional.gob.hn/noticias/20291
〇From Honduras National Police Facebook↓
https://m.facebook.com/story.php?story_fbid=pfbid02t59ktKsfRJ5f9rvViUKV2bGGuGvcpE5eKtgiCKT28YAD9CejBCAgfSF9M9hRr9NAl&id=100069389551656
https://m.facebook.com/story.php?story_fbid=pfbid02iibX7UMKH6jJ5WY63GkCptzTUCt6sELbuaB8Rz3sgXVMgjihNfXZsjKbUK6y3DL6l&id=100069389551656 〇Honduras National Police Twitter↓
https://twitter.com/911Honduras/status/1591113794474086401?s=20&t=c3QAVLjPANb4OvKcZofHaw ■ About the system "CRIME NABI" and the product "CRIME NABI
MOBILE/WEB" to be developed
CRIME NABI
The crime prediction system "CRIME NABI" is a system that predicts when and where future crimes will occur.
The following is a demonstration diagram that collects past data from minor crime information in Tokyo and makes predictions for the next day.
The black arrows represent the locations of the crimes that actually occurred the next day, and you can see that the crimes are occurring in a manner that closely matches the predicted data. It is expected that security will be more effective if security is focused on places where crime is likely to occur based on crime predictions.
[Image 6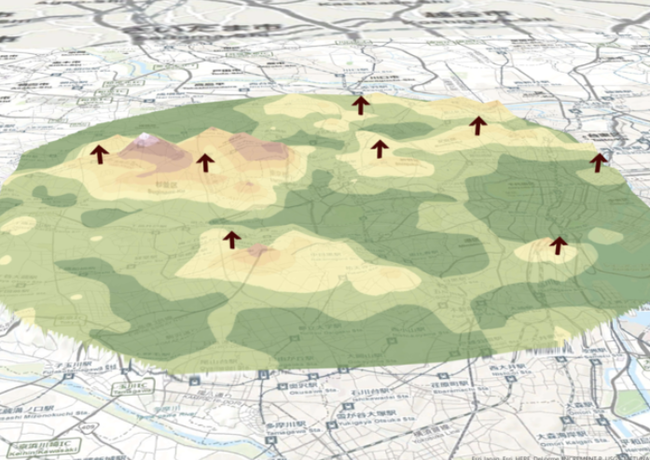 CRIME NABI predicts crime based on two unique algorithms based on past crime information, demographics, land use data, weather, and other data. In addition, we will formulate routes that focus security on areas predicted to be prone to crime.
1. Prediction with time information:
Criminals repeat the same tricks once they succeed in committing a crime. By applying the formulation of theoretical physics to a model that can describe the temporal patterns of crimes, stable calculations are possible even for crimes with a small number of data. Achieving highly accurate predictions.
2. Spatial information prediction:
It is modeled so that the sum of various spatial patterns such as crime occurrence and population density can describe the type of crime we want to predict.
The bottleneck of such an algorithm is the extremely high
computational cost, as it is necessary to input large-sized data as input and to determine unknown parameters for the number of
spatio-temporal meshes.
Singular Perturbations achieves an overwhelmingly faster calculation time compared to conventional methods by using a unique mathematical algorithm that pre-compresses data.
[Image 7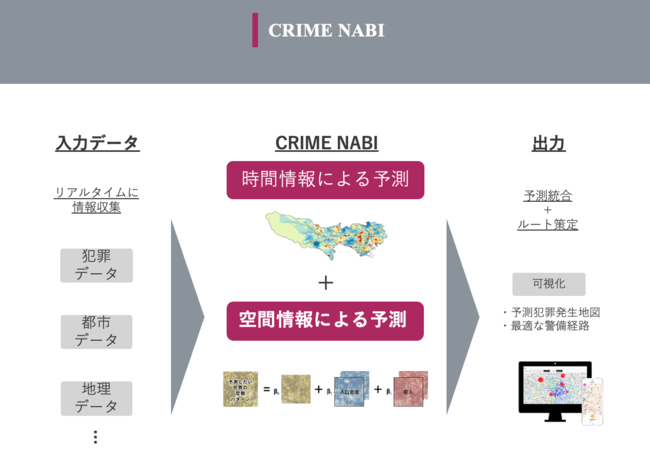 CRIME NABI MOBILE/WEB
It is a mobile web application that allows you to formulate the optimal security route with "CRIME NABI" as the backend. In addition, we support data-driven security and crime prevention activities by providing electronic daily reports and business data management tools as cloud services.
A mobile app for those who are actually in charge of security in patrol cars and foot patrols and a web application for administrators are provided.
[How to use]
1. Create a patrol route
[Image 8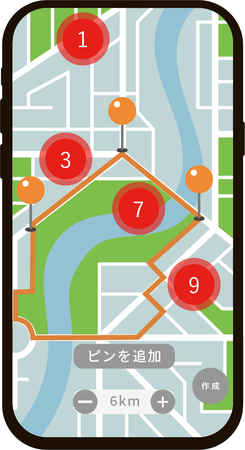 Just by specifying the distance to patrol and selecting the points that must be passed, the optimal patrol route is automatically created.
Focusing on areas where crime is expected to occur within a specified distance while passing through a specified point
Since a route is created to pass through, it is possible to patrol with a higher crime deterrent effect.
2. Patrol
[Image 9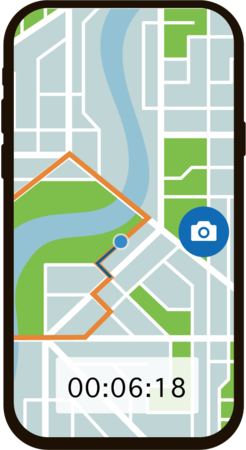 By starting a patrol with reference to the created route, the actual patrol route is automatically recorded and displayed based on the GPS location information.
In addition, information such as "graffiti" and "illegal dumping" discovered during patrols can be easily recorded by shooting with a smartphone.
The patrols conducted in this way can be saved as they are as an electronic daily report on the mobile app.
3. Manage and analyze
[Image 10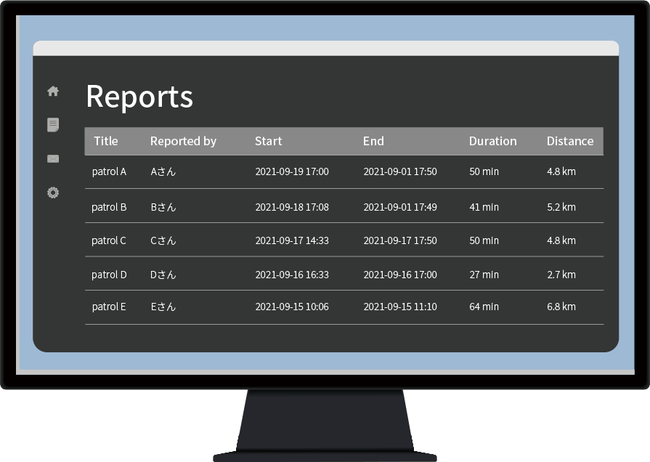 The created electronic daily report is shared within the group, and the administrator can immediately check the patrol record in real time from the browser of the personal computer.
This information is stored in the cloud, making it easier to analyze and search the data.
In addition, it is possible to perform proactive crime prevention patrol work by comparing and analyzing past multiple patrol results and crime prediction data and making improvements.
※The image is an image
■Company profile
Singular Perturbations Inc.
Head Office: KS Floor, Resona Kudan Building 5F, 1-5-6 Kudanminami, Chiyoda-ku, Tokyo 102-0074
Representative: Mami Kajita, Representative Director and CEO Established: August 14, 2017
URL: https://www.singular-perturbations.com/
Under the vision of "reducing the sad experiences of the world", we are working to develop solutions to reduce crime in the world with the mission of "maximizing the abilities of everyone involved in safety with intelligence brought about by computer science". I'm in.
Details about this release:
https://prtimes.jp/main/html/rd/p/000000029.000080699.html