Toyo Beverage Co., Ltd.
SMTH TEAMAKER, a specialty tea brand from Portland, will open its first pop-up store with a tea stand at Nihonbashi Takashimaya SC for a limited time! Sale of holiday collection
Offers seven types of lattes, black tea, green tea, and herbal tea such as the popular holiday menu "Hojicha Brulee Latte" at American cafes ・ Limited time from November 23 (Wednesday) to December 6 (Tuesday), 2022

Specialty tea brand from Portland -SMITH TEAMAKER / Smith Tea Maker- will open a pop-up store "SMITH TEAMAKER Nihonbashi Takashimaya POP-UP STORE" with a tea stand for the first time at Nihonbashi Takashimaya S.C. New Building B1F "POP UP STAGE 1". " will be open for a limited time from November 23 (Wednesday) to December 6 (Tuesday), 2022. -SMITH TEAMAKER- is a specialty tea brand from Portland, founded in 2009 by Stephen Smith, who spent his life reviving American tea culture. We directly procure carefully selected tea leaves and raw materials from all over the world, and provide tea (black tea, green tea, herbal tea) with a well-balanced depth of flavor through outstanding blending techniques. In addition, since the brand was established, we have thoroughly implemented the traceability of raw materials so that you can enjoy tea safely and securely, and we have directly purchased raw materials in full leaf (tea leaves and botanicals as they are) from producers around the world at our atelier in Portland. It is carefully blended in small amounts.
[Image 1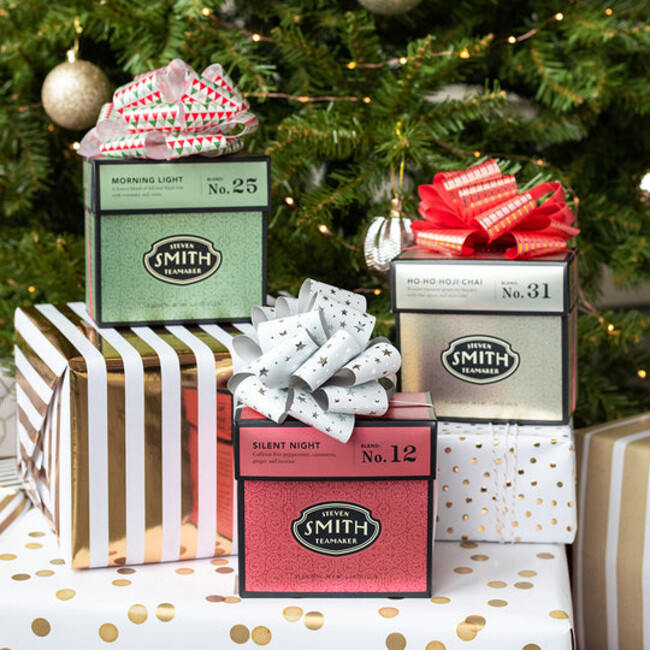 At the pop-up store, which is the first in Japan with a tea stand, in addition to the popular holiday menu of Smith Tea Maker Cafe in the United States and the first appearance in Japan, "Hojicha Brulee Latte" and "Chocolate Chai Latte", USDA organic certified non- We offer caffeine collection "organic wellness collection", black tea, green tea, herbal tea all 7 types.
In addition, about xx types of collections will be prepared at the venue, and you can actually try the scent and find the tea that suits your taste and desired scene.
We will also sell three types of tea "Silent Night", "Morning Light", and "Ho Ho Houjichai" for a limited time only during the holidays, so be sure to give Smith tea maker tea as a gift to your loved ones or as a reward for yourself. Please enjoy.
TEA STAND MENU
The first pop-up store in Japan with a tea stand will offer two types of tea lattes, which are popular holiday menus at Smith Tea Maker Cafe in the United States and first appeared in Japan. We offer 5 types of black tea, green tea, and herbal tea from the "Organic Wellness Collection" that has been well received since then.
Hojicha Brulee Latte – ¥660
Tea latte using holiday collection "HO HO Hoji Chai". Steamed milk is sweetened with sugar cane and topped with brulee sugar. A tea latte that gently warms your body.
[Image 2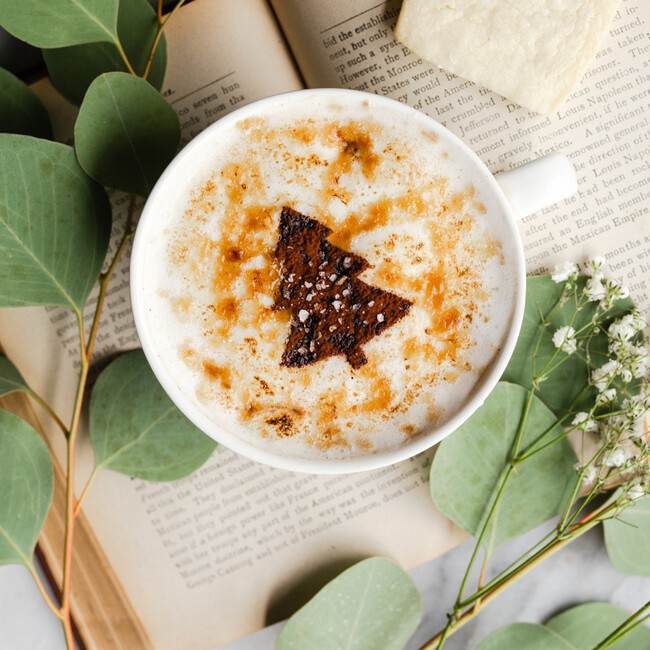 Chocolate Chai Latte – ¥660
A latte with steamed milk and dark chocolate added to the popular blend "Masala Chai" from the signature collection. The 5 kinds of spices and the subtle sweetness of Dutch cocoa will soothe your body even on cold days.
[Image 3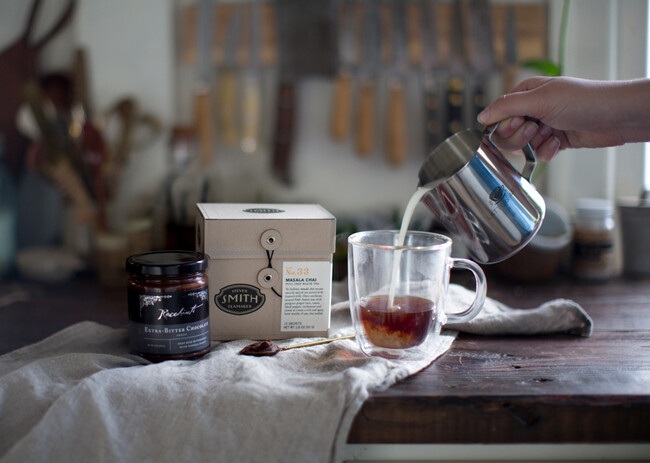 Organic Wellness Collection (Hot/Ice) – 660 Yen
*USDA certified organic, non-caffeine
[Image 4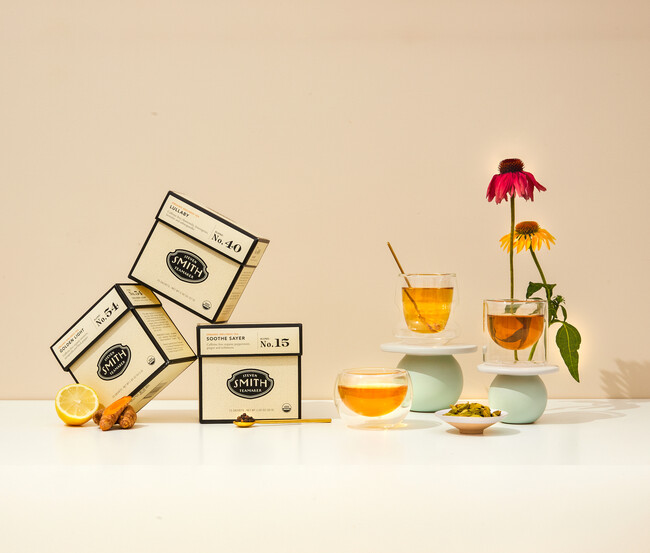 Golden Light (Turmeric Blend)
An organic herbal infusion centered on recharging turmeric accented with black pepper, lemon, cardamom and sweet sarsaparilla. The caffeine-free blend leaves you feeling healthy and well-rounded. Enjoy the scent of orange, vanilla and lemon.
Suze Thayer (Peppermint Blend)
Developed with a hint from the popular spas in Switzerland in the early 20th century, "Sooze Thayer" is a caffeine-free organic herbal infusion that cares for the body and mind when you are tired from stress and looking for peace. Peppermint, ginger, and echinacea are the main ingredients, blended with elderberry and wild cherry bark, which are known to soothe the throat. A pleasant blend of fresh mint, eucalyptus and honey.
Signature Collection (Hot/Iced) – ¥550
Loaded Bergamot (Earl Grey)
The most popular black tea. It boasts a richer taste and aroma than traditional Earl Gray. An artistic combination of Uva & Dimbula from Ceylon and several carefully selected tea leaves from the Assam Valley. Slightly fragrant bergamot from Reggio Calabria in southern Italy
Jasmine Silvertip (jasmine tea)
Harvested in May each year in the Fujian province of China, this green tea is characterized by delicate and soft leaves. After being steamed to preserve the flavor, it is mixed with a mountain of jasmine buds that are about to open and begin to smell, creating a marriage. It is a cup of bliss wrapped in the gorgeous scent of jasmine.
Meadow (chamomile blend) *Caffeine-free
A blend of golden chamomile from Egypt, richly scented hyssop from Oregon, USA, rooibos from Cape South Africa, rose petals and linden flowers. An energetic herbal tea that makes you feel the dazzling light of the sun.
*All drinks will be served in take-out cups.
*All prices include tax.
HOLIDAY SELECTION
At the "SMITH TEAMAKER Nihonbashi Takashimaya POP-UP STORE", we will sell gifts that you can use as a gift for yourself, family and friends. You can try 3 types of blends for the holiday season and all 5 types of tea collection at once. The renewed assortment box "Smith Variety" will also be released.
[Video 2: https://prtimes.jp/api/movieim.php?url=www.youtube.com/watch?v=4Gd-utDWj5U]
holiday collection
Smith Tea Maker's Holiday Collection offers the perfect blends to keep you comfortable during this cold season. Wake up with a refreshing morning light, gently wrap yourself in a chocolate-like Ho Ho Jhouji Chai in the afternoon, and silent nights that invite you to a peaceful sleep. A selection that will keep you entertained from morning till night on Christmas Day. Various 3,240 yen (15 sachets)
[Image 5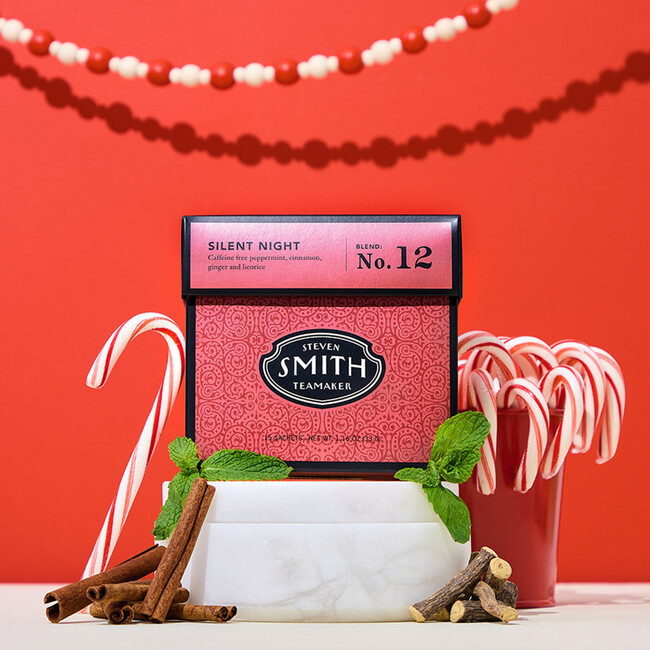 [Image 6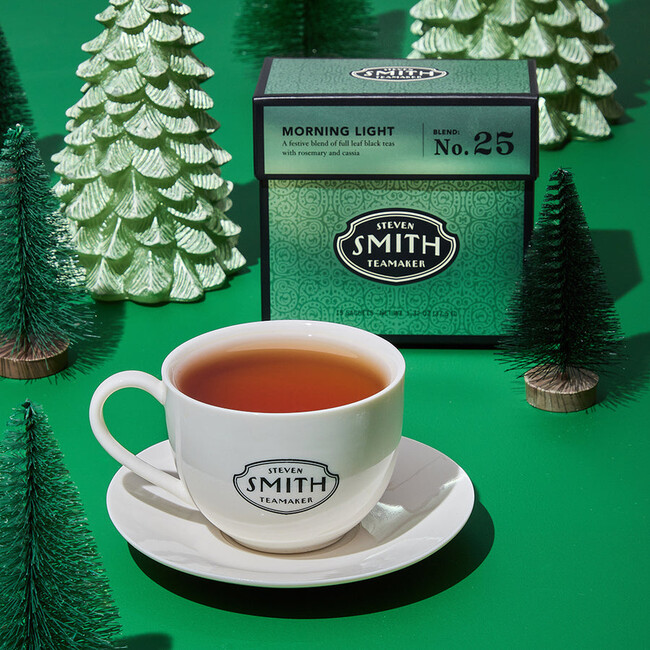 [Image 7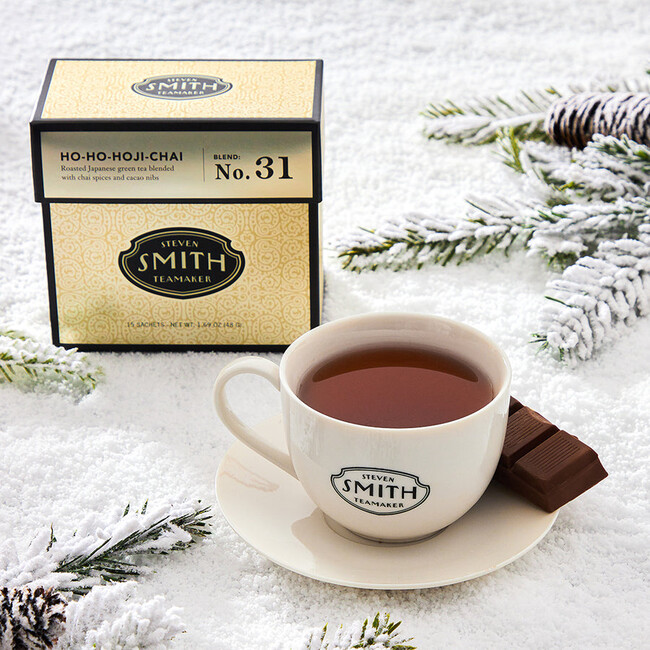 silent night
Herbal blend inspired by striped stick-shaped mint candy (candy cane), a standard Christmas sweet, is a caffeine-free Christmas mint that adds natural sweetness from licorice and stevia to spices such as cassia and ginger in peppermint. tea.
morning light
A blend of rich Ceylon, rich and voluminous Assam, complex Darjeeling, rosemary and blackcurrant. The combination of powerful and full-bodied black tea and botanicals reminiscent of the forest, and topped with cassia as a secret ingredient, create a taste that is suitable for waking up on Christmas morning.
HO HO Hoji Chai
Hojicha from Kagoshima, reminiscent of the scent of honey and wood, is blended with traditional spices used in Indian chai. The deep flavor and spices unique to roasting intersect, and by topping with cacao nibs, it is completed as a caffeine-free chai with a soft taste.
SMITH VARIETY
From bold and unique to delicate and complex, the assortment "Smith Variety" has been renewed this time, taking you on a Smith journey with various flavors and scents. The popular blends "Rose City Genmaicha" and "Black Lavender" have been added, making it a total of 12 assortments of black tea, green tea, and herbal tea, and a new look. Recommended for those who want to enjoy various teas depending on their mood and occasion, and those who want to try various flavors. [Image 8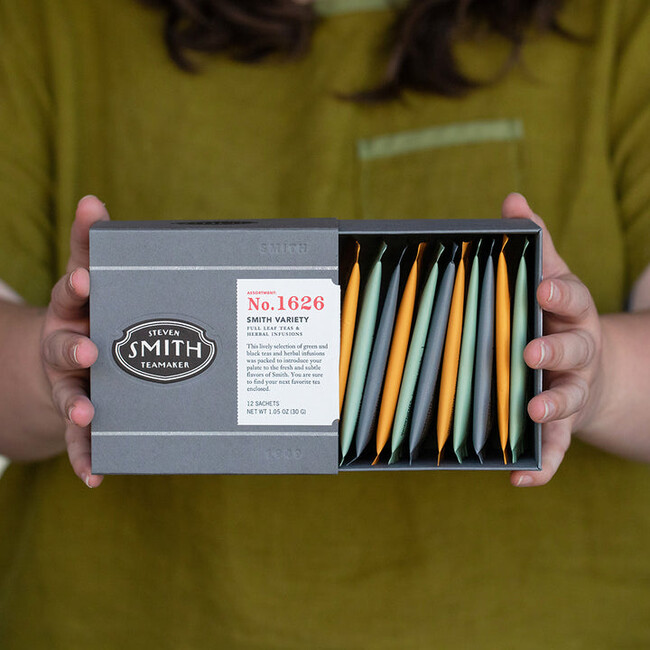 Assortment contents:
Fes, Rose City Gemmacha, Spring Greens, Jasmine Silver Tip, British Brunch, Portland Breakfast (Organic), Black Lavender, Lord Bergamot, Big Hibiscus, Meadow, Peppermint Leaves, Red Nectar
Nihonbashi Takashimaya pop-up store details
Official name: SMITH TEAMAKER Nihonbashi Takashimaya POP-UP STORE Period: November 23, 2022 (Wednesday) – December 6, 2022 (Tuesday) (held for a limited time)
Address: 2-5-1 Nihonbashi, Chuo-ku, Tokyo
Facility name: Nihombashi Takashimaya S.C. New Building B1F "POP-UP STORE 1″ Business hours: 10:30 a.m. to 8:00 p.m. (Business hours are subject to change in consideration of the guidelines and announcements of the government and local governments, as well as the policies of the facility where the store is open. )
Phone number: 050-5438-0303 (This is a direct call to the pop-up store.) Planning and operation: Toyo Beverage Co., Ltd.
What is Smith Tea Maker:
-SMITH TEAMAKER- is a specialty tea brand from Portland founded by Stephen Smith, who spent his life reviving American tea culture. We directly procure carefully selected tea leaves and raw materials from all over the world, and provide tea (black tea, green tea, herbal tea) with a well-balanced depth of flavor through outstanding blending techniques.
About Stephen Smith:
Stephen Smith is a legendary American tea craftsman known for developing Starbucks chai latte and popularizing chai in coffee shops around the world. Having brought to the world "Stash" and "TAZO", which have become synonymous with specialty teas, he has realized "SMITH TEAMAKER / Smith Tea" through his many years of experience and relationships with producers. maker".
Details about this release:
https://prtimes.jp/main/html/rd/p/000000003.000101980.html