VIE STYLE Co., Ltd.
Succeeded in improving racing performance with neurofeedback and cognitive training in the demonstration experiment of VIE STYLE and KDDI's "E-Racer Project for Carrying Everyone's Dreams"
Supporting the Challenge of Dreams by Utilizing Neurotechnology
VIE STYLE Co., Ltd. (Representative Director: Yasuhiko Imamura, Headquarters: Kamakura City, Kanagawa Prefecture, hereinafter referred to as VIE STYLE), which develops next-generation wearable and earphone-type electroencephalographs and implements neurotechnology in society, KDDI Corporation , ILOCK Co., Ltd., and Racing Hero Co., Ltd., from July 20, 2022 to September 26, 2022, together with e-sports gamers (hereinafter referred to as e-racers) who enjoy racing games and many partners, brain science and IT. The "E-Racer Project for Everyone's Dreams" (hereafter referred to as the "E-Racer Project") aims to develop technology (hereafter referred to as "this
technology") that enhances the cognitive ability of the brain and improves driving technique in actual vehicles through training that utilizes a combination of brain technology and e-sports. We are pleased to announce that we have announced the results of the demonstration experiment in this project.
* Reference article:
https://news.kddi.com/kddi/corporate/newsrelease/2022/11/18/6391.html In this project, the demonstration experiment (Note 1) conducted in fiscal 2021 was expanded, and 20 e-racers participated as test drivers, measuring driving times with actual vehicles and conducting brain training for about 4 weeks. .
As a result, the 10 e-racers who underwent brain training improved their lap times by about 2.2 times compared to the 10 who did not undergo training, confirming the effectiveness of brain training.
[Video 2: https://prtimes.jp/api/movieim.php?url=www.youtube.com/watch?v=b6eBBFokMTw] About the "e-racer project that carries everyone's dreams"
1. Overview
"Everyone's dream e-racer project" is a project to develop technology that will help those who want to become car racers in the future to avoid giving up due to environmental or economic problems.
A total of 33 people, including 20 e-racers recruited from the general public and 13 SDA drivers, took driving time measurements with actual cars and driving simulators, brain training, etc., and proceeded with the development of this technology.
[Table 6: https://prtimes.jp/data/corp/67474/table/27_1_9092bff2ea98f313b05817579279b047.jpg ]
2. Technology development in this project
(1) Details of verification in this project
In this project, in order to verify this technology, a total of 33 people, including 20 people recruited from the general public and 13 SDA drivers, implemented the following two programs at the same time.
[Table 7: https://prtimes.jp/data/corp/67474/table/27_2_ce8b6cdca2b6bf233f78401b0ad0e8f5.jpg ]
(2) Verification by SUBARU and SDA
For SDA drivers, the same program as the e-racer was implemented on SUBARU-owned training vehicles. In collaboration with the SUBARU Technical Research Institute, we comprehensively analyzed various data acquired by a logger attached to the vehicle, in-car camera images, driving lines using high-precision GNSS, and information such as line of sight acquired by eye tracking. I checked the difference with the verification result of the racer.
(3) Brain training
Due to advances in brain science research, it has been reported (Note 2) that racers who are active in motorsports react faster than ordinary people. A recent study of more than 2,000 children also suggests that the experience of playing games is involved in improving cognitive skills such as working memory and inhibitory control (the ability to suppress actions and reactions). 3). Based on these results, it is expected that the cognitive ability of the brain influences the background of high performance in driving and esports, and that actual competition performance is improved through training. In this project, based on the measurement data of the participants, we found a correlation between brain training and improvement of driving skills, and developed a training menu aimed at improving 1.
sensorimotor skills and 2. emotional control skills. .
[Table 8: https://prtimes.jp/data/corp/67474/table/27_3_d857fadada31fb298dfe207925efc017.jpg ]
[Image 1

(4) Demonstration results
1. Succeeded in improving the cognitive function of the target (change in training content itself)
 The training group trained 1. The sensorimotor performance was significantly improved. In addition, it was confirmed that 2. neurofeedback of emotion control was also controlled to the desired state. From this, it can be interpreted that the developed training program succeeded in improving the targeted cognitive function. 2. Succeeded in improving race performance through brain training At the Tsukuba circuit, we analyzed the reduction rate of the fastest time in the second measurement compared to the first measurement.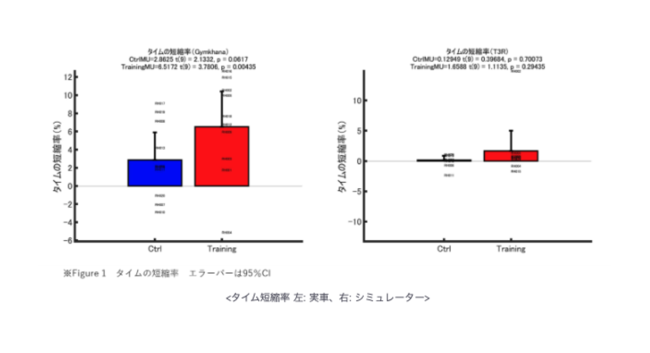 VIE STYLE Co., Ltd.
 VIE STYLE has a mission of "Feel the life", and aims to update people's sensibilities and contribute to well-being through
neurotechnology and entertainment. We create products that support the lives of people around the world, and develop services that lead people into a ZONE state, as well as future medical ICT and digital therapeutics (DTx) related to cranial nerves. We will also contribute to the development of
[Table 10: https://prtimes.jp/data/corp/67474/table/27_5_8de77061c355273835b55f4d613063d4.jpg ]
(Note 1) KDDI-sponsored e-motorsports x Braintech demonstration (https://www.viestyle.co.jp/news/kddi-e-sports)
(Note 2) Baur, H., Müller, S., Hirschmüller, A., Huber, G., & Mayer, F. (2006). Reactivity, stability, and strength performance capacity in motor sports. British journal of sports medicine , 40(11), 906-911. (Note 3) Chaarani, B., Ortigara, J., Yuan, D., Loso, H., Potter, A., & Garavan, H. P. (2022). Association of Video Gaming With Cognitive Performance Among Children. JAMA Network Open , 5(10),
e2235721-e2235721.
(Note 4) Neurofeedback: A trial-and-error technology that allows the user to check his/her own brain waves in real time and achieve the desired brain state.
) Note 5) Rozengurt, R., Barnea, A., Uchida, S., & Levy, D. A. (2016). Theta EEG neurofeedback benefits early consolidation of motor sequence learning. Psychophysiology, 53(7), 965-973.
(Note 6) Huang, W., Wu, W., Lucas, M. V., Huang, H., Wen, Z., & Li, Y. (2021). Neurofeedback Training with an Electroencephalogram-based Brain-Computer Interface Enhances Emotion Regulation. IEEE
Transactions on Affective Computing.
Details about this release:
https://prtimes.jp/main/html/rd/p/000000027.000067474.html