Shiseido Co., Ltd.
The 3rd interview & movie featuring the selected members of "EBiDAN" has been released, introducing Dolce & Gabbana Beauty's perfume "Light Blue"! #Dorugaba Cosmetics

An interview and movie of Dolce & Gabbana "Light Blue" featuring selected members of "EBiDAN" will be released on Tuesday, November 22nd at "Dolce & Gabbana Beauty Press by Lula".
The online magazine "Dolce & Gabbana Beauty Press", launched by the Italian makeup brand "Dolce & Gabbana Beauty", is full of passion and love as a brand that blooms free charm and transforms into a glittering daily life. We deliver a variety of content that colors everyday life to everyone.
[Image 1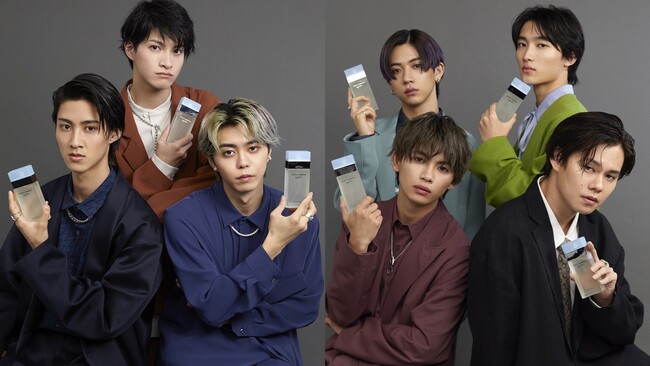 Among the contents, a new interview and movie of 7 members selected for this shooting from EBiDAN (Ebisu Gakuen Men's Club), a young actor / artist group belonging to Stardust Promotion, will be released on November 22nd. will be
■ Article URL: https://dgbeauty-lula.jp/interview/36
[Image 2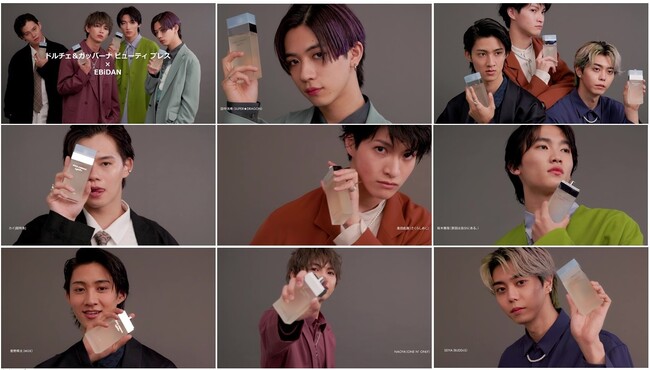 ■Video URL: https://youtu.be/soafXVckZJ8
[Video 2: https://prtimes.jp/api/movieim.php?url=www.youtube.com/watch?v=soafXVckZJ8]
[Performer profile]
– Kai (super express)
Active as a member of the main dancer and backing vocal group "Bullet Train". He likes Korean culture, music, fashion, and dramas, and is also active as a model and actor. He loves fashion enough to launch the produce brand "KEEN AND INTENSE".
https://www.instagram.com/927_kai/
Shunta Sono (M!LK)
In 2021, he made his major debut with "M!LK" and was selected as a regular on Nippon Television ZIP! He is also active as an actor in movies, dramas, and many stage performances. He is also attracting attention in variety shows, such as being a program MC on Nippon Television's "Z Studio Hima Tsubuso" and becoming a trend when he appears in the hot episode of "Ariyoshi Seminar".
https://www.instagram.com/sonohunta_milk/
Koki Tanaka (SUPER DRAGON)
In 2013, he joined Stardust Promotion as a trainee of "EBiDAN" and debuted as a member of "SUPER DRAGON" in 2015. Sweet looks and BeatBox are the characteristics. Active in a wide range of fields including movies, dramas, and stage performances.
https://www.instagram.com/tanaka_koki_0227/
● Takada Byouga (Sakura Shimeji)
Active as a folk duo "Sakura Shimeji". Appeared in the 2015 month 9 drama "5 → 9 ~ Monk who fell in love with me ~" (CX). The role of Yuki Satonaka, a "cross-dressing boy", has attracted much attention. In 2021, he will appear as Yuto Hayasaka, a childhood friend of the heroine, in the NHK TV series "Welcome back Monet".
https://www.instagram.com/hyoga_takada_official/
– NAOYA (ONE N' ONLY)
Active as a RAP & dancer of the dance & vocal unit "ONE N' ONLY". Starring movie "Battle King! ! -We'll rise again-", the movie "Decisive Battle is Sunday", NTV "FAKE MOTION-Tadahito no Negai-", Me-tele "his-I didn't intend to fall in love-". I love beauty and skin care. https://www.instagram.com/0406_k.naofficial/
Masaya Sakuragi (The cause is in me.)
Belonged to "EBiDAN" in 2016 and debuted as an actor and a member of the dance vocal unit "Cause is in me" in 2019. He is also active as an actor, and is active in a wide range of movies, dramas, stages, etc. A 16-year-old active high school student who loves beauty and skin care. https://www.instagram.com/gnjb_official/
●SEIYA (BUDDiiS)
In 2020, he debuted as a member of the dance vocal group "BUDDiiS" and is active as a Rap & Dancer. He also works as an actor on stage and in movies. He is active in various fields, making use of his natural sense, such as designing live goods for "BUDDiiS".
https://www.instagram.com/okmtseiya_official/
Light blue eau de toilette
25mL 7,000 yen (7,700 yen including tax)
50mL 9,800 yen (10,780 yen including tax)
100mL 13,100 yen (14,410 yen including tax)
Freshness reminiscent of the Mediterranean Sea is attractive An image of the glitter of the Mediterranean where the dazzling sunlight dances. A fresh and gender-free fragrance that can be worn by anyone. It captures the joyful energy of a sunny Mediterranean summer. A tribute to the scorching sun, sea and sensuality. A feminine bouquet of jasmine and white rose is layered with a lively fruity floral scent of sparkling citrus and refreshing green apple. Relive the adventures of summer and the passion of the holidays.
Top: A mix of Sicilian cedar, the vibrancy of fresh apples and the charm of daffodils, evoking a southern Italian summer.
Middle: Fresh bamboo scent in a feminine bouquet of jasmine and delicate white rose.
Last: Sensual amber and provocative comfort of musk intertwined with the scent of citron wood.
* Reference retail price may vary depending on the store
[About Dolce & Gabbana Beauty Press by Lula]
An online beauty magazine operated by Italian makeup brand "Dolce & Gabbana Beauty". Through planning and editing by CEREC Co., Ltd., which publishes the international fashion magazine Lula JAPAN, we are able to deliver beautiful, high-quality creations and high-sensitivity content with high editorial elements. From the latest beauty information to makeup techniques and messages from shining women, we will deliver the dolce method to make you more attractive, more gorgeous, and dramatically change your daily life with the essence of Sicily.
Media name: Online beauty magazine "Dolce & Gabbana Beauty Press by Lula" URL: https://dgbeauty-lula.jp/
#dolgabacosme
Shiseido's comprehensive beauty site "Watashi Plus"
https://www.shiseido.co.jp/sw/c/products/SWFG070210.seam?zbr=J6&sort=12&p=1
Details about this release:
https://prtimes.jp/main/html/rd/p/000000616.000034058.html