Japan Futsal Top League
Whether Hamamatsu will extend their undefeated record with their first win at home or whether Hamada will win his second win of the season is a must-see! [F League 2022-2023 Division 2 Section 13]
Live distribution of all games in Section 13 on ELEVEN!

The 4 games of the 13th Section of the F League 2022-2023 Division 2 to be held on November 23rd (Wednesday/holiday), 25th (Friday) and 26th (Saturday) will be streamed live on ELEVEN as follows! You can watch all the games for free, so please download the ELEVEN app and watch it!
[Image 1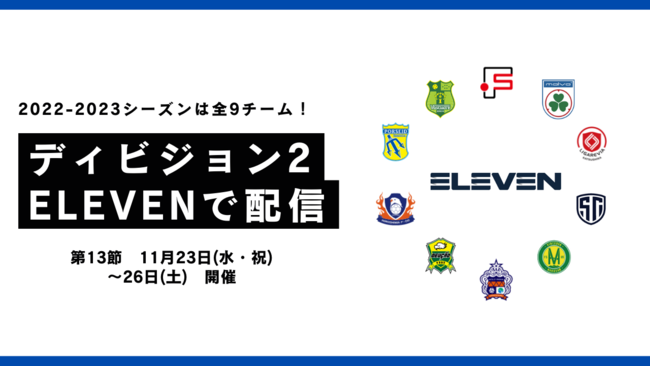 – Highlights of Section 13! –
November 23 (Wednesday / holiday) 19:00 Kick-off Agremina Hamamatsu vs Porcade Hamada
Hamamatsu, who are undefeated in 7 matches at the end of the 12th round, will welcome Hamada at home. Both teams will have a tight schedule with only two days left, but Hamamatsu is expected to extend their undefeated record, while Hamada is expected to put up a tough match to get his second win of the season. It will be interesting to see if Hamamatsu will get their first home win of the season, or if Hamada will switch from the big defeat in the previous round and win. Enjoy the holiday night game at the venue and live stream of ELEVEN! [Image 2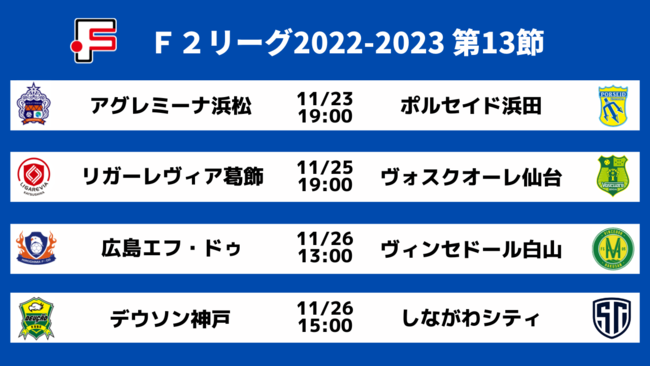 – Click here for live streaming! –
November 23 (Wednesday/holiday)
19:00 Hamamatsu vs Hamada
https://elevensports.com/ja/view/event/cl5abquag7u9s0jb0u44y2ldu Friday, November 25th
19:00 Katsushika vs Sendai
https://elevensports.com/en/view/event/cl6ka9j8o78aq0jb046wq7ejv Saturday, November 26th
13:00 Hiroshima vs Hakusan
https://elevensports.com/en/view/event/cl6ehyo7f2t9g0jb0hxu22zd9 15:00 Kobe vs Shinagawa
https://elevensports.com/en/view/event/clakttpy718mf0jeoxgv7yzk3 *The viewing link may be changed without prior notice due to delivery problems. If you can't watch it even after accessing the link, please visit the official F League Twitter (https://twitter.com/fleague_t). ■ F League 2022-2023 Distribution Channel:
https://elevensports.com/ja/video/fleague-2020-2021-div-2
■ ELEVEN: elevensports.com
Founded in 2014, MyCujoo, a live streaming platform specializing in soccer and futsal, has made it possible to stream, spread and monetize matches from anywhere in the world, regardless of category or level. By joining the ELEVEN group at the end of last year, MyCujoo has transformed into a new global platform called ELEVEN Sports
(ElevenSports.com) and will continue to deliver a lot of sports content. Please search for ELEVEN Sports in the app store and download the app (available for iOS/Android).
Details about this release:
https://prtimes.jp/main/html/rd/p/000000153.000098954.html