Z Co., Ltd.
Converse Basketball "Countdown Campaign" now being held!
https://converse-basketball.jp/

Z Create Co., Ltd., a group company that undertakes the manufacturing department of Z Co., Ltd., is holding a "countdown campaign" as a licensee of Converse brand athletic activewear bags.
[Image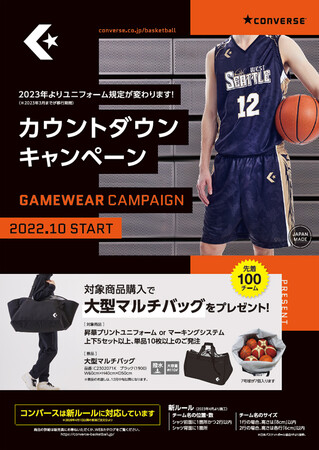 From April 2023, the uniform rules of the Japan Basketball Association will change, and the size of the team name will be specified. In conjunction with the rule transition period until March 2023, Converse is conducting a countdown campaign.
During the campaign period, the first 100 teams who purchase at least 5 sets of sublimation print uniforms or marking system tops and bottoms and 10 or more single items will receive a large multi-bag as a gift.
For details, please check the campaign page.

Converse Basketball Dedicated Homepage
https://converse-basketball.jp/
* Converse sportswear and bags are planned and manufactured by Z Create Co., Ltd., and this website is operated by Z Co., Ltd. [Inquiries from consumers and readers]
Z Co., Ltd. Customer Service Center
Toll-free: 0120‐276‐010
Email: custinfo@zett.co.jp
WEB: https://converse-basketball.jp/
Details about this release:
https://prtimes.jp/main/html/rd/p/000000277.000017505.html