Avex Communications Broadcasting Corporation
Kim Myung-soo (Elle) turns into a cute white cat!? ? ~" will start distribution on dTV

Kim Myung Soo, who made his debut as Elle in the Boys League and is also active as an actor.
Many fans are looking forward to his return to military service from 2021. Kim Myung-soo starred in the drama "Welcome back~I'm home with a kiss on the roof!" ? ~" has started distribution on the video distribution service dTV.
[Image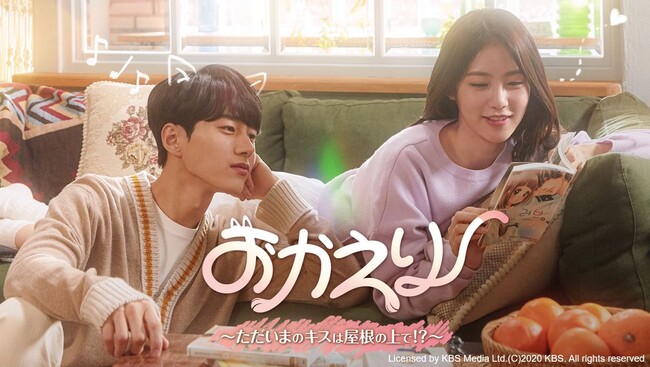 Kim Myung Soo plays a cat.
I am challenging the role of the white cat Honjo, which the heroine Sora has decided to keep, appearing in human form.
Sora is a caring and cheerful "dog-like" girl who aspires to be a manga artist. One day, I went to a cafe run by my first love, Jason, with a friend, and witnessed Jason's ex-girlfriend throwing his cat away.
Seeing that Jae-sung is allergic to cats and can't keep a cat, Sora offers to take him in.
That night, a mysterious man appears in the room where Sora is sleeping… It was Hongjo, a cat in human form.
Hongjo, who watches over Sora with his cat-like friendliness and loveliness, and cool Jaesung, who doesn't show his emotions because of past trauma.
From the secret connection between the three, a strange love triangle begins with Sora in between.
The drama is based on the popular Korean web comic "Welcome Back". There is no doubt that you will be fascinated by the fantasy development unique to comics and the romantic love story of a cat becoming handsome!?
Kim Myung Soo wore a fluffy white sweater and performed the role of Hong Jo with a cat-like soothing visual. The bewildered appearance of an unfamiliar human society and the earnest desire to become a human being for Sora's sake are delicately expressed in a sweet and painful love.
On the other hand, Seo Ji-hoon, who made his debut in the remake of "Signal" in Japan and has been active in a wide range of works such as "Koppadan ~ Matchmaker in Love ~", will play Jae-sung.
In contrast to Hongjo, you can't take your eyes off Jaesung, who is quiet and cool!
Shin Ye Eun, who broke through in the web drama "A-TEEN", will play Sora, who sways between the two. She plays a life-size heroine that everyone can relate to with her natural charm.
Of course, the cuteness of Hongjo in the form of a cat is also plentiful! "Welcome back~I'm home with a kiss on the roof!" ? ~", please check it out on dTV.
■ "Welcome back~ Kiss me now on the roof! ? ~』
~Synopsis~
So-ra (Shin Ye-eun), who hates cats and hates men who look like cats even more, has been in love with Jae-sung (Seo Ji-hoon) since high school. On the other hand, Jae-sung is dumped by his lover, and even the cat he gave him as a gift is returned. Jae-sung can't have a cat because he's allergic to cats. Sora can't help but take care of him for a while. However, the cat was a mysterious cat that transforms into a human (Kim Myung-soo) when it is near Sora. Meanwhile, Sora's father remarried and decided to move to the countryside. Sora decides to rent the house of her father's remarried partner, but it's across from the cafe run by Jae Sung…
Work URL: https://bit.ly/3OKyODz
Copyright: Licensed by KBS Media Ltd. (C) 2020 KBS.
dTV service overview
[If you want to see live performances, dTV]
In addition to popular movies and dramas, K-POP and other popular music live performances are being added!
Unlimited viewing for 550 yen per month. *1*2 In addition, the latest online live performances are also distributed every month, making it No. 1*3 in the number of music live performances!
In addition to blockbuster movies and popular dramas, there is also a full range of music content such as live footage and music videos of popular artists. This is a video distribution service that allows unlimited viewing*1*2 of a variety of works, including exclusive works that can only be seen on dTV and original dramas, for a monthly fee of 550 yen.
You can also watch the latest online live performances and new movies by paying an additional fee.
It supports not only smartphones, but also TVs and projectors, so you can enjoy live music and movies on a large screen full of presence. And if you download it on Wi-Fi, you don't have to worry about communication restrictions!
Anyone can easily register and cancel from the WEB or application, and those who register for the first time can try it for free for the first month. ※Four
*1 650 yen (tax included) for purchases on the App Store and Google Play. *2  There is some individually charged content
*3 Researched by GEM Partners / As of November 2021
Music content is counted, excluding movies, dramas, and animations (music movies, musicals, etc.) that are available for unlimited viewing on major domestic flat-rate video distribution services. *4 Only when applying for the first time during the campaign period (from November 1, 2014), the initial free period of 7 days will be extended to 31 days. Other applicable conditions are the same as the first 7 days free. However, during the 31-day initial free period, some content may not be viewable due to the rights holder's
circumstances.
Customers who have received the 7-day first-time free trial in the past, but who have not yet applied for this campaign, are eligible. App Store, Google Play, and use of dTV prepaid cards are excluded. When this campaign ends, we will inform you on the DOCOMO website. The contents of this campaign are subject to change without notice. * Separate packet communication charges apply.
*Some content may not be viewable on some devices.
*Customers who do not have a DoCoMo line contract will need a "d account (R)" to use this service. The service content and payment method may differ from those of the "sp-mode (R)" contract. In addition, payment of the usage fee is only possible by credit card. * "dTV", "d account" and "sp mode" are registered trademarks of NTT DoCoMo, Inc. Details about this release:
https://prtimes.jp/main/html/rd/p/000000762.000022141.html