Orion Star Robotics US Inc.
"Lucki" manufactured by Orion Star Technology Co., Ltd. has been introduced to "Jomon" Izakaya!
Responsible for serving, lowering, and recommending tours,
streamlining staff work

The delivery robot Lucki is an Ai delivery robot that can carry out promotions. This time, it was introduced to Ehime Prefecture "Jomon" Izakaya. Jomon is an izakaya that offers hospitality with a variety of creative dishes such as fresh fish and meat dishes. We put effort into providing not only "good food" but also good service. Until now, there have been problems such as lack of manpower. By introducing Lucki into the store, Lucki is given name tags "Catherine" and "Kevin". Even if an employee suddenly takes a rest, Catherine and Kevin will work at full capacity to help.
[Image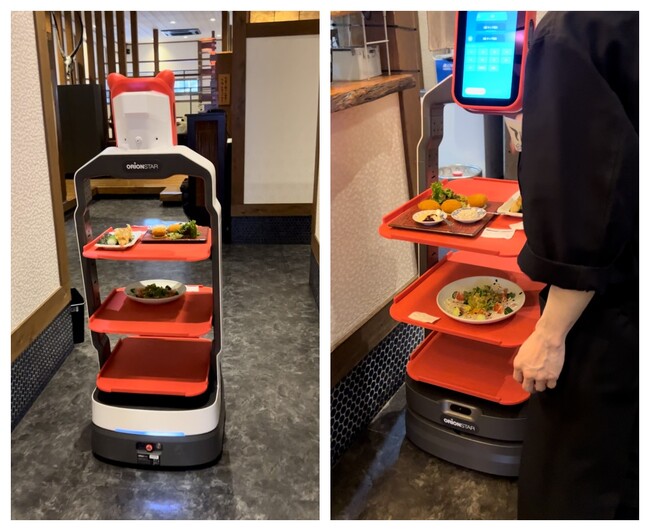 Until now, we hadn't called the staff for the lower table, but Lucki will also lower the table, so there will be space for the table. Staff who remain at the table will be able to clean the table and
surroundings more carefully. It also makes it easier for customers to place additional orders. Furthermore, when you think of a lower tray, you may have the impression of carrying a lot of used tableware at once. Staff must carry heavy trays. It may take several people to do the collection work, but if the robot becomes a partner in this work, many problems can be solved.
Lucki will guide you through recommendations during patrols as well as serving and lowering. It also leads to increased sales.
In Jomon, delivery robots named "Catherine" and "Kevin" are in operation. I want to discuss "thank you Catherine". I think it's really cute.
As a work colleague, Catherine and Kevin are working at full capacity and helping us even when other staff members suddenly take a day off. After the business is over, I wipe it clean and say "thank you" every day.
[Inquiries about Lucki]
Orion Star Technology Co., Ltd.
Official website: https://jp.orionstar.com/
E-mail: global_business@orionstar.com
Details about this release:
https://prtimes.jp/main/html/rd/p/000000020.000110665.html