Hyatt Regency Osaka
Travel with your beloved cat who always wants to be with you. Following the guest room where you can stay with your pet dog, we will start selling guest rooms where you can stay with your pet cat with a cat tower.
Available from February 1, 2023

Hyatt Regency Osaka (General Manager: Miriam Baroli, 1-13-11 Nankohoku, Suminoe-ku, Osaka), an urban resort hotel located in Osaka city but away from the hustle and bustle of the city, has a room where you can stay with your dog, which started selling in 2021. Following on from February 1 (Wednesday), we will sell rooms where you can stay with your cat.
[Image 1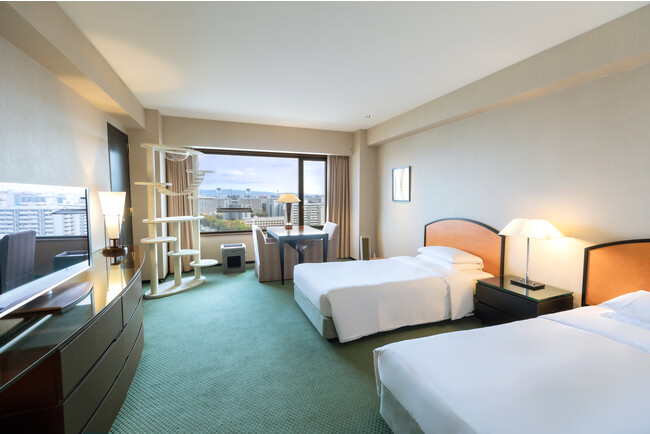 Cat friendly room interior view
After Corona, it is said that the number of cats bred is increasing. We understand that some people feel uncomfortable traveling without their beloved cat, so we have prepared a cat-friendly room where cats can relax.
The exclusive guest room is equipped with a large cat tower and cat hammock as amenities for your beloved cat, providing a stress-free space that relieves the tension and anxiety of cats going out. In addition, during your stay, you can get away from the hustle and bustle and enjoy a meal with your cat in your room while looking out over the spacious bay area.
[Image 2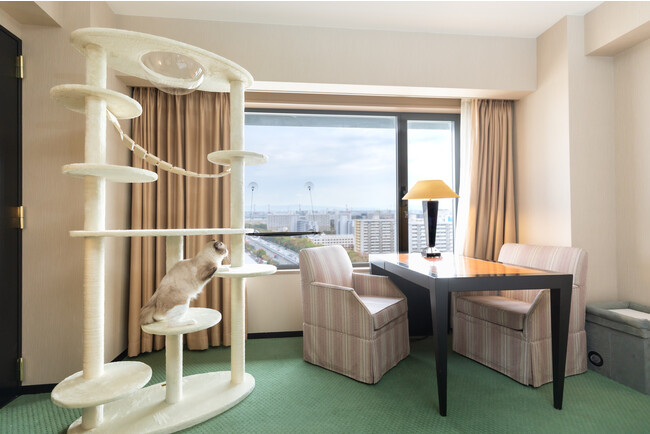 cat tower
cat tower
Stay active even in the limited space of the guest room with a cat tower over 2m that takes advantage of the cat's habits and overlooks the room.
[Image 3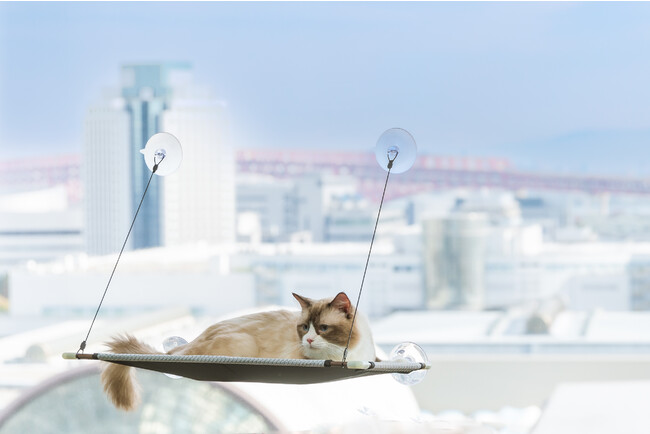 cat hammock
cat hammock
Relax in the sun on a cat hammock set up by the window overlooking the city of Osaka.
[Image 4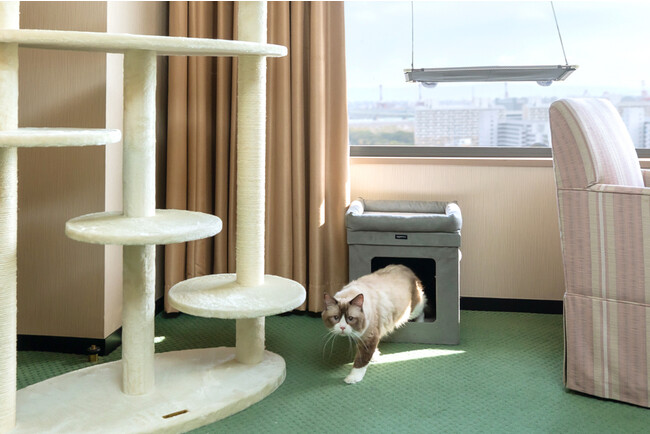 cat bed
cat bed
You can also play while lying on the bed or hiding in a cube-shaped bed that is easy to get in and out of.
room service menu
Daisen chicken meatballs, venison pot-au-feu, fish and vegetables, etc. are also available for dogs and cats.
*Handling menus are subject to change.
◆ Hotel stay with your dog ◆
As part of the Pet Love Program, the "Dog Friendly Room" was launched ahead of the Cat Room.
In addition to a relaxing stay, we also recommend a leisurely walk course, such as the walking trails around the hotel, while enjoying the scenery of the Osaka Nanko area with your dog.
[Image 5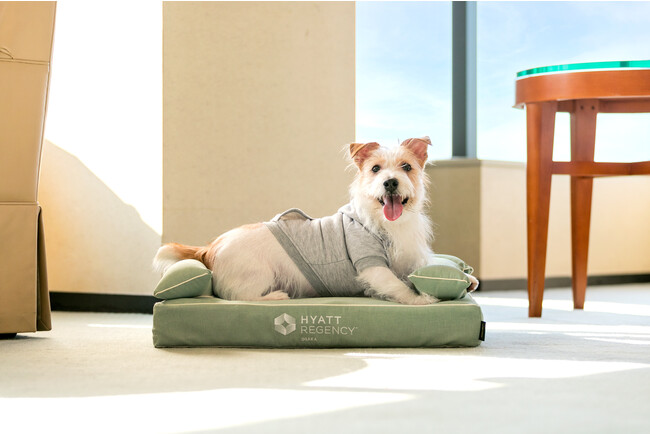 dog bed
[Image 6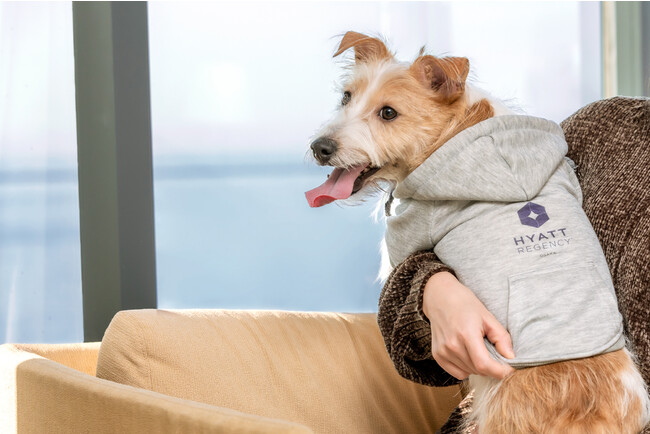 Room wear for dogs
dog items for dogs
Beds for small dogs, tableware for dogs, toilet sheets, cleaning supplies, towels for paws
Upon request, dog wear (S/M size) with the Hyatt Regency Osaka logo can be rented free of charge.
Wear is also available for sale at 4,400 yen (including tax). cat friendly room
[Room type]
Deluxe Twin (40 square meters)
[Amenities for cats]
Cat tower, cat hammock, cat bed, cat tableware, cat toilet, nail sharpener, nail clipper, cardboard, cat teaser, cat love amenities 【price】
From 33,561 yen (including service charge and consumption tax, not including accommodation tax) (1 room for 2 people per night) 1 cat per room
When using the hotel, please be sure to fill in the required items on the "Accommodation Consent Form" designated by the hotel and fax it to us at least 2 days before your stay, along with a copy of your vaccination certificate. Please note.
【remarks】
When making a reservation, please select a pet-friendly room, twin room, and enter your request for a cat room in the comment field. [Reservations/Inquiries]
Telephone 06-6612-1234 (hotel representative)
Online reservation
https://www.hyatt.com/ja-JP/hotel/japan/hyatt-regency-osaka/osaka Hotel information
[Image 7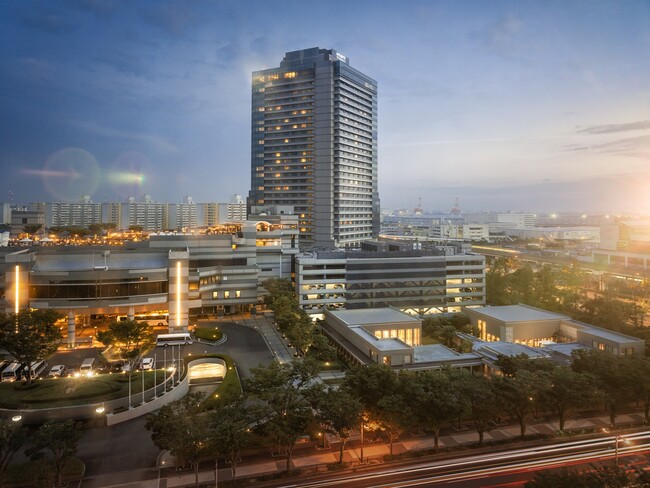 "Hyatt Regency Osaka" Exterior
1-13-11 Nankokita, Suminoe Ward, Osaka City, Osaka Prefecture https://www.hyatt.com/ja-JP/hotel/japan/hyatt-regency-osaka/osaka About 3 minutes on foot from "Nakafuto" Station on the New Tram Nanko Port Town Line
About 25 minutes by free shuttle bus from JR Osaka Station
Phone: 06 6612 1234 (hotel representative)
About Hyatt Regency
Hyatt Regency prides itself on making travel stress-free and satisfying. With more than 220 hotels in major cities and resort areas in more than 45 countries around the world, we have facilities that can flexibly respond to various situations where people gather for business or leisure, and we provide heartfelt services. . Designed for functionality and comfort, Hyatt Regency hotels and resorts offer a full range of services and amenities to meet your every need and request. We offer a wide range of services, including spaces for various purposes, a variety of dining options, meeting facilities and technology, and our professional staff will provide flexible hospitality to support your comfortable stay. For more information, visit hyattregency.com. Follow @HyattRegency on Facebook, Twitter and Instagram. We are also waiting for you to post photos with the hashtag "#HyattRegency".
Details about this release:
https://prtimes.jp/main/html/rd/p/000000124.000012793.html

MAIL:cr@prtimes.co.jp