Reelu Co., Ltd.
Launched "Reelu Speed ​​Match (β version)" that matches students looking for long-term internships with companies within 48 hours
[Image 1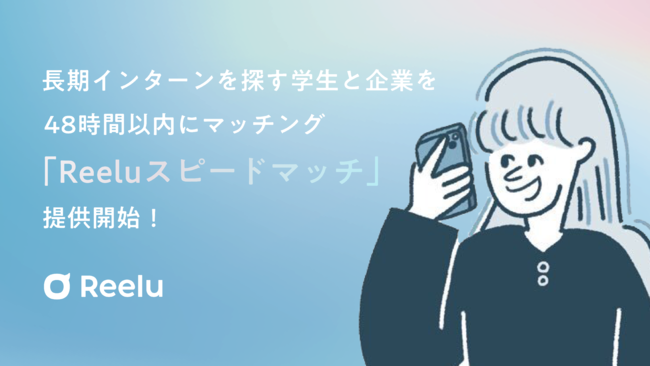 Reelu Co., Ltd. (Reading: Reel, Headquarters: Minato-ku, Tokyo, Representative Director: Tamayu Konno, hereinafter referred to as Reelu) matches students and companies for long-term internship recruitment ("Reelu Speed ​​Match (β version)"). We are pleased to announce that it will start on February 28, 2023.
This initiative allows students looking for a long-term internship company to set up an interview with the company within 48 hours (* 1) after entering the prescribed content on Reelu's official LINE account.
*1: Excludes cases where there is no company that meets the student's request, or where the interview setting is delayed due to
circumstances on the company's side. The β version is for matching with companies in the Tokyo metropolitan area targeting people over 25 years old.
■ Background of this initiative
There is a growing need for long-term internships in forming the population of new graduates. This is due to the fact that hiring is being done year-round and job hunting is becoming earlier. In fact, the job offer rate for 24-year-old graduates was 19.9% ​​(*2) as of February 1, significantly higher than the 13.5% for 23-year-old graduates at the same time, and one in five people has a job offer. *2 From the Recruit Employment Process Survey (2024 graduates)
By working together through the opportunity of internships from early in the first and second years, it is believed that mutual
understanding between students and companies will deepen, leading to the formation of a more accurate population. By promoting the matching of long-term interns, Reelu hopes to contribute to the creation of opportunities for both parties.
■ Purpose of this initiative
Reelu is a scout-type service that receives messages from corporate recruiters when students who are looking for job hunting or long-term internships for new graduates post their profiles and videos. More than 90% of students who have posted one or more videos on the Reelu app (as of February 2023) have received messages from companies. The span until new graduates are offered will be a medium-long term in accordance with the flow and schedule of the final selection. On the other hand, most students looking for long-term internships get a job offer at the first interview, and the average period from registration of the Reelu app to acceptance of the job offer is less than one month. At Reelu, we would like to create opportunities that emphasize speed from interviews to matching when applying for internships, and will implement this initiative.
■ Flow of use (students)
[Image 2


"Reelu Speed ​​Match" usage image
1) Tap the question answer displayed on Reelu official LINE
2) Display of matching intern destination results
3) Select "I want to apply" or "I want to consult with Reelu staff" Click here for Reelu official LINE:
https://liff.line.me/1645278921-kWRPP32q/?accountId=101imebd ■ Examples of long-term internships that you can meet at Reelu Speed ​​Match: ・ 3% pass rate for past public offerings! Long-term internship at a high-level advertising company
・Long-term intern who can experience corporate growth directly under the president within 3 years of founding
・Long-term internship that may directly lead to a new graduate job offer ・Long-term internship not open to other media, limited to Reelu users -Voices from students who actually matched-
"Originally, I didn't know the industry of the company I was matched with. During the interview, I heard about the actual work content and the story that the company would grow with the growth of the company. I thought that I would like to work with you. After receiving the job offer, I actually started working as an intern, but I have learned a lot and it is very fulfilling." (A・K/Keio University environment) Informatics 1st year student)
■ Comment from Kaori Ishimaru of Reelu Co., Ltd.
[Image 3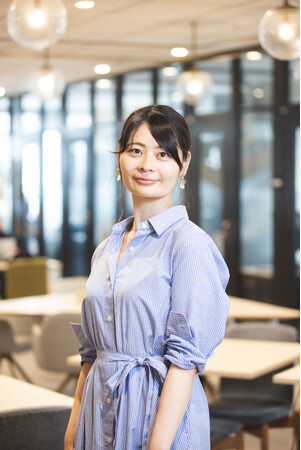 I received a consultation from a certain first-year university user who said, "I want to intern at a venture company, but I don't know which one is good." When I asked him about it, he said that in the future he would like to use his language skills to get a consulting job. Even after searching for internships for "consulting" and "jobs using English", he couldn't find a company that suited him.
Therefore, when I connected with a financial and investment-related company that conducts research and prepares materials, including overseas companies, they sympathized with the work content and vision and wanted to work. I received a report that I am currently living an intern life where I have a lot of fulfilling learning. This person did not know the specific industry or job type of the intern, but talking with the recruiting staff at the company I matched with was the decisive factor in making the decision.
In this way, students who have vague ideas about what they want to do, but are having trouble selecting companies due to their lack of knowledge about the industry and industry, started this initiative with the idea of ​​creating opportunities with companies. I decided to. Through "Reelu Speed ​​Match", we would like to propose new options to students looking for long-term internships and help them make decisions.
Details about this release:
https://prtimes.jp/main/html/rd/p/000000007.000107669.html

MAIL:cr@prtimes.co.jp