Telesis Network Co., Ltd.
Good luck fortune-telling gift! Get ready for the new season with Leon Kinoshita's official monthly site "Spring Visit Campaign"

Telesis Network Co., Ltd. (Headquarters: Minato-ku, Tokyo;
Representative Director: Keimitsu Takaishi https://www.telsys.co.jp/) will launch the monthly official website "Leon Kinoshita" from Monday, February 27, 2023. The Emperor's Count" has released the "Spring Visit Campaign".
"Kinoshita Leon ◆ Emperor's Number" URL: https://kinoshita-reon.net/ [Image 1


■ Campaign overview
A fortune-telling program currently being broadcast on Fuji TV, "Can I fortune-telling suddenly? Leon Kinoshita, who has gained popularity in Currently, the "Spring Visit Campaign" is being held on the official monthly website "Leon Kinoshita Emperor's Number". During the period, the fortune-telling menu that is perfect for welcoming the new season can be appraised one item at a time for free. Please take this opportunity to try it.
* In order to participate in this campaign, it is necessary to register as a member of the monthly official website "Leon Kinoshita ◆ Emperor's Number".
■ Campaign period
February 27, 2023 (Monday) to March 6, 2023 (Monday) 12:00
Introduction of the monthly official smartphone site "Leon Kinoshita Emperor's Number"
The popular TV program "Can I fortune-telling suddenly? "Kinoshita Leon" who has become a hot topic with his overwhelming appraisal ability and hitting power. We will refer to your destiny and reality with the original divination "Emperor's Number" by "Leon Kinoshita" who is suitable for the king of the divination world.
On the site, Kinoshita Leon uses original divination to interpret the date of birth of the target person with his own interpretation, future events, how to connect with a destined partner, and the shortest route to fulfillment of love. lead to resolution.
[Image 2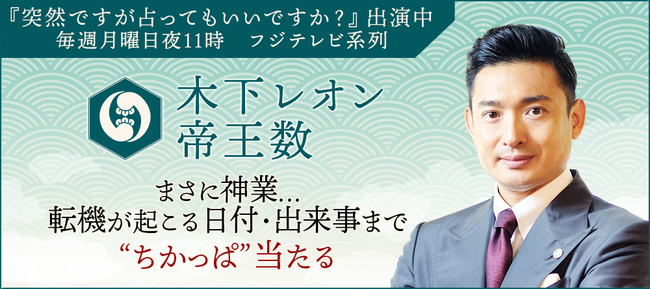 ■ Supervisor Introduction Kinoshita Leon
Born August 12, 1975. Born in Hakata, Fukuoka Prefecture. fortune teller. A monk of the Shingon sect.
Raised in a family of fortune-tellers, he received special education in fortune-telling in his childhood. During his 13 years of working as an office worker, he predicted himself, and at the age of 30 he started a business and ran a restaurant. Fortune-telling customers who come to the store for free and call reputation. He is one of the most popular fortune-tellers today, demonstrating through his own experience that fortune-telling can change fate and the importance of hard work. is.
■ Service overview
・ Content name: Leon Kinoshita
・Sales price: 330 yen per month (tax included)
・ Provided URL: https://kinoshita-reon.net/
Introduction of the fortune-telling content portal site "Uranaeru" [Image 3


From July 2020, we will start providing media for women with the theme of "fortune-telling x love" "Uranaeru-Fateful Love Fortune-". Columns and articles for women who are looking for happy love and life in their own way, and fortune-telling created under the supervision of a popular fortune-teller who is active in various media such as TV and magazines and has a proven track record, is updated daily.
・ "Uranaeru Official Website" URL: https://unkoi.com/
・ "Uranaeru Authentic Appraisal" URL: https://unkoi.com/fortune-premium/ ■ Introduction of women's deep romance column and free fortune-telling media "ENJYO"
[Image 4


"ENJYO" is a love column and free fortune-telling distribution media for women who love like a flame and live a gorgeous life. From deep romance to nightlife for women… Romance columns with various themes to read, and free fortune-telling by popular fortune-tellers who are active in various media such as TV, books, and magazines are updated daily!
・ "ENJYO" URL: https://djm.jp/
■ Introduction of telephone fortune-telling "Mel" love and spiritual column & free fortune-telling site
[Image 5


This site is a telephone fortune-telling site that leads to answers to complex and diverse worries that consulters have, such as love, reunion, and painful love. This site offers free clairvoyance and spiritual fortune-telling by popular telephone fortune-tellers, as well as many romance columns for women.
・Telephone fortune-telling Mel TOP URL: https://user.meruu.jp/ ・Telephone fortune-telling Mel-love column & free fortune-telling URL: https://user.meruu.jp/media/
■Company profile
[Image 6


Telesis Network Co., Ltd.: https://www.telsys.co.jp/
Telesis Network is a company that provides divination products and services. Through the Internet, we also provide fortune-telling content using full-scale fortune-telling, and fortune-telling appraisal services by telephone and chat with real fortune-tellers. Our mission is to "sow seeds of happiness in your heart" through fortune-telling and spiritual content that bring "impression, surprise, tears, healing, laughter, and enlightenment".
The world of IT is changing day by day. Telesis Network will continue to provide content through various channels and continue to evolve.
Details about this release:
https://prtimes.jp/main/html/rd/p/000000339.000076132.html

MAIL:cr@prtimes.co.jp