DJI JAPAN Co., Ltd.
DJI Introduces Ronin 4D Flex, Bringing New Freedom to Filming A new level of agility for the DJI Pro camera platform. DJI's first cinema zoom lens is also released at the same time.

March 7, 2023 – DJI, the world leader in consumer drones and creative camera technology, unveils Ronin 4D Flex, a professional cinema camera platform that enables new and flexible ways to capture images. . Ronin 4D Flex allows the Zenmuse X9 gimbal camera to be detached from the Ronin 4D body, reducing the weight and size of hand-held shooting and providing more flexible camera work for professional-level footage. . It can be seamlessly connected to the 4D handgrip and main monitor, allowing efficient one-operation shooting. Also announced today is DJI's first cinema-grade lens, the DL PZ 17-28mm T3.0. The lens supports DJI's full range of focus and zoom adjustments, taking the Ronin 4D system's image quality to a new level. Additionally, Apple ProRes RAW codec activation license keys for Ronin 4D can now be purchased in the DJI store, making cinema-level filmmaking on the Ronin 4D even easier.
[Image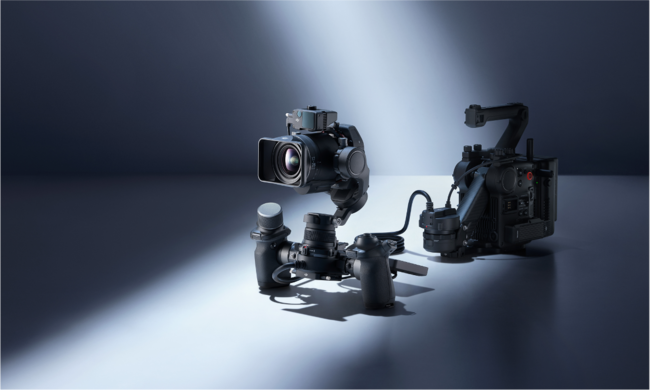 "The Ronin 4D sets a new standard in terms of versatility, image quality and image stability, redefining what is possible with a single cinema camera. The DL PZ 17-28mm lens expands the capabilities of this filming platform and allows filmmakers to capture footage in entirely new ways.These products extend the possibilities of DJI Pro. will continue to grow," said Paul Pan, DJI Senior Product Line Manager. Flexibility to work regardless of the size of the shoot
The Ronin 4D Flex gives you even more flexibility and efficiency in your camera work, allowing you to capture your most creative cinematography. For one-operation shooting, the X9 gimbal camera can be detached from the Ronin 4D body, reducing the handheld weight of the Ronin 4D to just 1.8 kg, reducing fatigue during fast-moving scenes such as event shooting and documentary shooting. , you can easily shoot for a long time. The X9 gimbal camera can also be mounted on a variety of rigs to deliver cinema-quality footage for shots that require dynamic movement, such as driving through tight spaces like inside a car, which were previously extremely difficult or impossible. You can shoot.
control in real time
The 2 m ultra-fine coaxial cable that connects the Ronin 4D Flex and Ronin 4D main unit supports lossless transmission of up to 8K video, instantly transmitting high-speed signals from the camera sensor to the main unit, and also transmitting control and monitor signals in real time. increase. With this solid cable connection, 4D Flex gives you more flexibility than ever before when shooting in even the tightest spaces. Plus, you can use the Zenmuse X9 gimbal camera as a cinema-grade ultra-compact remote head.
Operational experience suitable for professional photography The Ronin 4D Flex is compatible with the Ronin ecosystem, an ever-expanding professional photography solution. Ronin 4D Flex is fully compatible with the Ronin 4D's handgrip and main monitor, providing a complete shooting solution including cinematic video imaging, 3-axis stabilization, LiDAR focus control, and a professional monitoring and control experience. provided to the producer. The result is a highly convenient and efficient shooting experience unprecedented in today's film industry. A configuration that uses the Flex and a configuration that uses only the Ronin 4D itself can be quickly switched on-site without tools, making it useful in a wide range of shooting situations. For fixed shots, the included pan axis quick lock can be attached to the 4D Flex to accommodate a wider variety of payloads, including telephoto lenses, cinema zoom lenses, anamorphic lenses, and more to suit the scene you're facing. You can freely choose the lens.
DJI's First Cinema Zoom Lens
The DL PZ 17-28mm T3.0 lens is DJI's first cinema-grade zoom lens. Precise back focus control and native system calibration provide amazingly precise control in autofocus, manual focus, and auto-manual focus (AMF) modes. Attached to the Zenmuse X9, this lens captures ultra-high definition from center to edge, and has a minimum focusing distance of 0.19m, covering ultra-wide to wide-angle focal lengths. Capture exactly what you want in one take
With a magnesium-aluminum alloy body, the DL PZ 17-28mm T3.0 lens weighs around 520g, making it the perfect lens for the X9 gimbal camera in terms of both size and weight. A servo zoom motor is built into the lens for smooth and stable zooming. No need to attach an external focus motor or do lens calibration. The DL PZ 17-28mm lens does not require rebalancing as the lens itself does not change size when you adjust the zoom.
[Video 2: https://prtimes.jp/api/movieim.php?url=www.youtube.com/watch?v=Gz4bE-aToqU] price and sale time
From today, we will sell from our official online store store.dji.com and authorized distributors.
Ronin 4D Flex: 111,650 yen. Ronin 4D Flex, Pan Axis Quick Lock x1, Ronin 4D Handgrip Adapter x2, Handgrip Adapter Cable x2
DL PZ 17-28mm T3.0: ​​200,420 yen
Ronin 4D Apple ProRes RAW Activation License Key: 142,890 JPY *Online store only In addition to these, the DJI 3ch Follow Focus and DJI Ronin 4D Expansion Plate (SDI/XLR/TC) are expected to be available by May 2023. Product details: www.dji.com/jp/Ronin-4D
About DJI
Since its founding in 2006, DJI has been a pioneer in the commercial drone industry and a global leader in innovation. We have supported users' first drone flight and brought innovation to professional shooting work. Today, DJI is committed to building a better world by continuously advancing human progress. Always with a genuine sense of curiosity and a desire to solve any problem, we have expanded our business into areas such as agriculture, public safety, surveying and mapping, and infrastructure inspection. DJI products are creating new value in these areas as well, providing unprecedented changes to people's lives around the world.
www.dji.com/jp | facebook.com/dji.jp | twitter.com/djijapan | youtube.com/DJIJapan | instagram.com/dji_japan |
www.linkedin.com/company/dji (C) 2023 DJI JAPAN. The company and product names mentioned are trademarks or registered trademarks of their respective companies.
Details about this release:
https://prtimes.jp/main/html/rd/p/000000256.000015765.html

MAIL:cr@prtimes.co.jp