Nonpi Co., Ltd.
Home-roasted coffee for 150 yen per cup is popular at "Roaster Main Store", coffee beans sold in the store have increased sales 7.2 times in 3 years! Regular flights that can be ordered from the online site have also started.
We deliver beans roasted at our own roasting factory in Tokyo. Fresh and fragrant coffee at home.

At the cafe "Roaster Main Store" in Toyosu, Tokyo, which offers home-roasted coffee for 150 yen per cup with ingenuity such as customer service and self-service, the sales of coffee beans sold in the store increased 7.2 times in 3 years. Thinking that there is an increase in home coffee in the background, we have started a regular coffee bean service at the online store "Roaster Plus (R.O.STAR+)". (*You can also purchase each time)
Delivery is available nationwide, so please have a wonderful coffee time with R.O.STAR.
Online store: plus.rostar.jp
[Image 1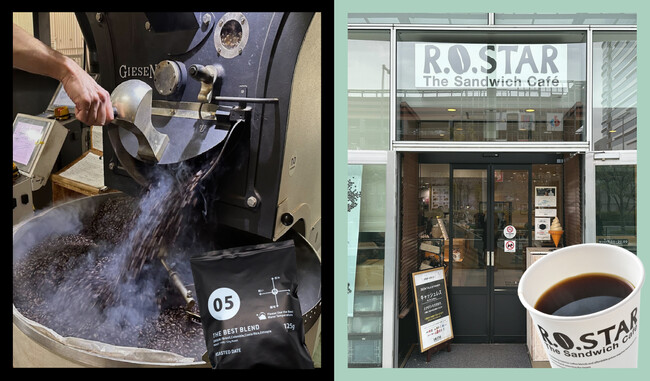 What is "Roaster Main Store" aiming to become an LCC in the coffee world? Our shop is a cafe that offers fresh coffee and light meals at low prices. And we are aiming for a price (value) that will please our customers, referring to LCCs in the airline industry.
For example, the most popular regular coffee is offered for 150 yen per cup, but this coffee is a cup that uses only fresh beans that have been roasted within two weeks. With this kind of effort, it is usually difficult to offer a cup of 150 yen, but we can simplify the operation by focusing only on the services that customers really need, speed up the provision, and provide it to many customers. We are able to realize the value (price) that pleases everyone because we have prepared the environment.
[Ingenuity in operation to realize high quality and low price] 1. Customer service
At our store, when you line up at the cashier, you will receive the product after a simple conversation, "Are you ready? It will be ○○ yen." With the desire to provide products to as many customers as possible, we intentionally eliminate communication such as confirming whether to use in-store or takeout, confirming size, and proposing side menus for drink-only customers. With this ingenuity, we are able to offer products to many customers. (*Average serving time of 1 cup is 10 seconds)
2. Eliminate menus that take a long time to be served
We thoroughly researched how we could serve time-consuming menus quickly, and eliminated the time-consuming menus.
3. Introduction of self-service
All drinks handed over at the cash register are served in special paper cups, and customers can take the lids and stirrers home from the dedicated space next to the cash register.
This kind of service should be provided by the store, but we think that keeping the price down will make customers more happy by comparing it with services such as putting on a lid and keeping the price down. Introduced a self-service system.
[Image 2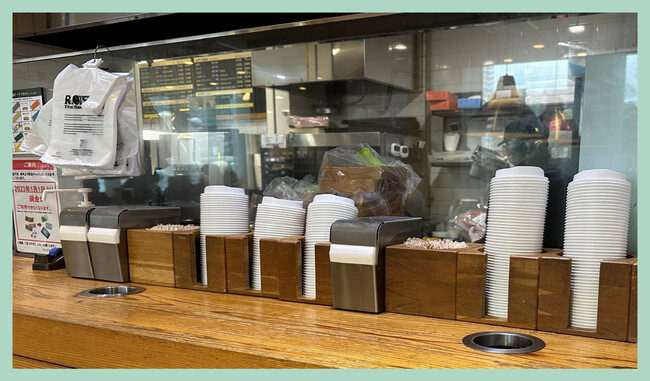 [Store purchase of coffee beans]
There is a dedicated space near the entrance, so please bring your purchase to the cash register.
[Image 3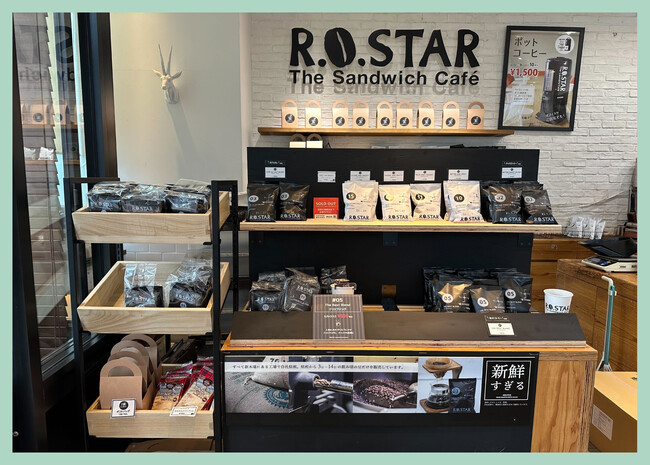 [Initiatives for SDGs]
From 2023, all the beans we purchase at our store have been changed to beans made at farms that work on SDGs.
Since ancient times, coffee beans have been fraught with various problems such as child labor and labor exploitation.
Against this background, in recent years, activities to support farms aiming for sustainability have become popular in both producing countries and developed countries.
We have decided to limit the raw beans we purchase at our store to those from farms that focus on SDGs activities.
[Image 4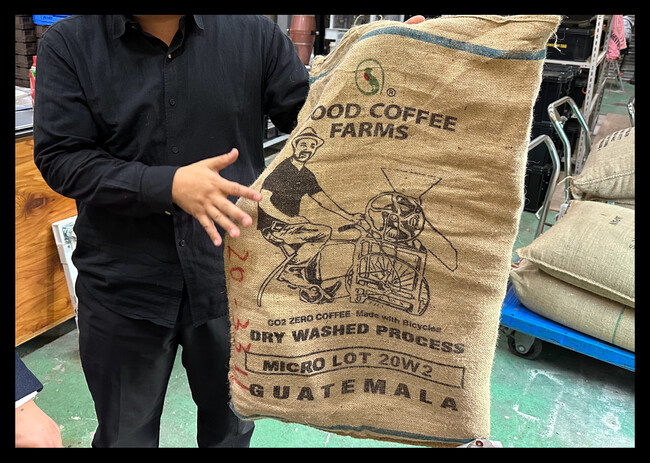 ■ Roaster head office
3-2-20-1F Toyosu, Koto Ward, Tokyo
OPEN 7:00-20:00
10 seconds walk from Tokyo Metro Yurakucho Line Toyosu Station C1 Exit https://www.rostar.jp/
Roaster head office online store "Roaster Plus (R.O.STAR+)"
We sell 8 types of beans that we have selected and roasted by ourselves. Freshness is the key to coffee.
We want our customers to enjoy truly delicious coffee, so we only deliver beans that have been roasted within two weeks of the date on the package.
In addition, we want to be a "best friend (blend)" for all coffee lovers, and we have set "coffee that you can drink as many cups as you want in a day".
*Purchase format: regular purchase or one-time purchase
*Sales content: 8 types of home-roasted coffee beans (3 types of blended beans, 5 types of single beans)
*Sales price: From 520 yen for 1 bag of 125g (price varies depending on the type)
* Shipping fee: ¥250 nationwide (up to 3 bags per order to ensure that the coffee beans are always fresh)
Click here for the online store: plus.rostar.jp
*Newly displayed "Agtron value (=roasting degree)" for all products. [Introduction of 3 types of blended beans]
#05 THE BEST BLEND
The Best Blend (hot coffee served at the roaster head office) 1 bag 125g: 570 yen (tax included)
[Image 5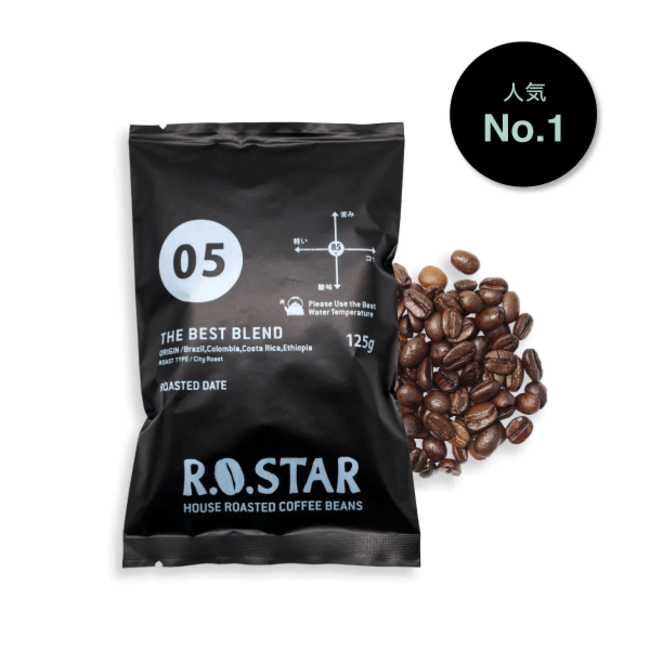 Mild aroma, just the right amount of bitterness and richness, and a refreshing finish. The golden ratio of coffee that you want to drink many times a day, combining carefully selected coffee beans in a well-balanced manner that is both satisfying and easy to drink. Roasting degree / medium roast
Agtron value (at the time of baking) / 44-47
#02 BITTER SWEET BLEND
Bitter sweet blend (Ice coffee offered at the roaster head office) 1 bag 125g: 640 yen (tax included)
[Image 6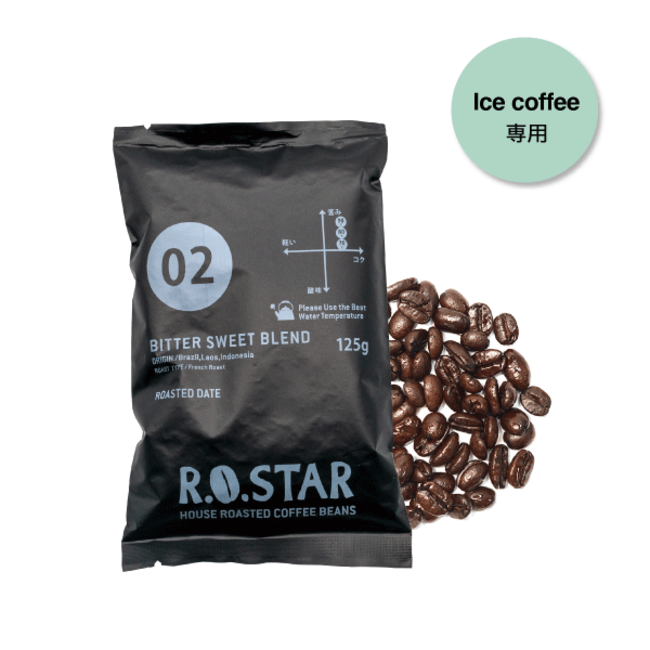 A mix of slow roasted Brazilian sweetness and spicy mandolin. A deep-fried blend with a firm drinkability and a clear, sharp aftertaste.
Degree of roasting / dark roast
Agtron value (at the time of baking) / 30~33
#03 CAFE AU LAIT BLEND
Cafe au lait blend (Cafe au lait offered at the roaster head office) 1 bag 125g: 560 yen (tax included)
[Image 7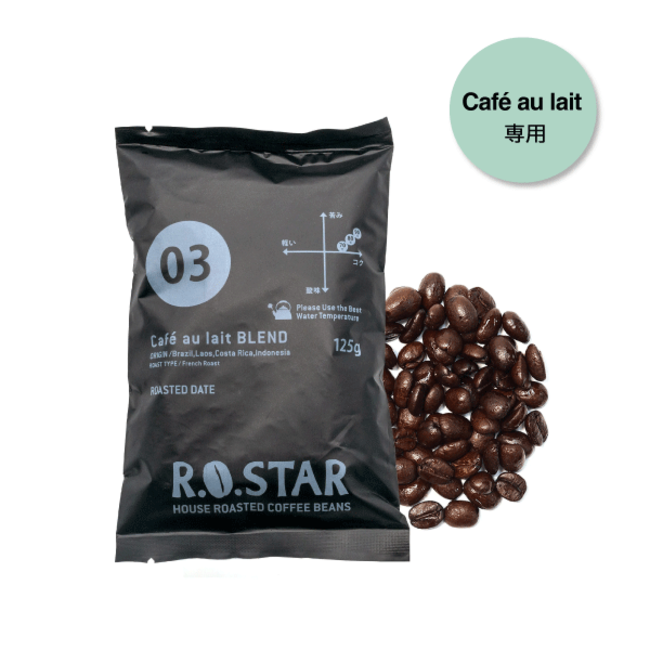 Traditional cafe au lait blend with a classic impression. The soft richness and core bitterness of the coffee oil, which is made by deep-roasting beans with strong individuality, is a luxurious marriage with milk.
Agtron value (at the time of baking) / 30~33
About regular coffee beans
This is a service that delivers the most popular "#05 THE BEST BLEND" on a regular basis.
You can choose from two shipping plans.
1. Delivery twice a month
3 bags (approximately 30 servings) delivered every 15 days
2. Delivery once a month
3 bags (approximately 30 servings) delivered every 30 days
Customers who regularly purchase R.O.STAR beans at stores, customers who have difficulty visiting the store due to their residence, etc., can enjoy the taste of R.O.STAR more easily and easily. increase. *Please order from the online store "Roaster Plus (R.O.STAR+)". plus.rostar.jp
[Image 8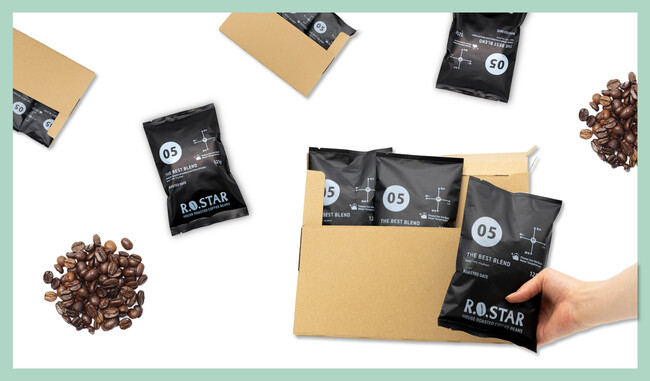 About our roasting factory
All the beans used in our shop are roasted at our own roasting factory in Shinkiba.
The roasting machine uses Giesen, a machine certified by the World Coffee Roasting Championship. We have a type that can roast 6 kg at a time and a type that can roast 15 kg, and use them according to the amount of roasting.
[Image 9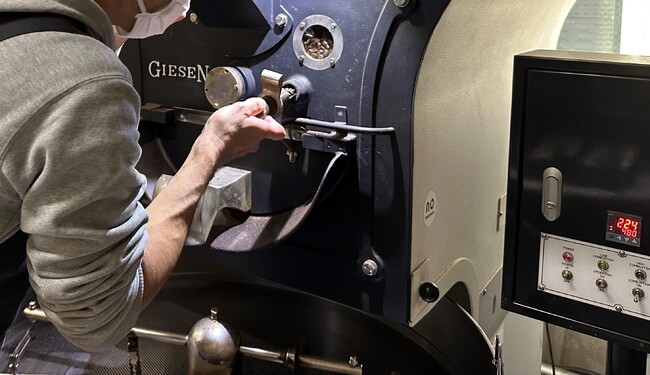 [Image 10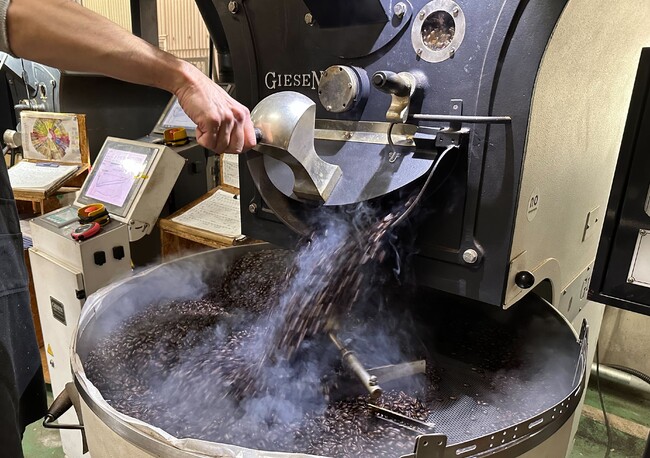 [Image 11
Operating company
Nonpi Co., Ltd.
Established: March 2003
Capital: 50 million yen
Number of employees: 300 (100 full-time employees)
[Image 13

In order to expand the opportunities and possibilities of "co-eating" to the world, we are a company that challenges social implementation of "new ways of co-eating".
Multiple businesses, including "nonpi Chef's LUNCH," which transforms an office into a community place through catering, and "nonpi foodbox (TM)," a food delivery service that delivers food and drinks nationwide for online social gatherings and enables communication beyond distance constraints. is expanding.
Under the mission of "Eliminating hunger from the world and increasing smiles", which was set at the beginning of its founding, we are working on "Social implementation of new co-eating" with the power of technology, business and design.
-Three mindsets-
1. Be the Diner
2. with Joy (enjoy and change the world!)
3. Believe No Limits
Nonpi Co., Ltd. Official Corporate Site:
https://www.nonpi.com/
・ Official Twitter:
https://twitter.com/nonpi_Inc
・Official Facebook:
https://www.facebook.com/nonpiofficial
*Please contact us for interview requests for stores and roasting factories. Nonpi Co., Ltd. Public Relations
Ayumi Sato
03-5725-8905
satoa@nonpi.com
Details about this release:
https://prtimes.jp/main/html/rd/p/000000235.000036259.html
MAIL:cr@prtimes.co.jp