KAICO Co., Ltd.
The KAICO-led "Practical Application of Porcine Oral Vaccines and Feed Additives" project won the Minister of Economy, Trade and Industry Award at the 5th Japan Open Innovation Awards.

KAICO Co., Ltd. (Nishi-ku, Fukuoka City, Representative Director: Kenta Yamato, hereinafter referred to as KAICO) has won the 5th Japan Open Innovation Award sponsored by the Cabinet Office for the "Pig Oral Vaccines and Feed Additives" that we are promoting. "Practical Application" project, together with Kyushu University, the technology licensing source, and Sojitz Corporation (hereafter, Sojitz), which is a capital alliance partner, received the Minister of Economy, Trade and Industry Award.
[Image 1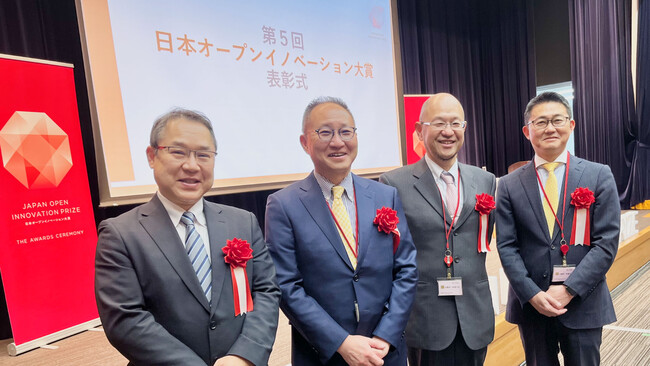 The 5th Japan Open Innovation Awards Award Ceremony
About Japan Open Innovation Award
Open innovation, which combines management resources across
organizational boundaries, is attracting attention as a method for quickly implementing the results of research and development in society, solving social issues, and creating new value.
The Japan Open Innovation Awards are sponsored by the Cabinet Office for the purpose of promoting open innovation in Japan. Initiatives that are expected to serve as role models for the future and are highly original are commended with the Minister's Award for each field of responsibility. I'm here.
Reference: About the 5th Japan Open Innovation Awards
https://www8.cao.go.jp/cstp/openinnovation/prize/2022.html
Minister of Economy, Trade and Industry Award: Overview of Practical Application Project for Oral Vaccines and Feed Additives for Pigs What are oral vaccines and feed additives?
An oral vaccine is a vaccine that raises the antibody titer by taking it by mouth, not by injection. KAICO's core technology, which was licensed from Kyushu University, is a method of producing target proteins in insect silkworms (silkworm-baculovirus expression system). . While aiming for pharmaceutical approval for this antigen protein as an oral vaccine, we are also working with our business partner and investor, Sojitz, on the business of distributing it as a feed additive.
For an overview of the project, please refer to page 8 of the materials below. ▼Outline of award-winning initiatives and projects (PDF format) https://www8.cao.go.jp/cstp/openinnovation/prize/5kai_gaiyo.pdf Purpose of the project
Oral vaccines and feed additives can be stored at room temperature and do not require syringes or medical personnel for inoculation, so distribution and administration costs can be greatly reduced. In addition, in countries and regions where vaccines are not widely available, there are many pig farms where infectious diseases are widespread, and there are many cases where pigs have to be shipped without being fully fattened due to infection. With the aim of improving the productivity of such pig farms, we are building a business model that mixes it with feed as a feed additive and distributes it.
Evaluation point
When receiving the Minister of Economy, Trade and Industry Award, the social significance of food loss and slaughter is great, and KAICO, a university-launched venture, develops products based on basic research at Kyushu University. Sojitz was praised for being a good example of open innovation, in which it is responsible for overseas expansion of the value chain.
Business Partner: Sojitz Corporation Life Industry & Agribusiness Headquarters Food Business Department Comment from General Manager Sudo
[Image 2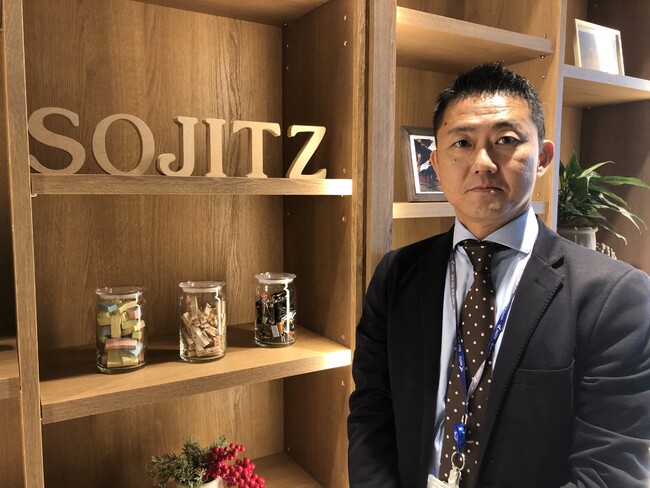 Sojitz Corporation Consumer Products & Agribusiness Headquarters Food Division General Manager Sudo
Vietnam, where we aim to launch this oral product first, is a focus country for us, and we can expect great synergies with the feed business and livestock business that we are already developing in the country.
Vietnam is experiencing remarkable economic growth even in Southeast Asia, and the middle-class population is also growing. We are confident that the spread of this product will increase the
productivity of Vietnam's primary industry and greatly contribute to the growth of the country's livestock meat market.
How it will be done in the future
KAICO is a venture company originating from Kyushu University that produces difficult-to-express (difficult-to-produce) proteins using insect silkworms, and develops novel pharmaceuticals, diagnostic agents, and reagents from these proteins. We are working toward the start of sales in Vietnam in fiscal 2023 for the "Practical
Application of Porcine Oral Vaccines and Feed Additives" project, which won the Minister of Economy, Trade and Industry Award this time. We will continue to utilize KAICO's technology in various product development and aim to solve social issues centered on animal and human health care.
Company name: KAICO Co., Ltd.
Representative: Kenta Yamato, Representative Director
Date of establishment April 2, 2018
Head office location: 4-1 Kyudai Shinmachi, Nishi-ku, Fukuoka City, Fukuoka Prefecture
Business content
(1) Contract expression of proteins
(2) Manufacture and sale of reagents, diagnostic agents, and raw materials for pharmaceuticals
HP http://www.kaicoltd.jp
Details about this release:
https://prtimes.jp/main/html/rd/p/000000016.000054891.html