Kaikatsu Frontier Co., Ltd.
Plan to open 100 stores and more than 2 billion yen in 3 years
KAIKATSU CLUB, a sharing space operated by KAIKATSU FRONTIER Co., Ltd. (President: Bunmei Takeshima), is promoting a fitness gym introduction project in existing stores as equipment content that can be used casually with a feeling of trying it out. increase. As the first step, from May 2021, we will move to the next stage as a result of verifying the introduction of a fitness gym at about 50 tsubo in KAIKATSU CLUB Yokkaichi Oiwake store.
As the second step, we will carry out final verifications for future expansion at two stores (Grand opening of Fujisawa Rokukai store on March 16th, Grand opening of Nagakute Green Road store on March 23rd). This project aims to develop a new customer base by adding "dynamic content" that actively moves the body to our service, which is centered on "static content" such as comics and video viewing. Over the three years from fiscal 2023, we will introduce the system to a total of 100 to 150 existing stores, and we expect sales of 2 billion to 3 billion yen.
[Image 1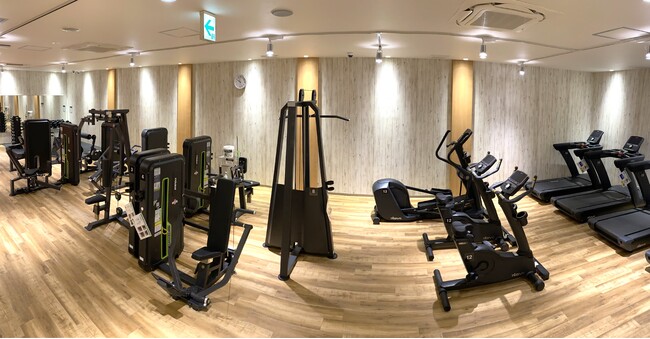 KAIKATSU CLUB Fujisawa Rokukaiten Fitness Gym Area
[Image 2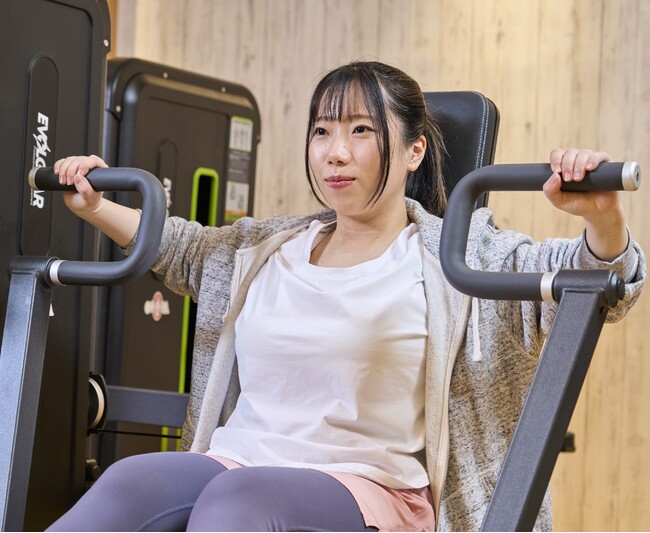 In-store usage image
[Image 3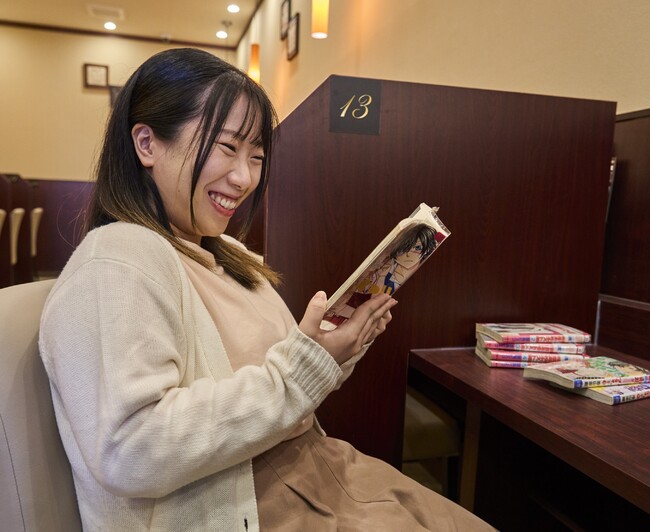 Background to the introduction of the fitness gym 1. "Discovery of new needs for fitness gyms"
In June 2019, we started opening 24-hour self-training gyms "FiT24" (114 stores as of the end of February this year). In the black-themed shop with a full line-up of machines, you can see many monthly members, mainly intermediate and advanced players, stoically training their bodies. As we continued to open new stores and accumulated know-how about running fitness gyms, we realized that there was a need among beginners who wanted to "move their bodies casually".
Background to the introduction of the fitness gym 2. "Solving the problem of Kaikatsu CLUB"
On the other hand, Kaikatsu CLUB, our main business format, has 493 stores in all prefectures (as of the end of February this year), and there are many areas where there are multiple stores within the commercial area, forming a dominant area. However, in terms of future business growth, it is a challenge to discover new needs in the dominant area and create opportunities to visit stores by proposing solutions. For that reason, we need to clarify the characteristics of each store and evolve from the operation of horizontally deploying almost the same content to the operation of separating the equipment content to be introduced, which will lead to the expansion of the customer base, and the introduction of the fitness gym. We have come to the conclusion that we can become one of them.
Background to the introduction of the fitness gym 3. "Synergistic effect of Kaikatsu CLUB and FiT24"
If a customer who started "loosely" fitness at Kaikatsu CLUB wants to shift to full-scale training in the future, we will guide them to FiT24. For customers who want to slow down their training, we can expect synergistic effects such as introducing KAIKATSU CLUB. Based on the above circumstances, we have decided to promote the introduction of fitness gyms at existing KAIKATSU CLUB stores.
Features of fitness gym in Kaikatsu CLUB
1. It is possible to use the time that emphasizes "Taipa", which can be used only for the time you like, when you like, in your free time.   For those who want to try once a week until they are confident that they can continue, time use is advantageous.
2. If you are not confident that you can continue with hard and stoic training alone, read comics or watch videos.
You can move your body in between meals or eating soft serve ice cream. 3. There are no initial enrollment fees, administrative fees, or cancellation penalties for monthly subscriptions. Reducing the psychological burden of joining and leaving
Did.
4. Kaikatsu CLUB staff will make regular rounds. For those who are worried about hygiene and manners at unmanned stores
is also safe.
Overview of the second store of the fitness gym introduction project ■ Kaikatsu CLUB Fujisawa Rokukai
Address: 3-28-1 Kameino, Fujisawa City, Kanagawa Prefecture
Grand Opening: March 16, 2023
Phone number: 0466-80-3588
Price including tax: 290 yen for 30 minutes or 3,980 yen per month KAIKATSU CLUB Nagakute Green Road store
Address: 123 Kifudake, Nagakute City, Aichi Prefecture
Grand Opening: March 23, 2023
Phone number: 0561-64-5288
Price including tax: 290 yen for 30 minutes or 3,980 yen per month
Details about this release:
https://prtimes.jp/main/html/rd/p/000000064.000075275.html

MAIL:cr@prtimes.co.jp