Dear Members of the Media,
Maruhiro
Resolve the stress of storing treats for your beloved cat or dog! A new porcelain canister will be released from March 10th (Friday) from Maruhiro, a manufacturer of Nagasaki "Hasami ware".
5% of sales will be donated to a private dog and cat rescue group operating in Nagasaki Prefecture, which has the worst dog and cat culling rate.

Maruhiro Co., Ltd., a Hasami-yaki manufacturer (Headquarters: Hasami-cho, Higashisonogi-gun, Nagasaki Prefecture, President: Kyohei Baba), Hasami-yaki's original brand -HASAMI-, has sold more than 1.7 million units in the series -From season 01- for pets Snack canisters will be on sale from March 10, 2023 (Friday).
[Image 1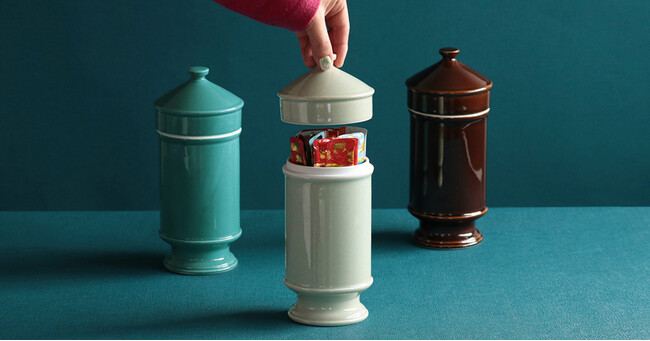 Product URL: https://store.hasamiyaki.jp/shopdetail/000000038019
[Table 8: https://prtimes.jp/data/corp/116086/table/1_1_80f6dfdcc644ed1c0a6de9a0b7935536.jpg ]
"HASAMI" is a brand of Hasami-yaki porcelain from Hasami Town, Nagasaki Prefecture.
We make ceramics as "tools" with pride as a production area in our hearts. It's meant to be used, well used, and worn out. I want to make a beloved "tool" that has a mysterious power that cannot be put into words.
[Table 9: https://prtimes.jp/data/corp/116086/table/1_2_7456e2d45d17055b6d7b7b7affc08a1b.jpg ]
Design and quality that does not distinguish between humans and pets HASAMI's pet items are developed under the concept of "People and pets can live comfortably".
For pet owners who consider their dogs and cats to be family members, in terms of quality – visual, functionality, and safety – there is no distinction between people and pets, and high quality and
sophisticated design that blends in with life and interiors. I am aiming for
[Image 2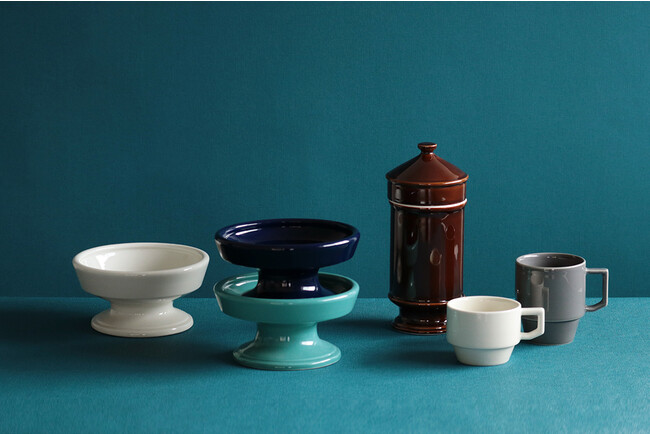 [Image 3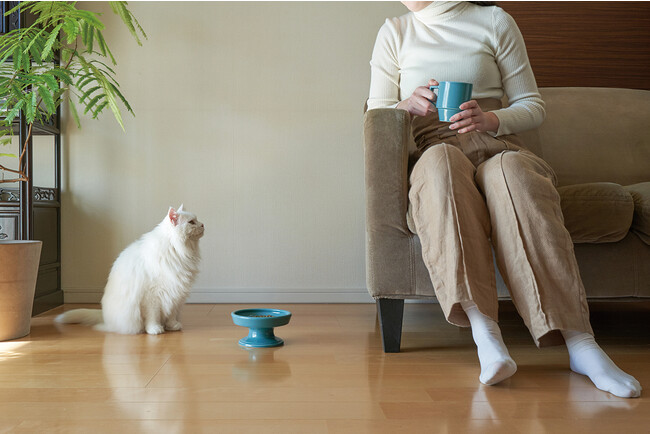 [Table 10: https://prtimes.jp/data/corp/116086/table/1_3_08eee44d29a2d44aaf5831c84e388375.jpg ]
I want to store pet treats beautifully!
Pet food that you want to take out immediately, but you want to hide when considering compatibility with the interior.
The HASAMI Snack Canister was born from the experience of a Maruhiro employee who had a hard time finding a ready-made product that was perfect for storing cat snacks. It's a porcelain canister like a glass candy jar from overseas, and the slim body with legs looks beautiful without taking up too much space.
[Image 4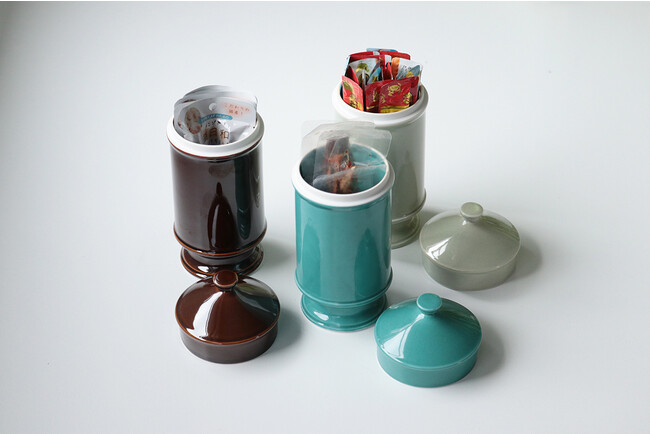 Stick-type paste treats fit perfectly.
The inner diameter is about 15.5 cm high, and it is a size that can hold 20 magical snacks – Churu – that captivate the cats of the world. About 6 bags of wet food. It also contains individually wrapped snacks in a pouch.
The design with legs makes it an item that goes well with the food bowl and water bowl released in 2020. I want to take out the individually wrapped snacks quickly, so I emphasized the ease of opening and the appearance without making it airtight.
[Image 5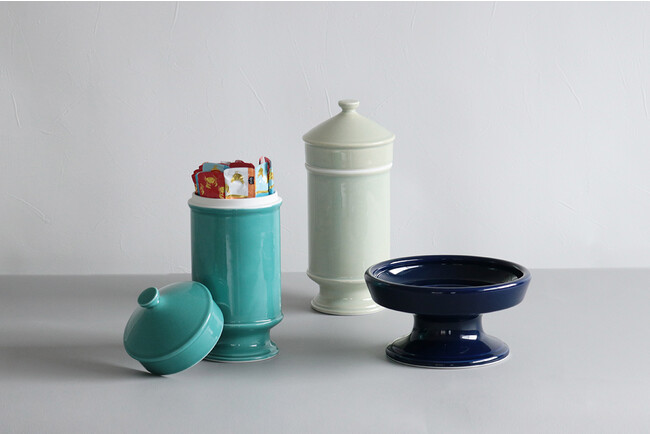 For tea and sweets
Convenient for storing sweets, tea, drip coffee, instant coffee, cup soup, etc. The design goes well with other items such as the HASAMI season 1 mug. [Image 6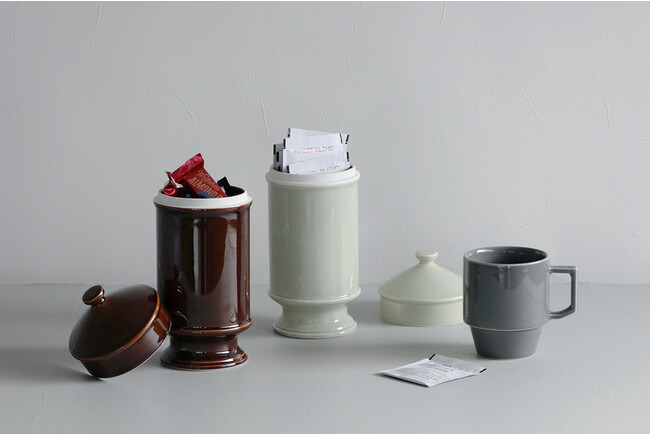 Products with donations. 5% of sales go to dog and cat protection groups in Nagasaki
5% of the sales of the snack canister will be donated by Maruhiro Co., Ltd. to a private dog and cat protection group active in Nagasaki Prefecture, which is the worst regular prefecture for slaughtering dogs and cats (the worst in 2020).
[Image 7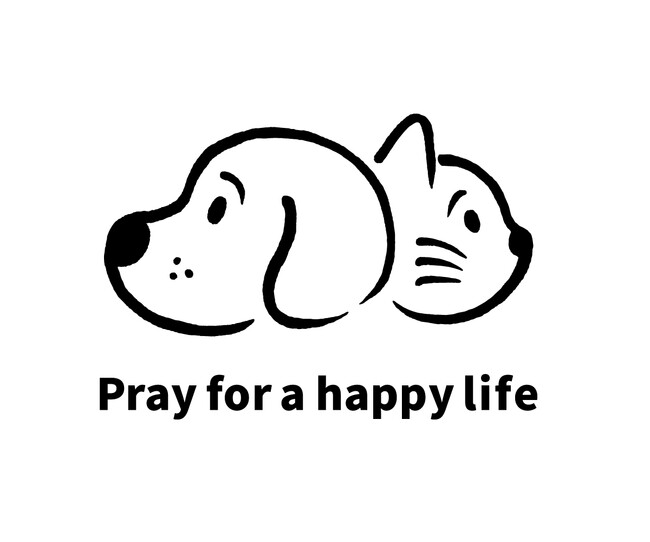 [Table 11: https://prtimes.jp/data/corp/116086/table/1_4_3d82294ca0114fcd70cef778af62ef07.jpg ]
Brand: Hasami
Item: SNACK CANISTER
Color: yellow, brown, green
Sales price: 6,300 yen (6,930 including tax)
Size: Outer diameter H22.5cm, inner diameter H15.5 x φ7.8cm
Material: porcelain
Release location: Maruhiro online store, physical store (HIROPPA), and other nationwide dealers
[Table 12: https://prtimes.jp/data/corp/116086/table/1_5_e06504067015ff0715f452677775484c.jpg ]
We develop items that are particular about appearance, functionality, and quality so that people and pets can live comfortably, such as tableware that takes into account the size and characteristics of dogs and cats, pottery as well as additive-free snacks, and cat claw sharpeners. schedule.
[Table 13: https://prtimes.jp/data/corp/116086/table/1_6_f13c1cf5d77529a0b36a1b8e1e8eefe0.jpg ]
Maruhiro, which started as a street vendor in 1957, is a ceramics manufacturer without a factory that plans and sells Nagasaki's traditional craft "Hasami ware" tableware and lifestyle miscellaneous goods.
Hasami porcelain is made according to a division of labor system, in which Maruhiro plays the role of a "producer" who commissions craftsmen in each process to design products, and the role of a "trading company" that distributes products. We plan more than 60 types of products per year and sell them directly and wholesale to domestic and overseas customers. In addition, we also handle many bespoke items such as one-of-a-kind art works and corporate products. In 2021, we will open a private park -HIROPPA- with a Maruhiro directly managed store in Hasami-cho. In addition, "MARUHIRO BOOK", which summarizes the history of Maruhiro, will be published in July 2022. We would like to continue to be a company in a fun production area so that the Hasami ware industry, which has been passed down for over 400 years, will continue.
[Table 14: https://prtimes.jp/data/corp/116086/table/1_7_1573332d8e29b8605556f05f4fcc3571.jpg ]
Company name: Maruhiro Co., Ltd.
Location: 775-7 Toya Otsu, Arita-cho, Nishimatsuura-gun, Saga Prefecture 844-0014
Representative: Kyohei Baba, President and Representative Director Business: Ceramics product planning and development, wholesale/retail, production of company original products
Established: October 4, 1989
Corporate site: https://www.hasamiyaki.jp/
Maruhiro Online Store https://store.hasamiyaki.jp/
Available at physical stores HIROPPA 682 Yumuda-go, Hasami-cho, Higashisonogi-gun, Nagasaki 859-3702 TEL 0956-37-8666
Official Instagram: https://www.instagram.com/maruhiro.hasami/
Details about this release:
https://prtimes.jp/main/html/rd/p/000000001.000116086.html

MAIL:cr@prtimes.co.jp