Agency for Cultural Affairs
[National Film Archive] Announcement of Special Screening "Film Director Nagisa Oshima 10 Years After His Death"
A special screening that looks back on the film life of world-famous master Nagisa Oshima

[Image 1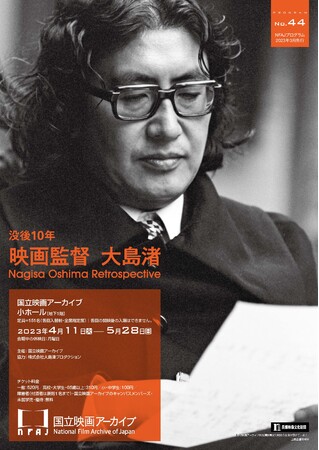 The National Film Archive will hold a special screening "10 years after his death, director Nagisa Oshima" from Tuesday, April 11th.  On the 10th anniversary of the passing of the world-famous director Nagisa Oshima, we will give an overview of Oshima's film career, who continued to raise sharp issues in post-war Japanese society, through screenings of his works. In conjunction with the exhibition, which is based on the vast amount of work and personal materials that Oshima has systematically left behind, this will be a large-scale
retrospective featuring a total of 45 works (34 programs). We look forward to seeing you there.
highlight
▼From Shochiku Studio to independent productions to international blockbusters… A series of works that trace Oshima's footsteps. In his youth, Shochiku Studio produced the vivid "Cruel Story of Youth" (1960) and "Nippon no Yoru to Mist" (1960), as well as Shibori, which was released one after another based on his own production "Sozosha". Death Penalty (1968), Boy (1969), and Ritual (1971), as well as the international sensational collaborations Ai no Corrida (1976) and Merry Christmas on the Battlefield (1983). )――Through screenings, we look back on the footsteps of Nagisa Oshima, an adventurer who constantly pursued freedom in cinema, reinventing themes and styles in each film, and breaking the norms of cinema. We will also look at "Tomorrow's Sun", which Oshima worked on at Shochiku Studio before his feature debut, as well as "Evening Primrose" and "Donto Ikoze" (both 1959) for which he was in charge of the
screenplay.
▼ All 13 episodes of Oshima's only serial TV drama "Asian Dawn" will be screened at once
The 13-episode "Asian Dawn" broadcast on TBS in 1964-65 was the first and last serial TV drama produced by Nagisa Oshima. In the early Taisho period, Minetaro Nakayama, the only Japanese who participated in the second revolution that overthrew Yuan Shikai in mainland China, is the main character, and the ensemble drama of the revolutionary army is drawn. At the time, the trend toward full-fledged
feature-length dramas through tie-ups between TV stations and external production companies was called "television movies," and it was the first time that Oshima had collaborated with scriptwriters and actors who were members of Sozosha. I was. This is a valuable screening opportunity without software or distribution, so don't miss this opportunity.
▼ Talk event will also be held
A talk event will be held during the period of this special feature. ・April 11th (Tuesday) 15:00 "Boy"
Talk guest: Akiko Koyama (actor)/Interviewer: Naofumi Higuchi (film critic) ・April 11 (Tue) 18:30 "My movie life directed by Akira Kurosawa" Talk guest: Arata Oshima (film director) / Interviewer: Naofumi Higuchi (film critic)
・April 15th (Sat) 15:30 time "Nothing"
Talk guest: Yusuke Narita (film director) / Interviewer: Naofumi Higuchi (film critic)
Films to be screened (total of 45 films, 34 programs)
"Evening Primrose" (1959), "Tomorrow's Sun" (1959), "Let's Go Donto" (1959), "Town of Love and Hope" (1959), "Youth Cruel Story" (1960), "Graveyard of the Sun" (1960), "Japanese Night and Fog" (1960), "Breeding" (1961), "Shiro Tokisada Amakusa" (1962), "KYOTO, MY MOTHER'S PLACE" (1991), "Small Adventure Trip" (1963) , "My Beret" (1964), "Yumbogi's Diary" (1965), "Asia no Dawn" 13 episodes (1964-65), "Pleasure" (1965), "Daylight Stranger" (1966), " Ninja Martial Arts Book (1967), Considerations for Japanese Spring Songs (1967), Suicide Suicides in Japan (1967), Strangulation (1968), Yopparai Returns (1968), Shinjuku Thief Diary (1969), Twilight Semarare (1969), Boy (1969), Tokyo War Postwar Story (1970), Ceremony (1971), Summer Sister (1972), "Corrida of Love" [digitally restored version] (1976), "Ghost of Love" (1978), "Merry Christmas on the Battlefield" [digitally restored version] (1983), "Max, Mon Amour" (1986), " The Law" (1999), "My Movie Life Directed by Akira Kurosawa" (2002)
Exhibition information
In conjunction with the screening project, we will hold an exhibition "Film director Nagisa Oshima 10 years after his death."
[Image 2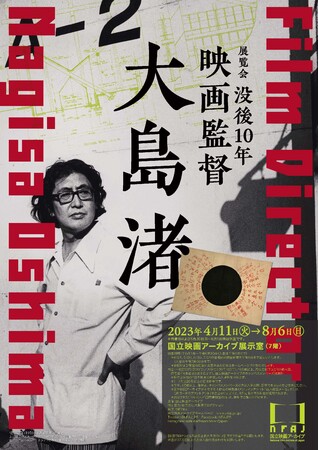 Exhibition name: 10 years after death Film director Nagisa Oshima Date: April 11 (Tue) – August 6 (Sun), 2023
Venue: National Film Archive Exhibition Room (7th floor)
Website: https://www.nfaj.go.jp/exhibition/nagisaoshima2023/ Organizer: National Film Archive Special cooperation: Oshima Nagisa Productions Co., Ltd. Supervision: Naofumi Higuchi
▼ 10 years after the death of the world-famous director Nagisa Oshima, Mr. Naofumi Higuchi, the editor and author of "Oshima Nagisa Complete Film Treasures Collection" (2021), was invited to supervise, and the director's former director included in the same book. By bringing together valuable materials from the collection and the collection of the National Film Archive, we will reveal the footprints of the challenging intelligence and actions that permeated his film life.
Overview of the event
Project name: Special Screening "10 Years After His Death: Director Nagisa Oshima" (English title: Nagisa Oshima Retrospective)
Dates: April 11 (Tue)-May 28 (Sun), 2023 *Closed on Mondays
Venue: National Film Archive Small Hall [B1F]
Organizer: National Film Archive
Cooperation: Oshima Nagisa Production Co., Ltd.
Website: https://www.nfaj.go.jp/exhibition/oshima202303/
Inquiries: 050-5541-8600 (Hello Dial)
Tickets: Starting from April 4th (Tuesday), every Tuesday from 10:00, electronic tickets for the next week's screening (Tuesday to Sunday) will be sold online from the National Film Archive website until 15 minutes before each screening on the official ticket site. increase. Please check the website for details on how to purchase tickets such as window sales.
-Fee-General: 520 yen / High school and university students, 65 years old and over: 310 yen / Elementary and junior high school students: 100 yen / Disabled people (up to 1 attendant in principle) / Campus members of the National Film Archive of Japan / Preschoolers: Free Details about this release:
https://prtimes.jp/main/html/rd/p/000000574.000047048.html

MAIL:cr@prtimes.co.jp