Aeon Co., Ltd.
Reform Studio Co., Ltd. Registered as a "Chiba SDGs Partner" founded by Chiba Prefecture
through sustainable fashion

Aeon Group's Reform Studio Co., Ltd. (hereinafter referred to as "Reform Studio"), which operates 694 stores nationwide (as of the end of February 2022), such as "Magic Sewing Machine" that repairs clothes and bags, and "Riat!" that repairs shoes and bags. Our company, head office: Mihama-ku, Chiba City, Chiba Prefecture, President: Kazuo Maki) is a "Chiba SDGs Partner" established by Chiba Prefecture to foster momentum for promoting SDGs in companies in Chiba Prefecture and to support specific initiatives. We are pleased to inform you that we applied for the registration system and were registered on March 1. [Image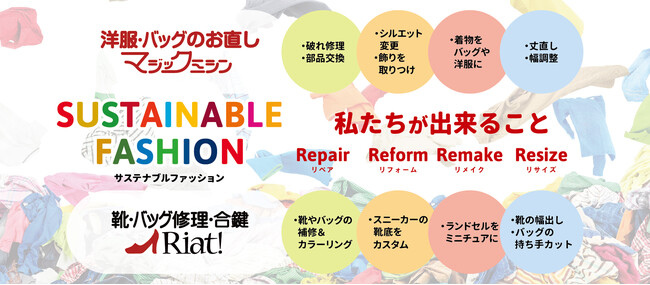 Since its founding in 1986, Reform Studio has aimed for a
"resource-friendly society" and an "environmentally friendly society", promoting a shift from a waste-based lifestyle to a recycling-oriented lifestyle with a "heart that values ​​things". Based on our management philosophy, we are focusing on realizing "12. Responsible consumption and production" among the 17 goals set in the United Nations Sustainable Development Goals (SDGs). In registering as a Chiba SDGs partner this time, we will use our renovation and repair technology to convey the value of continuing to use clothes and shoes that are attached to us for a long time, and to promote "sustainable fashion" that will make future fashion sustainable. I applied as a main activity. We will continue to work on SDGs activities even more in the future.
■ About our SDGs activities
12. Responsible production Responsible consumption 13. Concrete measures against climate change 14. Protecting the abundance of the sea 15. Let's protect the richness of the land
In Japan, it is estimated that about 480,000 tons of clothes are discarded from households every year. On a per person basis, 3 garments are repaired and repaired and 12 garments are given away in a year. If you wear the clothes you already have for one more year, you can reduce the amount of waste in Japan by about 40,000 tons. Reduce clothing and accessories waste through our operations.
5. Let's achieve gender equality 8. Decent work and economic growth 10. Eliminate inequality between people and countries
We will build a working environment where diverse human resources can play an active role.
8. Job satisfaction and economic growth 9. Build a foundation for industrial and technological reform
We will promote paperless by DX.
About the Chiba SDGs partner registration system (quoted from the Chiba Prefecture website)
The Chiba SDGs Partner Registration System was established to foster momentum for the promotion of SDGs among companies in the prefecture and to support specific initiatives. Companies in the prefecture that are actively working on the SDGs will be registered, and their efforts will be widely disseminated on the prefecture's website, etc. ■Through "sustainable fashion"
We are holding the 8th "Repair Dream Campaign" as an initiative for "sustainable fashion" that remakes and remakes favorite things and important things, and we are looking for dreams of repair.
Campaign application site:
https://www.reform-s.com/dream-cam/2023/?utm_source=prtimes&utm_medium=referral&utm_campaign=dream2023 Application period: February 27, 2023 (Monday) to March 31, 2023 (Friday) ■ The 7th "Repair Dream Campaign" Dream Realization Report
https://www.reform-s.com/dream-cam/2022/?utm_source=prtimes&utm_medium=referral&utm_campaign=dream2205 ■The 7th installment of this animation introduces one of the episodes of the realization of the repair dream campaign.
【Company Profile】
■ Trade name: Reform Studio Co., Ltd. http://www.reform-s.com/index.html ■ Representative: Kazuo Maki, President and Representative Director ■ Head office location: 3-21-1 Takasu, Mihama-ku, Chiba-shi, Chiba (Aeon Marine Pia specialty building B1 floor)
■ Established: February 21, 1986
■ Capital: 160 million yen
■ Management Philosophy: We aim to create a society that values ​​resources and is friendly to the environment.
Our mission is to promote a shift to a recycling-oriented lifestyle with a "mind to value things" and to realize our customers' "I wish I could" and "I wish I had".
■ Main business:
[1] Apparel fashion renovation service and related services (store name: Magic Sewing Machine, Reform Studio, Atelier Couturier) [2] Shoe repair, bag repair, duplicate key duplication, and sales of these related items (store name: Riat!, Mr. Craftman, Eco Craft) [3] Rental storage space (store name: Kura Rent)
[4] Coin laundry (store name: Hare365)
Details about this release:
https://prtimes.jp/main/html/rd/p/000003690.000007505.html

MAIL:cr@prtimes.co.jp