fanfare Co., Ltd.
[Your illustration will be next year's cover design] Career notebook 2024 edition cover original drawing recruitment
~ Art and career experience for people with disabilities fostered with Osaka University of Arts ~

Fanfare Co., Ltd. (Headquarters: Osaka City, Osaka Prefecture, Representative Director: Yoko Okamoto) will start applying for the original career notebook cover project by art of people with disabilities x Osaka University of Arts from March 6, 2023.
[Image 1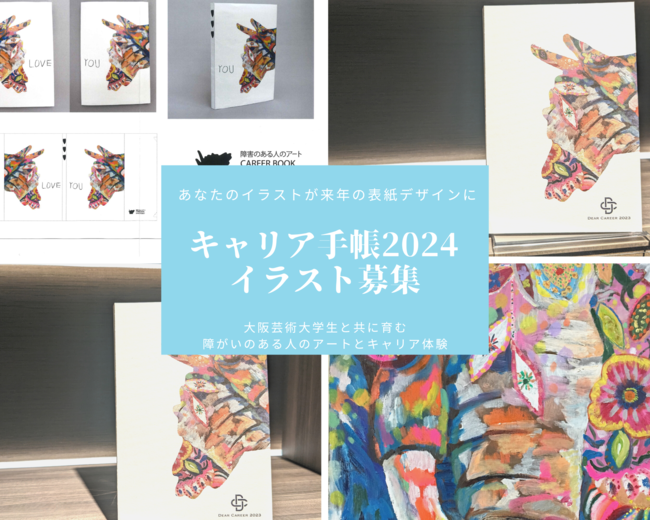 [Application page URL] https://forms.gle/FNBwUrThoJvgroZf6
Recruitment background
We are engaged in a career consulting business with the mission of "increasing the number of business people with a high level of mental health at work". One of those projects is the Career Notebook Cover Project by Osaka University of Arts and Art of People with
Disabilities, which we have been doing since 2023.
A career notebook is a career amulet notebook for business people who want to build a satisfying career. This project was launched with the idea that there is a way to experience a career from the process of making it, not just for those who have a career notebook.
This is the second year of the project, why don't you join us? State of last year
[Image 2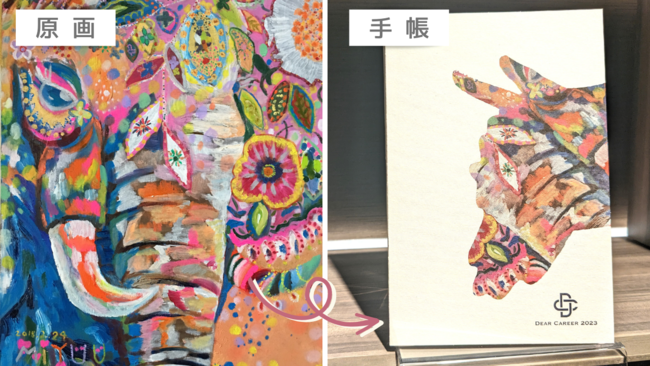 ■ Click here for the 2023 version
・"Art for people with disabilities x Career notebook cover project" with Osaka University of Arts
https://fanfare-career.com/info_cate/careernotebook2023project/ ・[Announcement of results] People with disabilities x career notebook cover project 2023
https://fanfare-career.com/info_cate/careernotebook2023/
Recruitment information
≪Participation conditions≫
● People with disabilities who like or are good at drawing art and illustrations ●Those who can agree to the consent form in the application form ● Age does not matter
≪How to apply≫
Please apply using the application form below.
https://forms.gle/FNBwUrThoJvgroZf6
≪Application Deadline≫
Wednesday, April 5, 2023 23:59
≪Selection Criteria≫
Since it will be a collaboration work with students, the following will be the selection criteria after the students create it. ・Does it follow the theme of the carrier notebook holder?
・Is the design feasible for commercialization?
≪Selection Process≫
Students freely select original drawings in the first semester class of the Department of Design, Osaka University of Arts
Create a cover design based on the original drawings through class Cover design proposals collected from students as homework for the first semester and summer vacation
After rigorous screening, one Grand Prize winner and two Excellence Prize winners (tentative) will be selected.
The announcement is scheduled for fall to early winter 2023. The grand prize design will be commercialized as the 2024 version of the Career Notebook.
About fanfare Inc.
[Image 3


Based on the theme of "annual mental health checkup," we provide career counseling about work-related worries and work styles, not limited to changing jobs, as "time to recover physical strength and adjust the rhythm of work." increase.
Our mission is to "increase the number of business people with a high degree of health in their work"
Based on a total of 5,000 career consultations for 3,000 people, including working adults, students, employment consultations, and parent-child consultations, we have developed a "career notebook with online consultation" to make career counseling more familiar. We support business people who continue to work with a rich feeling, with an online career consultation that can be consulted at any time for a year, with a notebook full of career information such as
self-understanding and self-care methods.
【Company Profile】
Company name: fanfare Co., Ltd.
Location: 3rd floor, Aqua Dojima Fontana, 1-4-4 Dojimahama, Kita-ku, Osaka-shi, Osaka
Representative: Yoko Okamoto
Established: July 2021 (Founded in October 2016)
URL: https://fanfare-career.com
Business: Career consulting business | Planning, operation, and sales of career notebooks with online consultation
Details about this release:
https://prtimes.jp/main/html/rd/p/000000011.000074491.html

MAIL:cr@prtimes.co.jp